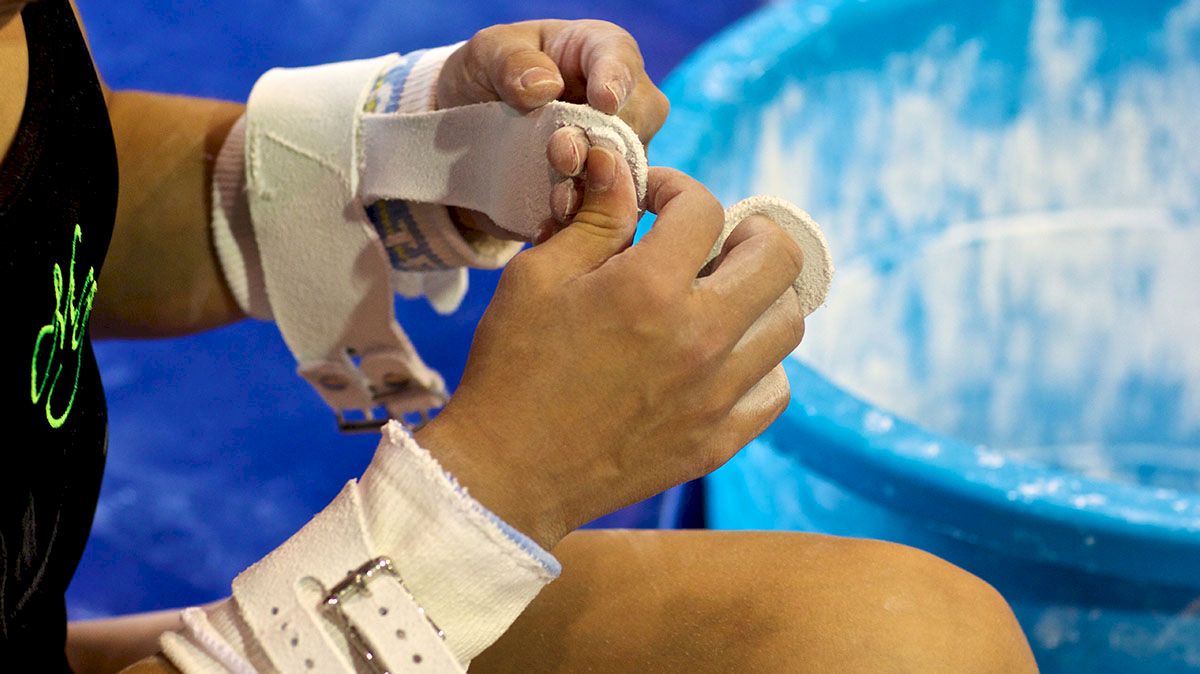 The 2011 World Gymnastics Championships concluded today in Tokyo with another exciting day of event finals. Though there were many defending Champions in the field, new World Champions were crowned on each event today. Below you can find the full results from day 2 of 2 of event finals, as well as our live updates from each event finals competition.
MEN'S VAULT
1. Hak Seon Yang - KOR - 16.566
2. Anton Golotsutskov - RUS - 16.366
3. Makoto Okiguchi - JPN - 16.291
4. Thomas Bouhail - FRA - 16.187
5. Denis Ablyazin - RUS - 16.174
6. Dzmitry Kaspiarovich - BLR - 16.083
7. Wai Hung Shek - KOR - 15.950
8. Jeffery Wammes - NED - 15.683
Quick Hits (to read in chronological order, start from the bottom):
GOLD: Hak Seon Yang, Korea. SILVER: Anton Golotsutskov, Russia. BRONZE: Makoto Okiguchi, Japan
Wammes VT2: tsuk 2.5 twist, very clean. Landed upright and took 1 step forward. 15.933 (6.60/9.333). 8th place
Wammes was not credited with the 2.5. Score for first vault: 15.433 (6.8/8.633)
Wammes VT 1: attempted yurchenko 1/2 on, 2.5 twist off, but came in low, did not complete the rotation. Luckily he alright!
Okiguchi VT 2: handspring 2.5 twist well done. (7.0/9.232). Average = 16.291. He's in bronze medal position with only Wammes to go
Okiguchi (JPN) VT1: tsuk triple twist, clean in the air, landed fairly low. Japanese fans loved it. 16.300 (7.0/9.40)
Yang VT2: tsuk triple twist. This guy is amazing. Score:16.266 (7.0/9/366). Average = 16.566! He's in the lead
Hak Seon Yang VT1: WOW! handspring triple! Landed so well that it made me question if it really was a triple! 16.866! (7.40/9.466)
Score for Ablyazin VT2: (7.20!/8.916). Average is 16.174
Ablyazin VT2: yurchenko 1/2 on, crooked on the horse. Still whipped around a 2.5 twist! Landed on the side of the mat, stepped off.
Score for Ablyazin VT1: 16.333 (7.0/9.333). He had the most open pike we've seen yet.
Ablyazin is in today's final because Marian Dragulescu scratched. Making the most of it with a great tsuk dbl pike first vault.
Kaspiarovich: 15.633 (7.0/8.733/-0/1). Avg = 15.950, in 3rd place for now. Golotsutskov still leads, his Russian teammate Ablyazin is next
Kaspiarovich (BLR) VT2: tsuk doube pike, and like Bouhail had a bit too much power. 2 big steps back
Kaspiarovich (BLR) VT1: another excellent Dragulescu. Score: 16.533 (7.0/9.533)
Golotsutskov scored 16.400 for the Drag vault. (7.0/9.40). Average = 16.366, and he's in the lead for now!
Golotsutskov (RUS) VT 2: Dragulescu very well done. Clean in the air, tight tuck. Does the half twist very early. Great landing
Score for Golotsutskov first vault: 16.333 (7.0/9.33)
Golotsutskov (RUS) VT1: great tsuk double pike. Went for the stick, took 2 tiny steps
Shek VT 1: great tsuk triple twist/kas double. Well done. 16.300 (7.0/9.30). Average = 15.950
15.600 (6.60/9/00) for Shek's first vault. The USA men, especially Chris Brooks, are cheering extra loud for him
Wai Hung Shek (HKG) VT1: huge handspring double front. lots of power, step forward
Score for Bouhail's tsuk double pike is 15.708 (7.00/8.808). Average = 16.187
Bouhail VT 2: tusk double pike and too much power! Had to run backward to keep it on his feet.
16.666 for Bouhail's first vault. (7.00/9.666). That will be tough to beat!
Bouhail VT: incredible!!!! Dragulescu, massive block off the table, STICK!
Thomas Bouhail is the defending champ. He's up now, then will have to sit and wait to see if his scores hold
Men will vault in this order: Bouhail FRA, Shek HKG, Golotsutskov RUS, Kaspiarovich BLR, Ablyazin RUS, Yang KOR, Okiguchi JPN, & Wammes NED
BALANCE BEAM
1. Sui Lu - CHN - 15.866
2. Yao Jinnan - CHN - 15.233
3. Jordyn Wieber - USA - 15.123
4. Alexandra Raisman - USA - 15.066
5. Amelia Racea - ROU - 14.533
6. Yulia Inshina - RUS - 14.525
7. Catalina Ponor - ROU - 14.241
8. Viktoria Komova - RUS - 13.766
Quick Hits:
Bummed for @Aly_Raisman! Thought she deserved a higher score. Hopefully she'll come away with a medal on floor!
Score for Racea is 14.533 which puts her 5th.
2011 Beam Medalists: GOLD: Sui Lu, China, 15.866. SILVER: Yao Jinnan, China, 15.233. BRONZE: Jordyn Wieber, USA, 15.133
Racea: bhs+tuck full step back. front aerial. big switch side. side aerial. wobble on side somi. scissone+full turn, cool. 2.5 twist dismount.
That was a fantastic routine for Sui Lu. Score: 15.866 (6.60!/9.266). Shoots into 1st place. Only Racea left to go
Lu: front pike+swing down. front tuck half. front aerial+bhs back pike. side somi. wolf+split. great sheep jump. switch+back tuck solid. Stuck double pike!
Score for Raisman: 15.066 (6.40/8.666). 3rd place. Hmm... that seems low, right?
Raisman absolutely nailed beam! Not even a wobble! Almost stuck her Patterson dismount. Great position on landing, just a small hop
Raisman: front tuck. bhs layout 2ft solid. front pike+layout step out. switch 1/2+back pike. side aerial. switch leap+back tuck. L turn. Patterson! Great!
Score for Wieber: 15.133 (6.20/8.933) She's in 2nd behind Yao. Here comes Aly
Wieber: front aerial+1arm bhs lay solid! switch+back pike. side somi. L turn. switch side wobble. side aerial. standing full+bhs! Crowd loves that. 2.5 twist, small hop.
Score for Komova: 13.766 (5.90/7.866)
Komova is wearing the same purple leo she won bars gold in yesterday. Wasn't as lucky this time around. Wieber is next.
Komova: front tuck. bhs lay lay pretty. high standing arabian, wobble. Lturn+front aerial+sheep wobble. side somi. Double turn, fall! Double tuck dismount.
Yao Jinnan score: 15.233 (6.30/8.933). 1st place for now
Raisman is running in circles around Mihai down off the podium to get warm. Komova is next, then Wieber, then Raisman
Yao: standing full wobble. bhs bhs 2 ft layout. front aerial. sheep. front tuck. Leg up full turn. Not her best switch ring. Double pike, step
Score for Inshina of Russia: 14.525 (5.70/8.825). Puts her ahead of Ponor
Inshina: switch+back tuck. sheep. f aerial+bhs lay, iffy connection. side somi. Lturn. side aerial. switch ring ok. Roundoff double pike, hop
Score for Ponor: 14.241 (5.70/8.541). Much lower D score than in qualifications where she scored a 15.00
Good, hit routine for Ponor but definitely not the best she has done here. She left out her bhs+lay step out after the front aerial wobble
Ponor BB: switch 1/2 wobble. roundoff 2ft layout solid! onodi+bhs whip. switch+full twisting bhs. front aerial wobble. wolf+split. Full in, small step
Romania vs Russia vs USA vs China in this final. Here comes Ponor! 2004 olympic beam champ!
Competition order: Ponor ROU, Inshina RUS, Yao CHN, Komova RUS, Wieber USA, Raisman USA, Sui Lu CHN, Racea ROU
And here come the beam finalists! Defending Champ Ana Porgras did not qualify, so we'll have a new Beam Champ this year.
PARALLEL BARS
1. Danell Leyva - USA - 15.633
2. Vasileios Tsolakidis - GRE - 15.533
2. Zhang Chenglong - CHN - 15.533
4. Kohei Uchimura - JPN - 15.50
5. Yann Cucherat - FRA - 15.333
6. Marius Berbecar - ROU - 15.266
7. Feng Zhe - CHN - 15.20
8. Kazuhito Tanaka - JPN - 15.166
Quick Hits:
RT @USAGym Leyva's gold medal on PB's makes the 6th medal for the USA men and women at these World Championships!
2011 PB Medalists: GOLD: Danell Leyva USA 15.633. TIE for SILVER: Tsolakidis of Greece, and Zhang Chenglong of CHN 15.533.
Congrats to @danelljleyva and Yin Alvarez! 2011 World Parallel Bars CHAMPION!
Wow, 4th place for Kohei 15.50 (6.50/9.00)
Uchimura: not his best start, but great belles. belle half. Stuck double pike! Awaiting the scores.... ah!
USAGym 15.533 for Zhang, Danell will get at least silver. Uchimura is the only man who can take away the gold!
Zhang: He's the reigning HB world champ. Highest front 1 1/4 of the day, wow! Double pike, near stuck with chest way down. Surrendered, hop
Cucherat: 15.333 (6.40/8.933). In bronze medal position for now. Leyva will definitely medal with only 2 guys remaining!
Cucherat: massive front 1 1/4 to his hands. Nice fluid routine. Double pike but a small hop
Tanaka of Japan scored 15.166 (6.80!/8.366). 5th place for now.
nrarmour US not won pbars medal since Sean Townsend's gold in 2001
Tanaka: error on his mount. belle. piked belles. Hop to one rail, kip back up. Stuck double pike. Crowd went crazy with the stick!
Score for @danelljleyva - 15.633 (6.40/9.233)! 1st place thus far! 1 tenth ahead of Tsolakiois
Leyva: excellent diam work. stutz right on to double pike STICK!! Yin's havin a dance party! Great job
After a long wait, Feng's score is 15.200 (6.6/8.60). He will not repeat as World champ. 3rd for now.
Excellent save/cover up for Feng. We'll see what the judges do with that... Leyva is next
Feng PB: He's the defending champ. Belle. Near fall! saves with a kip. front 1 1/4 to hands, swing to support. piked belle. stuck dbl pike.
Tsolakisis: very cool routine. nice diam. Front double pike to upper arms. 15.533 (6.50/9.033)
Berbecar: nearly slid off on a belle. cool tippelt-like skill to long hang. Double pike hop back. 15.266 (6.6Dscore)
PB competition order: Berbecar ROU, Tsolakidis GRE, Feng CHN, Leyva USA, Tanaka JPN, Cucherat FRA, Zhang CHN, Uchimura JPN
Up now: Men's PBars finals! Think @danelljleyva can come away with a medal?!
WOMEN'S FLOOR
1. Ksenia Afanaseva - RUS - 15.133
2. Sui Lu - CHN - 15.066
3. Alexandra Raisman - USA - 15.00
4. Yao Jinnan - CHN - 14.866
5. Lauren Mitchell - AUS - 14.733
6. Jordyn Wieber - USA - 14.70
7. Beth Tweddle - GBR - 14.50
8. Diana Chelaru - ROU - 14.20
Quick Hits:
1 Afanaseva, 2 Lu, 3 Raisman, 4 Yao, 5 Mitchell, 6 Wieber, 7 Tweddle, 8 Chelaru. AWESOME FX Final!
Score for Afanaseva is 15.133 (6.10D). GOLD Medal! SILVER: Sui Lu CHN 15.066. BRONZE: Aly Raisman USA 15.00
Afanaseva should squeak in there for a medal. Raisman and Lu are guaranteed on medal, but what color will it be?....
Afanaseva: great double lay. whip,whip,bhs, triple. nice. Lay back turn spot on! Love the expressive choreo. Stuck 1.5+front full. Dbl pike
14.200 (5.8/8.40) for Chelaru
This is strange... Afanaseva is up next instead of Komova
Chelaru: full in stick. whip+triple. Big hop back out of double tuck. Low landing on double pike. out of the medals for sure
Tweddle's score: 14.50 (6.10/8.50/-0.1)
Chelaru of Romania is up for Ferrari
Tweddle: 1.5 thru to dbl arabian step forward. pike dbl arabian then a split jump a bit delayed, and oob. darn. Stuck 2.5+front full!
Ah, Raisman pushed down to silver for now. Score for Lu: 15.066 (6.10/8.966). Tweddle is next
Lu FX: whip+triple+stag great. 2.5+front lay full lower than usual. amazing turn..was that a quad? Memmel turn. Small hop on double pike
15.00 for @Aly_Raisman! (6.10/8.900). 1st place for now
Great hit routine for Aly! That should medal, I think. 4 gymnasts to go.
Raisman: 1.5 to double arabian+punch front yes! pike dbl arabian step forward. switch ring. great triple. High dbl pike, small hop
Yao scored 14.866 (6.0/8.866). 1st place for now. Here comes Aly!
Yao: nearly stuck double lay. great triple+stag jump! Memmel turn. 1.5 thru to 2.5+split jump. Dbl pike, low landing. Nice routine
Score for Mitchell: 14.733 (6.30/8.433). Puts her ahead of Wieber. Yao is next
Mitchell: whip+dbl arabian+stag great! Pike full in hop back. 2.5+layout, half of a beat jump. Double pike+split jump.
Score for Wieber: 14.70 (6.0/8.70)
Wieber FX: big double double step back. 2.5 thru to triple, step back. great triple turn, 2.5+lay good but 1 foot slid. stuck double pike.
Nevermind, Ferrari has scratched!
FX Comp order: Wieber USA, Mitchell AUS, Yao CHN, Raisman USA, Lu CHN, Tweddle GBR, Ferrari UTA, Komova RUS
Up now: women's floor final! Lauren Mitchell of Australia will get the chance to defend her title after Bulimar of Romania scratched
HIGH BAR
1. Zou Kai - CHN - 16.441
2. Zhang Chenglong - CHN - 16.366
3. Kohei Uchimura - JPN - 16.333
4. Fabian Hambuchen - GER - 16.233
5. Epke Zonderland - NED - 14.833
6. Yusuke Tanaka - JPN - 14.70
7. Philipp Boy - GER - 14.30
8. John Orozco - USA - 14.133
Quick Hits:
GOLD: Zou CHN 16.441, SILVER: Zhang CHN ,BRONZE: Uchimura JPN 16.333. What a final!
Very fitting for Uchimura to perform the final routine here in Tokyo. Sad its all over!
Uchimura: cassina. lay out tkatchev. tak full to yamawaki clean. kohlman. layout double double, stick!
Boy finished well with a laid out double double and waves to the crowd. Uchimura is last up, so we'll definitely see Zou & Zhang medal
Boy: cassina. kohlman. fall on a tak half! ouch.
Zhang is in 2nd behind teammate Zou with a big 16.366 (7.60/8.766). Hambuchen sits in 3rd. Boy is up next!
Zhang: lay out tkatchev. big rybalkos. tak to tkatchev mix grip catch. laid out jaeger. Lay out dbl dbl, stick! Could defend his title
And Zou finished with a stuck laid out double double but a very low landing. High score, regardless. 16.441 (7.70!/8.741). 1st for now
Zou: tak to lay out tkatchev. rybalko to full twisting jaeger, cool! sloppy rybalko. low yamawaki. layout jaeger.
Tanaka scored 14.70 (7.0/7.70). Messy high bar final so far. Defending olympic Champ Zou Kai is next
Tanaka: clean full twisting kovacs. tak1/2+kovacs. rybalko. Things were going great until dismount.. laid out dbl dbl very low, hands down
Zonderland scored 14.833 (7.40D/7.433E)
Ugh what a bummer for Epke. Amazingly, he still hung onto the bar, did not count the fall and finished well.
Zonderland: laid out full twisting kovacs+tucked full twisting kocacs! Amazing! Gaylord release, wow! Ahhh hit is foot on yamawaki.
Orozco scored 14.133 (5.90/8.233)
And score for Hambuchen was a massive 16.233 with a 7.50 D score! Just incredible. 8.733 D score. Zonderland is next.
Not John's best routine, but what a World Champs he's had!
Orozco: Liukin legs glued together. clean rybalko. off on his tak, extra swing. yamawaki. tkatchev. Full twisting double layout.
Hambuchen: tak 1/2. full twisting kovacs. lay out tkatchev+rybalko+gienger, so cool! tak, yamawaki. lay out dbl dbl. Great routine!
HB Competition order: Hambuchen GER, Orozco USA, Zonderland NED, Tanaka JPN, Zou CHN, Zhang CHN, Boy GER, Uchimura JPN
The gymnasts are marching out for the final event here in Tokyo, men's high bar finals!