Create a free account to unlock this article!
Get Started
Already a subscriber? Log In
There is no question that weightlifting, in recent years, has become increasingly popular in the United States. As the sport grows, the qualification totals for the Senior National Championships have also changed; while some weight classes have lowered qualification standards, the general trend for most is higher totals and heavier weights, making qualification for Nationals increasingly more difficult. This year, a total of 323 athletes have qualified and will compete on the national platform. 145 different teams and clubs across the country have produced nationally qualified athletes, with some of the largest teams sending almost 20 athletes!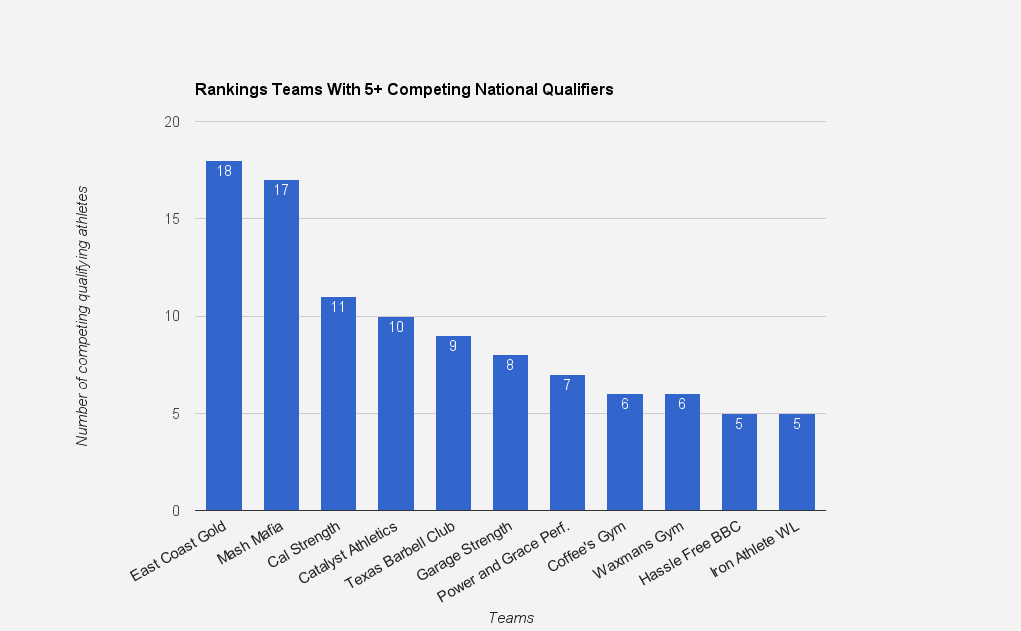 The top 11 teams with the most athletes qualifying for nationals range from 18 athletes (East Coast Gold) to 5 Athletes (Waxman's Gym).
Of the 145 teams to have qualified athletes, most have 1-3 athletes who will represent their respective club. Despite the large number of participating athletes, only 20% of the teams have more than two athletes competing, and 63% of the teams are only sending one athlete.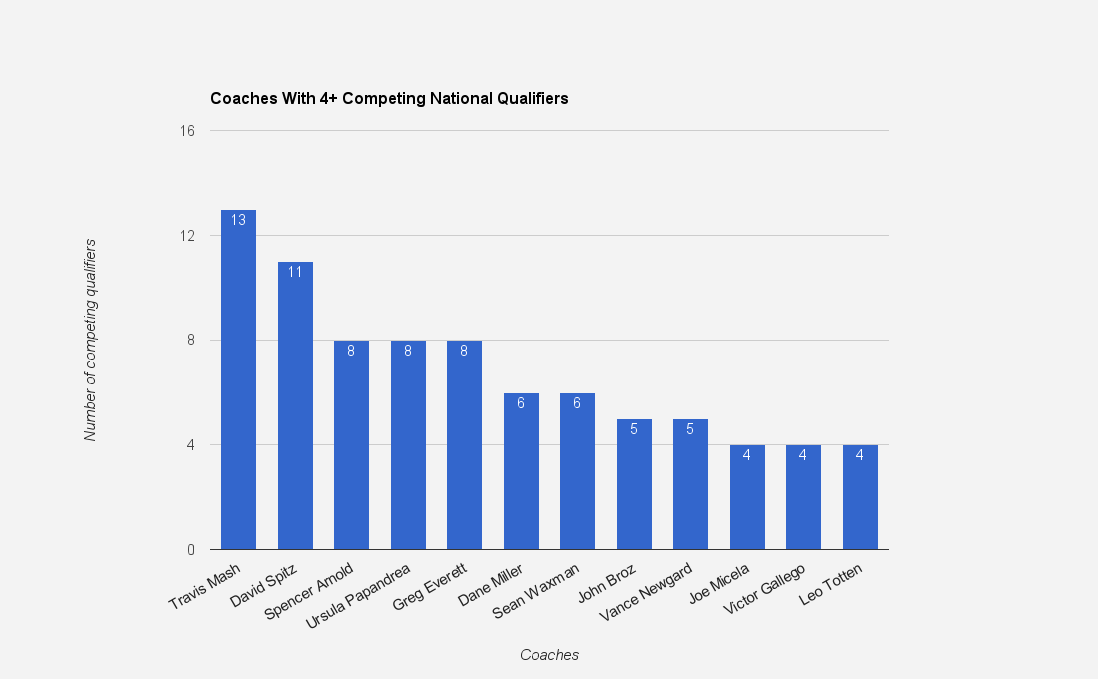 With over 300 athletes competing this year, it's no surprise that close to 200 different head coaches appear on the start list. Among the list, some of the top coaches sending athletes to Nationals include Travis Mash (Mash Mafia Weightlifting), David Spitz (California Strength) and Spencer Arnold (Power and Grace Performance). Only two coaches are sending over 10 athletes (Travis Mash and Dave Spitz), with 67% of the coaches having 1 athlete qualified for nationals and there are another 14 coaches with 3 qualified athletes.
Moving forward, it will be interesting to see how the number of qualified athletes fluctuates as qualification standards change, and as up-and-coming gyms start to develop more of their athletes. At a glance this data does offer some insight to which clubs and which coaches are the "heavy hitters" in the USAW, however, it does not necessarily reflect the expertise of each coach. Especially at a time when remote coaching is becoming increasingly popular, it wouldn't be impossible for a coach to help an athlete hit a qualifying total in a competition, without ever having eyes on said athlete.
The evaluation of a coach's prowess is not as ut and dry as a fancy bar graph; furthermore, a coach is not evaluated based on one meet, or one year, but rather several years and decades of progress and dedication. How a coach's athletes progress over time while working with the coach is a better estimate of his/her quality. The way an athlete lifts, in training and in competition, is a direct reflection of the coach. While that may be a fairly subjective measurement, the key is consistency and growth. If a coach qualified 10 athletes for Nationals one year, good for him. If the same coach consistently gets 7-10 lifters to nationals, and each of them go 5, maybe 6 for 6, multiple years in a row, then that's a savvy coach. Coaching can be thought of as an "endurance" sport. The daily grind of evaluating one's athletes and figuring out how to maximize each athlete's factor that separates fleeting coaches from masters of the sport.
Here's the full ranking:
| Coach | # Qualified | Club | # Qualified |
| --- | --- | --- | --- |
| Travis Mash | 13 | Unattached | 36 |
| David Spitz | 11 | East Coast Gold | 18 |
| Spencer Arnold | 8 | Mash Mafia | 17 |
| Ursula Papandrea | 8 | Cal Strength | 11 |
| Greg Everett | 8 | Catalyst Athletics | 10 |
| Dane Miller | 6 | Texas Barbell Club | 9 |
| Sean Waxman | 6 | Garage Strength | 8 |
| John Broz | 5 | Power and Grace Perf. | 7 |
| Vance Newgard | 5 | Coffee's Gym | 6 |
| Joe Micela | 4 | Waxmans Gym | 6 |
| Victor Gallego | 4 | Hassle Free BBC | 5 |
| Leo Totten | 4 | Iron Athlete WL | 5 |
| Luke Siefert | 3 | Metropolitan Elite | 4 |
| Bradford Kim | 3 | Performance One WL | 4 |
| Debbie Millet | 3 | Team Florida Orlando | 4 |
| Juan Martinez | 3 | Ave Broz | 3 |
| Joe Gazio | 3 | Team LAB | 3 |
| Andrew Mattox | 3 | Team PRAXIS | 3 |
| Danny Camargo | 3 | Vero Beach WL | 3 |
| Scott Glasgow | 3 | Max's Gym | 3 |
| Steve Galvan | 3 | Hi Performance Ath. | 3 |
| Drew Dillon | 3 | Amp Training | 3 |
| Jeremy Galo | 3 | Team O.C. | 3 |
| Christian Thompson | 3 | Utah Barbell | 3 |
| Chelsea Herzog | 3 | Team 210 WL | 3 |
| Ben Hwa | 2 | Project Lift | 3 |
| Don Mcauley | 2 | Solafide BBC | 3 |
| Mark Levell | 2 | Gayle Hatch WLT | 3 |
| Justin Thacker | 2 | Roach Strength | 3 |
| Artie Drechsler | 2 | Team Savannah | 3 |
| Jim Rutter | 2 | Philidelphia Barbell | 2 |
| Hannah Crowe | 2 | Kim Barbell | 2 |
| Phil Sabatini | 2 | Lift 6 for 6 | 2 |
| Rob Earwicker | 2 | PEAK Fitness | 2 |
| George Briones | 2 | Wesley Weightlifters | 2 |
| Dennis Snethen | 2 | Team Georgia WL | 2 |
| Ed Baker | 2 | Delta Weightlifting | 2 |
| Dan Rose | 2 | Calpians WLC | 2 |
| Brian Secrest | 2 | North Shore Weightlifters | 2 |
| Don Ricci | 2 | Team Montana | 2 |
| Rhett Warren | 2 | Optimus BBC | 2 |
| Dave Lussier | 2 | Kilofornia BB | 2 |
| Steve Gough | 2 | Team Minnesota | 2 |
| Luis Lopez | 2 | Team Pendragon | 2 |
| Aaron Adams | 2 | Lift Lab | 2 |
| Max Aita | 2 | OCCAM Athletics | 2 |
| John Coffee | 2 | Sense Gym WL | 2 |
| Zach Caswell | 2 | Team Titan | 2 |
| Charles Shipmen | 2 | Outlaw BB | 2 |
| Zygmunt Smalcerz | 2 | Apesquad WL | 2 |
| Roger Sadecki | 2 | Columbus Weightlifting | 2 |
| Sean LeFloch | 2 | Team New Jersey | 2 |
| Lou DeMarco | 2 | Absolute Strength | 1 |
| Mike Gray | 2 | Sayre Park WLC | 1 |
| Jason Poeth | 2 | SAS WLC | 1 |
| Dan Brown | 2 | Oregon Strenth | 1 |
| Nghiep Dinh | 2 | 626 Barbell | 1 |
| Michael Cohen | 2 | Lindenwood Lions | 1 |
| Tyrone Harvey | 2 | Tech Valley WL | 1 |
| Mark Cannela | 2 | Deep Barbell Club | 1 |
| Chris Wilkes | 2 | Epidemic Weightlifting | 1 |
| Gayle Hatch | 2 | ETSU Stonage WL | 1 |
| Nick Curry | 2 | Beantown Barbell | 1 |
| Rob Esposito | 1 | Mckennas Gym | 1 |
| Christophret Gartrell | 1 | Lab Athletics | 1 |
| Adam Eggersten | 1 | CFK Barbell | 1 |
| John Chai | 1 | Sports Perf. Tr. Center | 1 |
| Carl Penney | 1 | High Desert Ath. | 1 |
| Samuel Axten | 1 | Takano Athletics | 1 |
| Eric Rosenstock | 1 | High Road Barbell | 1 |
| Miles Ashworth | 1 | East Alabama WL | 1 |
| Satoshi Mizuguchi | 1 | Friendship BB | 1 |
| Fred Callori | 1 | PEAKS WLC | 1 |
| Tony Euculano | 1 | Team Western New York | 1 |
| Rachel Churchward | 1 | Harrisburg WLC | 1 |
| Robin Goad | 1 | Iron Beaver WL | 1 |
| Johnny Davis | 1 | Green Bay BB | 1 |
| Greg Curoso | 1 | Lily Weightlifting | 1 |
| Ryan Marciniszyn | 1 | RVA WL | 1 |
| Bob Morris | 1 | Trunkx BBC | 1 |
| Bob Takano | 1 | South Metro BB | 1 |
| Joshua Baumgarten | 1 | That Team | 1 |
| Jeremy Shepard | 1 | Fenrir Barbell | 1 |
| Debbie Hudson | 1 | Cain Athletics | 1 |
| Rudy Elizondo | 1 | Black Box WL | 1 |
| Mark House | 1 | Redzone WL | 1 |
| Steve Titus | 1 | Fearless Barbell | 1 |
| Jeff Vinzen | 1 | GodSpeed BBC | 1 |
| Bridget Raach | 1 | Stone Age Fuel | 1 |
| Jeffery Pillars | 1 | FV Barbell | 1 |
| Jake Humphrey | 1 | Lift More | 1 |
| Cogen Nelson | 1 | Twin Cities Barbell | 1 |
| David Rief | 1 | Barbarian BBC | 1 |
| Jocob Rowell | 1 | Robinson WLC | 1 |
| Robert Gerdes | 1 | Klamath BB | 1 |
| Adee Zukier | 1 | Strength Guild WL | 1 |
| Vermen Patao | 1 | Warrior Z Barbell | 1 |
| Anitra Goddard | 1 | East Carolina WL | 1 |
| Jace Cain | 1 | Outlier Barbell | 1 |
| Kurt Kling | 1 | El Jefe BB | 1 |
| Logan Hahn | 1 | Precision Barbell | 1 |
| Lance Rhodes | 1 | Tucson Barbell | 1 |
| Chandler Walker | 1 | Butcher Barbell | 1 |
| Jason Davidson | 1 | Ronin Barbell | 1 |
| Mike McKenna | 1 | Rumbler | 1 |
| Greg Simmons | 1 | MDUSA | 1 |
| Emmy Vargas | 1 | Xcel Barbell | 1 |
| Jeff Crawford | 1 | Team Hawaii | 1 |
| Ellyn Robinson | 1 | Crossfit MuscleFarm | 1 |
| Eric Nofsinger | 1 | Force Praxeum | 1 |
| Dean Limb | 1 | LBH of NYC Dept. of Parks | 1 |
| Jerell Barber | 1 | REP Scheme WL | 1 |
| Jeremy Hopkin | 1 | Peak Performance of GA | 1 |
| Charlie Zamora | 1 | Fortius WL | 1 |
| Joe Johnson | 1 | Fairfax BBC | 1 |
| Jamie Gold | 1 | CF Hoboken BB | 1 |
| Josh Dempsey | 1 | Mash Mafia Minnesota | 1 |
| Bruce Roberts | 1 | Performance Ratio | 1 |
| Michael tromello | 1 | Front Range WLC | 1 |
| James Ellis | 1 | Spoon BB | 1 |
| Stephen butcher | 1 | Las Vegas Barbell | 1 |
| Vincent Som | 1 | GNU Weightworks | 1 |
| Courtney Bachelor | 1 | Humble Beast BB | 1 |
| Michael Carrol | 1 | Pittsburg BBC | 1 |
| Tony Pica | 1 | CF NYC | 1 |
| Glenn Pendlay | 1 | Rebel BBC | 1 |
| Benjamin Claridad | 1 | 813 Barbell | 1 |
| Josh Cook | 1 | Team Houston | 1 |
| Joaquin Chavez | 1 | Team Soul Miami | 1 |
| Benton Kobashigawa | 1 | Paramount BBC | 1 |
| Pablo Roman | 1 | Milwaukee BB | 1 |
| Sam Ernst | 1 | Scottsdale Barbell | 1 |
| Mike Daley | 1 | Hyperion Strong BBC | 1 |
| Erika Talbott | 1 | Team FL - Volusia | 1 |
| Joe Triolo | 1 | Force WL | 1 |
| Michael Mendoza | 1 | Chikara WLC | 1 |
| David Miller | 1 | Code 3 Athletics | 1 |
| Jasha Faye | 1 | Fulcrum BBC | 1 |
| Ryan Erasmus | 1 | Squatmore WLC | 1 |
| Dave Fleming | 1 | MSP Fitness WLC | 1 |
| Jason Prudhom | 1 | Industrious Barbell | 1 |
| Zach Greewald | 1 | Crossfit Doral | 1 |
| Valentine Patao | 1 | Team Southern California | 1 |
| Paul Fleschler | 1 | MaH's Barbell | 1 |
| Frank Tam | 1 | | |
| Mel Knourek | 1 | | |
| Jack Gaines | 1 | | |
| Vanessa simpson | 1 | | |
| Mike Hom | 1 | | |
| Colin O'Neil | 1 | | |
| Ramon Toledo | 1 | | |
| Dan Smith | 1 | | |
| Michael Castaldy | 1 | | |
| Marc Sobremansana | 1 | | |
| Natty Bandasak | 1 | | |
| Patrick Costello | 1 | | |
| Tim Swords | 1 | | |
| Dan Williams | 1 | | |
| Bob Giordano | 1 | | |
| Murph DeVane | 1 | | |
| Rayford Jones | 1 | | |
| Angela Sorenson | 1 | | |
| Bruce Roberts | 1 | | |
| Tom Bennet | 1 | | |
| Rudy Nielsen | 1 | | |
| Geoff Eliason | 1 | | |
| Chris Crowder | 1 | | |
| Adam Brasel | 1 | | |
| Kris Kimura | 1 | | |
| John Douglas | 1 | | |
| John Pak | 1 | | |
| Jeff Wittmer | 1 | | |
| Ashley Perkovich | 1 | | |
| Emelie Parker | 1 | | |
| August Schmidt | 1 | | |
| Michael Street | 1 | | |
| Scott cereghino | 1 | | |
| Greg Scalf | 1 | | |
| Kevin Doherty | 1 | | |
| Eric Wilson | 1 | | |
| Aaron Axmear | 1 | | |
| Joon Shin | 1 | | |
| Arturo Ruiz | 1 | | |
| Ben Fanene | 1 | | |
| Michael Pilhofer | 1 | | |
| Jenny Miller Koniencki | 1 | | |
| Laura Dinger | 1 | | |
| Benjamin Hillamn | 1 | | |
| Harvey Newton | 1 | | |
| Leo Hernandez | 1 | | |
| Greg Schouten | 1 | | |
| Nikita Durnev | 1 | | |
| Joseph Dobbs | 1 | | |
| David Chiu | 1 | | |
| Chris Lofland | 1 | | |

Reporting contributed by Jake Baker