2016 USA Weightlifting Nationals & Olympic Trials
What Happened At The Olympic Trials?
What Happened At The Olympic Trials?
By now, everyone knows the results of the past weekend's Olympic Trials, but not everyone fully understands how and why everything played out the way it did
May 9, 2016
by Armen Hammer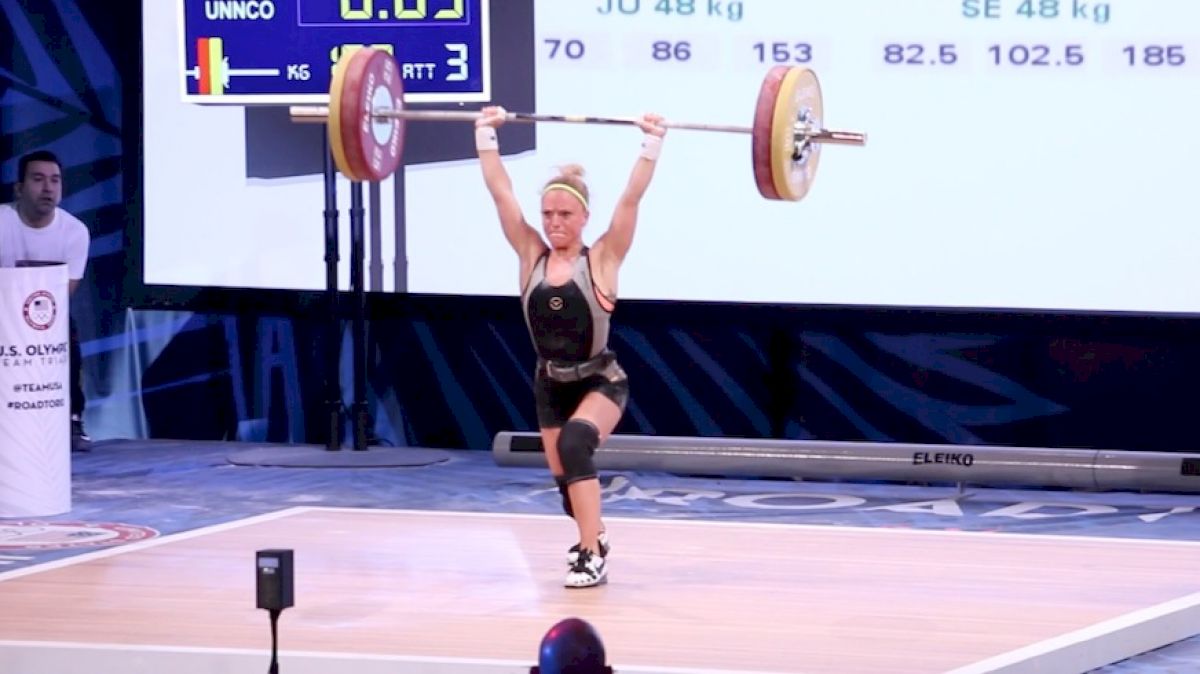 By now, everyone knows
the results of the past weekend's Olympic Trials
, but not everyone fully understands how and why everything played out the way it did.
Here's an in-depth look at Mattie Rogers, Sarah Robles, and Morghan King's performances; their strategies; and why Mattie Rogers didn't make it onto the Olympic team.
How the Olympic Trials work
USA Weightlifting's selection process is not the clearest, most fan-friendly approach.
Although I've explored this in-depth before
, I'm going to provide a quick refresher.
The women's team earned three spots at the 2016 Olympics based on their performances in the 2014 and 2015 Weightlifting World Championships.
Jenny Arthur's spot on the Olympic team was awarded based on her performances at 2014 and 2015 Worlds
, which left two remaining women's spots for Team USA.
Those two spots would be awarded to the athletes with the best chance at earning Olympic medals.
That ranking was determined by comparing the athletes' top totals (from the 2015 World Championships; the 2015 American Open; the 2016 Senior Trials; or the Olympic Trials) to the average third-place total from 2011 Worlds, the 2012 Olympics, and 2013-2015 Worlds
.
The rankings going into Trials

Arthur was fourth overall, but her spot was already secured. The top two women would be named to the Olympic team—going into the Trials, those two were Robles (based on her 279 total at the 2015 World Championships) and Rogers (based on
her 238 total from the 2016 Junior Nationals/Senior Trials
).
You can see how this ranking is determined by looking at the far-right columns. The "Total" column shows the best total the athlete has registered in recent large meets. The "OG/100%" column averages the third place finishes mentioned above, and the "%" column is the number used to actually determine the ranking. The higher the percentage (as in, the closer the athlete's total is to a bronze medal finish), the better the chance of the athlete earning a medal.
The Trials were the last chance for these athletes to register a total and increase their ranking, but if they didn't put up a total or totaled less at Trials, their previous total still remained. This became an important detail for Robles.
The Snatch session
The snatches were all about setting up these athletes for success. We already had an idea that the top three heading into Trials were Robles, Rogers, and King. With only two spots available, they were expected to put up huge lifts and take big risks to try to increase their ranking as much as possible.
Before any lifting starts, the athletes must declare their first attempts in the snatch and the clean-and-jerk. While they can change them later, these first attempts can help us predict what they're shooting for and allows them to play mind games with their competitors.
Here's what would've happened to the ranking if Robles, Rogers, and King hit their declared openers:


Morghan King:



Sarah Robles:



Mattie Rogers:

Obviously you can't assume these athletes will only hit their openers, but you can clearly see King was calling her shot. She was hungry for it, and she knew that if she wanted to lock in her spot, she'd have to go big.
King attempts a new American record in the snatch
King was at a disadvantage going into Trials. As a lighter lifter, she'd have to go first, which would give Rogers and Robles an idea of what they would need to hit to pass her up. But King wasn't going down without a fight.
After missing her first attempt, King came back and nailed 80kg. She returned to attempt 83kg for a new American record, but couldn't quite stick it.
Rogers sets a new American record in the snatch
Rogers knew she'd have to show up big at Trials, and she was clearly prepared to break her own American records. Despite opening with a shaky 103kg, she followed it up with a solid 106kg snatch on her second attempt for a new American record.
She just missed her last attempt at 109 behind her, but looked to be in a good position heading into the clean-and-jerks.
Robles bombs out
An Olympian from the 2012 London Games, Robles served a two-year ban for PEDs before being reinstated in time to compete at 2015 Worlds.
There, she put up a solid 279kg total to cement her spot atop the Olympic team rankings.
Going into Trials, she was comfortably in first place, but knew she should set a larger total to make sure she didn't get passed up.
Unfortunately, things didn't go her way. She attempted to snatch 118kg three times and bombed out, which paved the way for King and Rogers to try and pass her up.
The Clean-and-Jerks
With Robles unable to post a new total, King and Rogers could look at her existing total to determine the numbers they needed to pass her in the rankings.
Now stuck with her 96.207%, Robles wasn't able to do anything about it if King or Rogers put up the numbers necessary to surpass her.
The most important jerk of King's life
King clearly had a plan in place for the Trials. Aiming big, she locked in an 80kg snatch, and opened her clean-and-jerks at 95kg, which would've given her a 175kg total.
That total would put King at 93.783%—below Robles, but above Rogers. With second place secure, King looked for the lock and called for 100kg on her second attempt.
She made the lift, but was red-lighted due to press-out. A 100kg lift would've put her at 96.463%—above both Rogers and Robles—and first place in the Olympic rankings to guarantee her a spot to Rio.
With only one attempt left at 100kg, King came to the platform and performed exactly how she needed to. It was easily her best lift of the night, and she stepped up when it counted most. In the space of a dozen seconds, King accomplished her lifelong dream of becoming an Olympic athlete.
King's clean-and-jerk sets the mark for Rogers
After King claimed the No. 1 spot, nothing could've removed her from the Olympic team. Rogers had only one chance to make the team, and that was beating Robles in the ranking.
Rogers' team worked quickly and found the number she needed to hit: 141kg.
With a 141kg clean-and-jerk, Rogers would total 247kg to bump her percentage up to 96.334%—ahead of Robles, but behind King to make the Olympic team.
The only problem was 141kg is 8kg over her own American record and competition-best mark. Hitting that lift required a legendary performance, and Rogers was up for the task.
She moved her opening clean-and-jerk from 125 to 132, and we waited. Even if King hadn't made her 100kg clean-and-jerk, Rogers would've been forced to set a PR and a new American record to solidify her spot on the team. But there's a big difference between requiring a 2kg PR compared to an 8kg PR.
Rogers missed her opening attempt at 132kg. The bar slipped off her shoulders as she caught the clean. Her body language and facial expression clearly showed she was upset, and she was able to channel that emotion into her second attempt at 132, which was successful.
When 141 was called on the bar, the entire auditorium was on their feet. Rogers is a fan favorite; her story is the stuff of movies; and her rise in the sport has been quick and dominant.
But the crowd doesn't pick who goes to the Olympics, and the barbell doesn't care about the lifter's story. A 141kg clean-and-jerk wasn't in the cards for Rogers, and neither was a spot on the Olympic team.
At the end of the night,
King, Robles, and Arthur were named to the Olympic team
. They each earned their spots through the established selection process outlined by USA Weightlifting after the 2012 Olympics.