Before the Olympics began I set out
my podium picks for the men's
and
women's competitions
and now that weightlifting at Rio is completed it's time to see how my picks did.
Women's Picks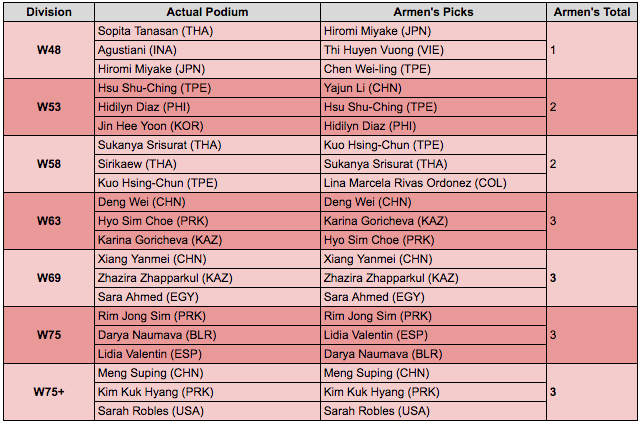 I was way off with the women's 48kg category, only successfully predicting that Hiromi Miyake would make the podium, but from there I got much more successful. I predicted the podium for the Women's 63, 69, 75, and 75+ including getting the podium exactly right in the 69 and 75+.
Overall, I got 17 of 21 podium finishers picked and 8 of the podium spots right on the nose.

Men's Picks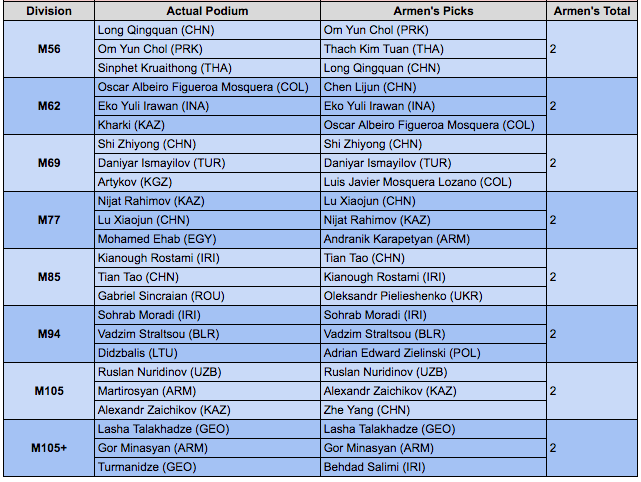 My men's picks were consistent but just not quite as accurate as I was with my women's picks. Overall, I got 16 of 24 podium finishers correct and 7 of the podium spots exactly right as well. Almost all my picks had a good shot at making the podium, but in weightlifting you never know what's going to happen until it happens and between Nijat Rahimov's amazing 214kg clean & jerk, Karapetyan's elbow injury. Zielinski's positive doping test, and Salimi bombing out, a lot of my picks just fell apart.
Overall I'd say I did pretty well. I completely messed up with the Women's 48kg category, but was pretty much on the nose with most of my other picks.