Giants Live: The British Open 2017
Giants Live: The British Open Events
Giants Live: The British Open Events
Breaking down the events featured at Britain's Strongest Man, aka Giants Live: The British Open 2017!
Jan 24, 2017
by Chris Bland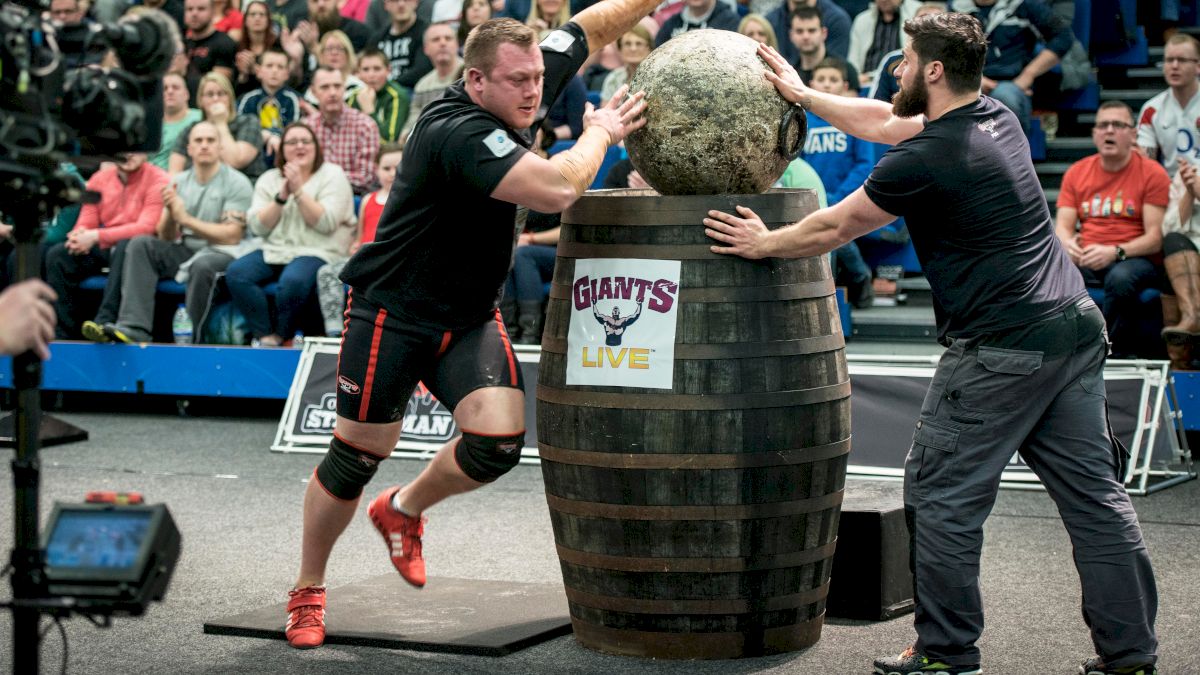 The mightiest athletes from across the British Isles are converging on the Doncaster Dome to challenge Eddie Hall's title as Britain's Strongest Man on Saturday, January 28. Both Hall and 10 challengers will have to prove themselves over the following six grueling events.

Safe Press, Max Reps: 160kg
We got a quick glimpse of just how tough this event really is at the Battle of the Norse Giants late last year, with many of the athletes being left with only a few reps to show for all their hard work. From what we saw, there seems to be two distinct ways to excel on the safe press. The first is to be brutishly strong and almost strictly press it. The other is to master the movement, ideally with a lot of practice on the kit itself to get used to the swing. Two of the strongest overhead pressers in the world will be at the Doncaster Dome this weekend in Hall and Graham Hicks, both of whom will be looking for big numbers despite its awkwardness. Mark Steele and Laurence Shahlaei have also looked great in training.
Deadlift, Max Reps: 350kg
The deadlift at Britain's Strongest Man this year will be beautiful in its simplicity: no car frames, no fat bars and no silver dollars, just a standard gym bar loaded to 350kg. Whoever has done the most deadstop reps in 60 seconds wins. On the surface, this might not sound as exciting as last year's van deadlift, but trust me, with so many incredible deadlifters competing, the event will provide an undilated insight into what these monsters can do. A few of the athletes will fancy their chances on this event, primarily Hall, who will be looking to make light work of 350kg with his 500kg max. But there is more to this event than just all-out strength, and we could see the endurance of Mark Felix shine through and possibly a surprise from Tom Stoltman.
Yoke Carry, Fastest 20m: 2 Bikes

One of the brilliant things about strongman is that the weights don't always need to be exact as long as they are heavy. This point was drilled home by the car walk last year, when Shahlaei sprinted the 20m course with a Volkswagen Beetle on his back in a record-breaking 11.92 seconds. This year it won't be a Beetle that the competitors are carrying but instead two motorbikes attached to a yoke frame. I've heard rough estimates of this setup weighing an incredible 450kgs or 1,000lbs. Shahlaei will be looking to show that he is still the fastest in the world when it comes to yoke, but that title won't come easy. Felix, Hall and Steele will all be looking to take it from him.
[instagram url="https://www.instagram.com/p/BEjs41kII0C/?taken-by=biglozwsm" hide_caption="0"]
Hammer Hold, Max Time: 30kg

Weighing only 30kgs, the hammer hold is definitely the odd one out in this list. But if you ask the athletes which event they are looking forward to the least, many would give it the nod. The competitors must stand with their backs firmly pressed against a pole and then hold the hammer out at arm's length for as long as possible. While there are a few attributes that can make this easy -- weight, strength and arm length among them -- this is really a test of will and how much pain you can tolerate. Hall took the win in this event last year, but both Felix and Shahlaei will be looking to challenge.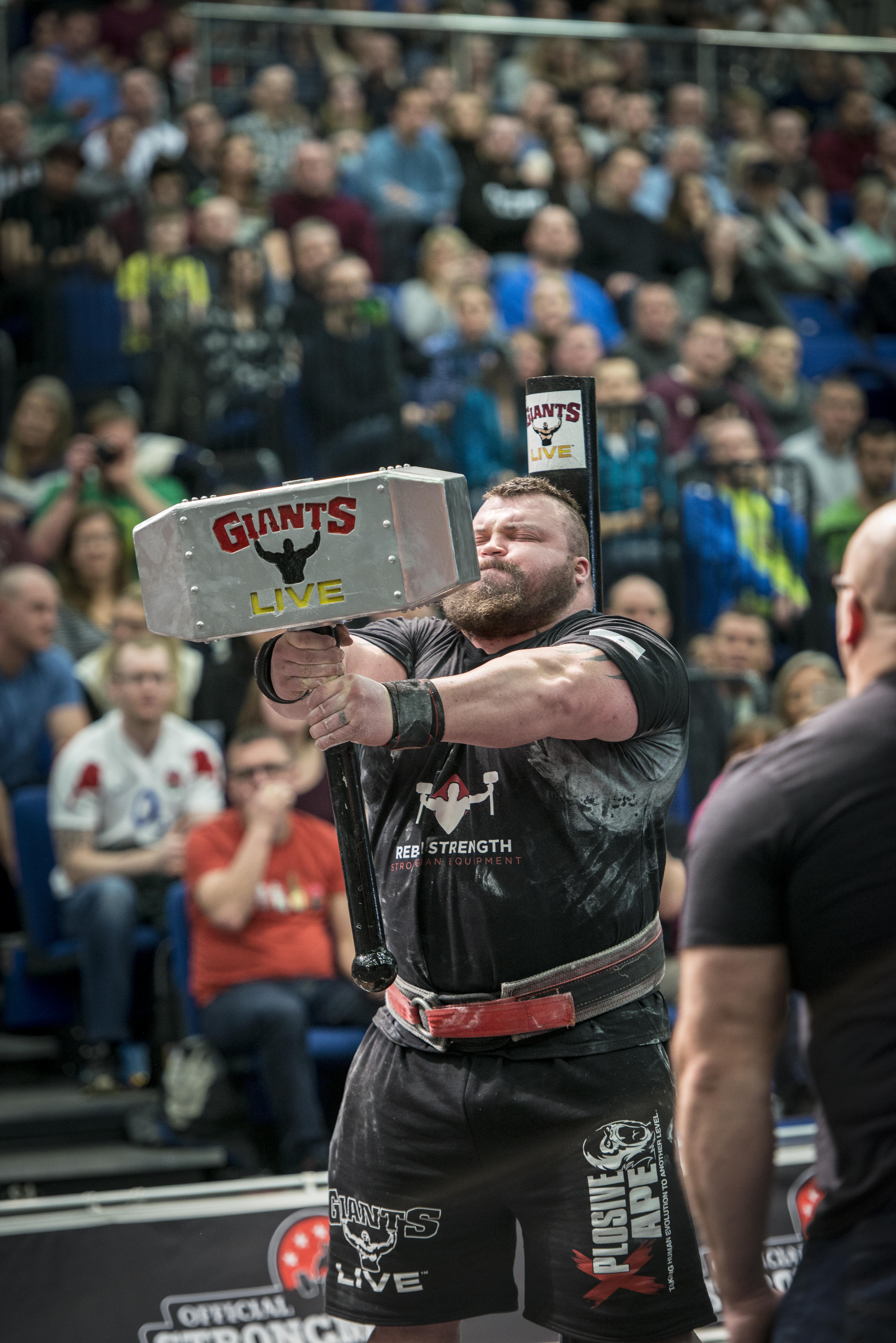 Shield Carry, Max Distance: 200kg

If the hammer hold is a test of mental toughness, then the Shield Carry adds endurance into the equation. A truly heinous event, the competitors must pick up the 200kg shield and then carry it in the crook of their arms as far as possible. This task is made even more difficult by the absence of handles on the shield and the reduction in breathing capacity caused by 200kg of steel compressing your lungs. Expect the slightly smaller, fitter athletes to take some points back on this event, as their leanness and athleticism will be an advantage. Adam Bishop, Paul Smith and the Stoltman brothers could all be a threat.
Stones, Fastest Time: 100-200kg
It's the final event and the only real way to finish a strongman competition -- five spherical concrete balls ranging from 100kg to a huge 200kg being loaded onto platforms. With such a competitive lineup, expect any slip-ups with the Atlas stones to cost the athletes dearly. Hall is fantastic on stones, and barring any mistakes, this event is his to win. But Felix, Bishop, both Stoltman brothers are no slouches either. Expect drama and a close finish.