2017 Europe's Strongest Man
Eddie Hall's Training For Europe's Strongest Man Has Been Amazing
Eddie Hall's Training For Europe's Strongest Man Has Been Amazing
Eddie "The Beast" Hall is training harder, smarter, and better than ever in the lead up to the 2017 Europe's Strongest Man.
Mar 24, 2017
by Armen Hammer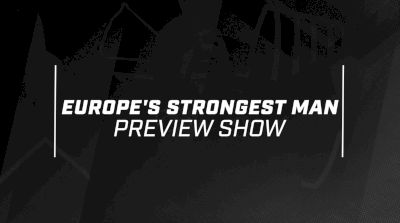 Eddie Hall is the greatest deadlifter of all time, Britain's Strongest Man, podium finisher at the 2016 World's Strongest Man, and is making a run at Europe's Strongest Man next week. According to him, his training has been better and more consistent than ever, but don't just take his word for it. Check out his incredible training lifts leading up to Europe's Strongest Man and see for yourself:
The Event May Be Over But You Can Relive Every Minute Of 2017's Europe's Strongest Man Right Here



Eddie Hall Easily Presses A 200kg Axle, Breaks The Axle On The Way Down

The max axle press will be one of the events at Europe's Strongest Man and Eddie Hall has his sights set on Big Z's 215kg/473lb world record.
Eddie Hall Squats 350kg/770lb For 6 On A Safety Bar
While the safety bar squat isn't a contested lift, it's a fantastic accessory movement and the ease with which Hall cruises through these six reps belies his incredible leg strength.
Eddie Hall Incline Benches 225kg/496lb For 7 Reps
[instagram url="https://www.instagram.com/p/BO0Tb-NDzRt/" hide_caption="0"]
Another example of Hall's insane static strength, this is just another day in the gym for a man who can press an impressive deadlift for multiple reps.
Up until last year, Europe's Strongest Man was dominated by Hafthor Bjornsson. With Loz Shahlaei's impressive win last year, The Mountain was proven to be mortal. Now Eddie Hall is ready to enter the arena and earn a title he's had his eyes on since he began competing in strongman.