2017 Europe's Strongest Man
FloElite Live Streaming Europe's Strongest Man 2017
FloElite Live Streaming Europe's Strongest Man 2017
Watch Europe's Strongest Man 2017 live. Taking place at First Direct Arena in Leeds on April 1st 2017. Featuring Hafthor "The Mountain" Bjornsson, Laurence "Big Loz" Shahlaei, and Eddie "The Beast" Hall.
Mar 27, 2017
by Chase Long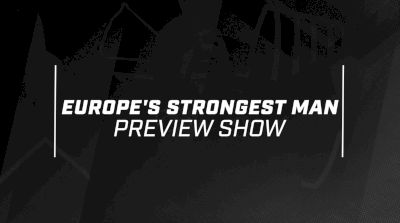 The flagship event in the Giants Live World Tour is BACK with big names and, of course, the heaviest, gnarliest lifts you can imagine.
Hafthor Bjornsson, aka "The Mountain" from Game of Thrones, lost his title in 2016--now, he wants it back. He will be challenged by Swindon strength star "Big Loz," Laurence Shahlaei, who wants to cling onto his fame as the world's second-strongest strongman. But with Eddie "The Beast" Hall laser-focused on the Europe's Strongest Man title, this will prove to be a true battle of the giants.
Tune in on April 1 to see real-life giants run with cars, toss kegs, lift humongous logs and tackle the legendary atlas stones before a sold-out crowd of 10,000-plus fans.
The Event May Be Over But You Can Relive Every Minute Of 2017's Europe's Strongest Man Right Here

How To Watch
ON TV:
Now available on Roku and Apple TV 4 -- download the FloSports app today!
STREAMING:
A yearly FloPro subscription provides access to ALL FloSports sites.
SIGN UP HERE
Join The Conversation On Social
• Follow us on Twitter
@Flo_Elite
• Follow us on Instagram
@floelite
• Follow us on
Facebook