2017 Europe's Strongest Man
Europe's Strongest Man Full Events Breakdown
Europe's Strongest Man Full Events Breakdown
Here's a full breakdown of all the events which will be contested at Europe's Strongest Man 2017!
Mar 30, 2017
by Armen Hammer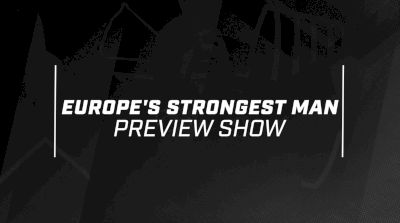 Unlike powerlifting or weightlifting, strongman is fortunate enough to not be bound by rigidly set events. Each competition picks the events that it thinks will bring out the best in the athletes and provide the greatest spectacle for the fans. This is more art than science, and organizers don't always get it right. This time, though, Giants Live seems to of hit the nail right on the head for Europe's Strongest Man on Saturday, April 1, in Leeds, England, by effortlessly combining our favorite movements with some that have perhaps unjustly fallen to the wayside in recent years.
Of course the biggest change comes in the form of the removal of the World Deadlift Championships, which has been kicking off Europe's Strongest Man for the last few years now. But with England's Eddie Hall having set an almost unreachable precedent for European lifters, it seems only sensible to let the limelight fall on another lift -- this time the axle -- at First Direct Arena this weekend.
The Event May Be Over But You Can Relive Every Minute Of 2017's Europe's Strongest Man Right Here

Truck Pull - 20m - Fastest Time
[instagram url="https://www.instagram.com/p/BRjWZ6tD-6B/" hide_caption="0"]
The other major change to the event lineup at this year's Europe's Strongest Man is that it is no longer a one-day show. The inclusion of the truck pull on Friday changes everything for the competitors. Recovery becomes a huge factor, if they want to be at their best for the next day. This is especially true as the pull itself is reported to be hellacious; the competitors will have to pull the truck a brutal 20m run on slight uphill.
Terry Hollands is known as one of the very best in the world at this event, a reputation that he has proved worthy of time and time again. Going into this first event, it will be difficult to bet against him. However, all it would take is one misstep from Hollands, and it becomes open season for some great truck pullers in the lineup.
Apollon's Axle - Max Weight
[instagram url="https://www.instagram.com/p/BROA4XxlIFp/" hide_caption="0"]
There is something incredibly beautiful about a max axle. To the layperson it looks nothing more than a slightly enlarged version of the barbells they're familiar with from their own gyms, and the technique it requires -- the continental clean -- is often misattributed to poor form. As is so often the case with strongman, however, looks can be deceiving, and the Apollon's Axle is arguably one of the most technical lifts in the sport.
This year the competitors will be going up against a particularly nasty piece of kit. A two-inch thick, unknurled, non-rotating axle with a giant cartwheel on either end. Simply, it could not be any more awkward to pick up if you designed the thing for that sole purpose. It won't be normal men, though, who will be battling this monstrosity, and we should see some big numbers going up, maybe even a new world record. Hall is looking brilliant on this event and has been seen putting up 200kg with relative ease in training. Could he beat Big Z's 215kgs?
Car Walk - 460kg - 20m - Fastest Time
Returning for the third year in a row at Europe's Strongest Man is the car walk. And you'll find no better example of how quickly this sport is progressing than in this event. When it was first introduced, most of the athletes struggled to even get it across the line. Three years later, however, and there are three or four guys all with their eyes firmly on setting a new world record. England's Laurence Shahlaei is the current holder of that record, taking 11.92 seconds to run 20m with a Volkswagen beetle strapped to his back. While Loz may be the fastest man under a yoke (or car) in the world at the moment, there are a few who want to take that title, including Hall and the Polish sensation Mateusz Kieliszkowski.
Deadlift - 362.5kgs - Max reps
[instagram url="https://www.instagram.com/p/BR_qtxgjgHB/" hide_caption="0"]
You can't have a strongman competition without a deadlift. While it might not be the crowning glory of this year's Europe's Strongest Man Competition, it will still be many people's favorite event. And it will be an incredibly straightforward one at that: 362.5kgs loaded onto a standard barbell and after 60 seconds whoever has done the most reps wins. And with the caliber of deadlifters present, you can expect an epic showdown too -- although it would take a man far braver than I to bet against Hall, the greatest deadlifter to have ever walked the earth. The real battle will be for the points available for second place, and eight out of 12 competitors have a fair chance of snatching those.
Tire Flip and Drag - 410kg - 20m - Fastest Time
[instagram url="https://www.instagram.com/p/BR5vJinAcUv/" hide_caption="0"]
Not that long ago the tire flip was the cornerstone strongman competitions, but in recent years it's seen a drastic fall from grace. Many athletes have even gone as far as skipping the event altogether amid fears of tearing their biceps. However, the reality is that the tire flip is no more dangerous than many of the other events we see at shows around the world and is a brilliant test of brute strength and fitness. This weekend, athletes will be pushed even further this time, though. Not only will they have to flip the tire the length of the course, but they'll also have to drag it back. This is an event that will favor the larger but fitter athletes, as they will be able to leverage their weight on the drag back. Expect to see Thor and Loz pushing for a winning time.
Atlas Stones - 140kgs- 200kgs - Fastest Time
[instagram url="https://www.instagram.com/p/BQKv_pOAiVU/" hide_caption="0"]
Is there any better way for a strongman competition to close than head-to-head atlas stones? If the competition is as close as people are predicting, then it could all come down to that final pairing. The athletes that want those points, though, are going to have to be fast over the five stones and not slow down as they get heavier. Starting at only 140kgs, the weight quickly ramps up, with the final stone totalling in at a man-breaking 200kgs.
There are a few guys who will be wanting to sign off with a victory, namely Hafthor Bjornsson, who for quite some time now has been known as the king of the stones because of his prowess on the event. Luke Stoltman, however, proved himself the best stone lifter in the UK a few months ago at Britain's Strongest Man, beating everyone including Eddie and Loz. Will he be able to do it again on the bigger stage?
How To Watch
ON TV:
Now available on Roku and Apple TV 4 -- download the FloSports app today!
STREAMING:
A yearly FloPro subscription provides access to ALL FloSports sites.
SIGN UP HERE
Join The Conversation On Social
• Follow us on Twitter
@Flo_Elite
• Follow us on Instagram
@floelite
• Follow us on
Facebook