2017 Europe's Strongest Man
Europe's Strongest Man 2017 Recap
Europe's Strongest Man 2017 Recap
Full recap of 2017 Europe's Strongest Man with an event by event breakdown!
Apr 3, 2017
by Chris Bland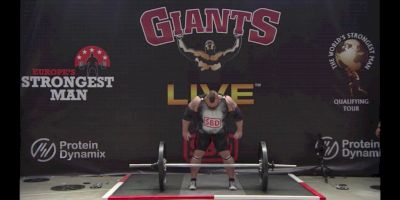 As 10,000 fans flooded into the First Direct Arena on Saturday, the air was heavy with speculation at who would be leaving Leeds, England, with the crown of Europe's Strongest Man.
Following a few last-minute replacements in the lineup -- a reminder to all of the brutal toll that competing at this level puts on the body -- all 11 athletes in attendance looked in phenomenal shape and hungry for the title.
However, none looked as supremely confident throughout the competition as Hafthor Bjornsson, who battled through a form of temporary facial paralysis called Bell's palsy to capture his third Europe's Strongest Man title.
Bjornsson, who announced on Friday he had been recently diagnosed with the virus but would still compete, reclaimed the ESM title a year after losing the crown to Laurence Shahlaei by winning three individual events and finishing no lower than second in each discipline. Bjornsson totaled 63 points in his virtuoso performance to edge England's Eddie Hall by a mere two points and also move his native Iceland into a tie with Poland with seven all-time wins.
WATCH THE FULL EUROPE'S STRONGEST MAN ARCHIVES HERE
Event 1 - Bus Pull
Winner: Hafthor Bjornsson
This brutal first event had been kept a closely guarded secret by the athletes and Giants staff, and it did not disappoint. The athletes were faced with the arduous task of pulling a huge double-decker bus up a 20m incline. With a time cap of only 60 seconds, they were always going to be up against it. In fact, only one man was able to finish the course inside that time limit -- the monstrous Hafthor Bjornsson.
As he leveraged every ounce of his enormous body weight against the harness, Bjornsson looked unstoppable, completing all 20m in 32.52. The veteran and truck-pull legend Terry Hollands was close behind, finishing less than a meter short, as did the beast Eddie Hall. After that, though, the only competitors to even come close were youngsters Matjaz Belsak and Konstantine Janashia, who managed 18.65m and 18.47, respectively.
Bus Pull Results
Hafpor Bjornsson, 20m (32.52 seconds)
Terry Hollands, 19.5m
Eddie Hall, 19.15m
Matjaz Belsak, 18.65m
Konstantine Janashia, 18.47m
Laurence Shahlaei, 17.18m
Luke Stoltman, 16.55m
Dainis Zageris, 16.4m
Mark Felix, 16.25m
Adam Bishop, 15.31m
Raffael Gordzielik, 14.65m
Event 2 - Max Axle
Winner: Eddie Hall
The first live event had a lot to live up to, having replaced the World Deadlift Championships, which was arguably one of the most anticipated events in the strength calendar. It was a bold move by Giants Live but one that paid off tenfold with Hall once again defying everyone's expectations by taking a new world record.
For those not familiar with the Apollon's Axle, it was one of the most challenging overhead events in the sport. The two-inch-thick bar, which is unknurled and non-rotating, requires the mightiest of grip just to part from the floor, not to mention the shoulder strength needed to press 160-plus kilos. It was a fact that the crowd was reminded of when Dainis Zageris was unable to even get the opening weight of 160kg overhead, followed Adam Bishop suffering a torn bicep in the process of hitting 160kg.
Terry Hollands didn't fair much better much to the dismay of the crowd, which cheered the Englishman on madly. Unfortunately, he was unable to go heavier than the opening 160kg. His old rival, Laurence Shahlaei, eager to regain lost ground from the bus pull pushed on, securing 180kg. Even the reigning champion's best efforts, though, couldn't match Thor and Hall. Bjornsson finished in second with an Icelandic record of 206kg, and Hall strict-pressed a 216kg for a new world record.
Max Axle Results
Eddie Hall, 216kg
Hafpor Bjornsson, 206kg
Matjaz Belsak, 200kg
Laurence Shahlaei, 180kg
Konstantine Janashia,180kg
Raffael Gordzielik, 160kg
Adam Bishop, 160kg
Mark Felix, 160kg
Luke Stoltman, 160kg
Terry Hollands, 160kg
Dainis Zageris, Missed Opener
Event 3 - Tire and Drag
Winner: Hafthor Bjornsson
The tire flip is one of the most feared events in strongman. Not only is it an exhausting movement that taxes every single muscle in the body and scorches the lungs, but it also can put the athlete at risk of a bicep tear. Partner this brutal movement with a killer anchor drag and you are in for an exercise in pain management. Sadly, it was enough to finish off Shahlaei, who had been suffering badly from a virus before the event and wisely withdrew from the contest.
Luke Stoltman, keen to show that he still could be a serious contender after struggling on the first two events, went out like a madman, completing the course in an incredibly impressive 40.19 seconds. With the Scotsman showing how it's done, the others had to step up their games, and they did just that. Most notably, Bjornsson stormed through the course in 29.06 seconds, his gigantic 200kg frame making the tire almost look like a toy.
Tire Flip and Drag Results
Hafpor Bjornsson, 29.06 seconds
Terry Hollands, 35.66 seconds
Eddie Hall, 36.88 seconds
Konstantine Janashia, 37.46 seconds
Laurence Shahlaei, 38.51 seconds
Luke Stoltman, 40.13 seconds
Mark Felix, 42.17 seconds
Matjaz Belsak, 44.86 seconds
Dainis Zageris, 53.35 seconds
Raffael Gordzielik, 62.13 seconds
Event 4 - Deadlift Reps
Winner: Eddie Hall
While there may not have been a max deadlift this year, it wouldn't be a strongman competition without at least a deadlift event of some form or another. With Hall having raised the deadlift standard several levels last year by pulling 500kg, it was no surprise that the promoters this year put up a heavy weight for reps. At this standard, though, even 362.5kg isn't that imposing of a weight. An early standout was the Georgian Bull, Konstantine Janashia, who gave the fans a glimpse of what he is capable of by pulling six comfortable reps, narrowly losing out to the former deadlift king Mark Felix's seven.
No one, though, could beat the Beast. Hall looked more like he was in the gym warming up than on one of the biggest stages in the world, repping out 10 deadlifts to take the win. Thor, however, put in a valiant effort and pulled eight reps to keep himself in the lead, proving that height is no disadvantage in the deadlift.
Deadlifts for Reps Results
Eddie Hall, 10 reps
Hafpor Bjornsson, 8
Mark Felix, 7 reps
Konstantine Janashia, 6 reps
Terry Hollands, 5 reps
Dainis Zageris, 4 reps
Raffael Gordzielik, 3 reps
Matjaz Belsak, 3 reps
Luke Stoltman, 1 rep
Event 5 - Car Walk
Winner: Hafthor Bjornsson
With the world record-holder on the event and reigning champion Shahlaei forced to retire from the competition with an injury, the car walk was anyone's to take. Hollands gave it a great shot early on sprinting down the 20m course with the Volkswagen Beetle in an impressive 14.08 seconds.
Holland's mark stood for a long time, even against some impressive efforts from the likes of Mark Felix and Matjaz Belsak. It couldn't, however, hold up against Thor and Hall, who at this point seemed to just be competing against themselves. They both were within a fraction of a second of each other, with Hall just crossing the line first in 12.51 seconds to Thor's 12.84 seconds.
Car Walk Results
Eddie Hall, 12.51 seconds
Hafpor Bjornsson, 12.84 seconds
Terry Hollands, 14.08 seconds
Mark Felix, 16.11 seconds
Konstantine Janashia, 16.91 seconds
Matjaz Belsak, 17.46 seconds
Luke Stoltman, 20.23 seconds
Raffael Gordzielik, 21.58 seconds
Event 6 - Atlas Stones
Winner: Hafthor Bjornsson
Hall and Thor had been close throughout the entire competition, and Hall's speed on the car walk meant that their battle for the title would go right to the wire. With the Icelander ahead now by only a single point, the slightest of faults on the stones by either of the front-runners would be disastrous.
The first to really stand out on the stones, though, was Stoltman, who completed all five in 42.7 seconds. As impressive as that time was, though, it was nothing compared to Felix's performance. The 51-year-old -- keen to show he still deserves a place on the world stage -- flew through the stones in just over 30 seconds. However, not everyone made the stones look so easy. Janashia's inability to load that fifth stone cost him any chance at finishing on the podium.
After already witnessing some incredibly fast times, all that was left was to see was who would be leaving the arena as the new Europe's Strongest Man -- Hall or Bjornsson? Out of the blocks they were both almost neck and neck, but a slight slip from Hall on the final stone was the mistake that Thor needed. "The Mountain" made no such error and put on a dominating display to complete the course in 17.54 seconds to Hall's 23.81 seconds.
Atlas Stones Results
Hafpor Bjornsson, 5 stones (17.54 seconds)
Eddie Hall, 5 stones (23.81)
Mark Felix, 5 stones (30.68)
Terry Hollands, 5 stones (42.46)
Luke Stoltman, 5 stones (42.7)
Konstantine Janashia, 4 stones (20.55)
Matjaz Belsak, 4 stones (28.84)
Raffael Gordzielik, 4 stones (51.17)
Final Europe's Strongest Man Results
Hafpor Bjornsson, 63 points
Eddie Hall, 61 points
Terry Hollands, 48 points
Konstantine Janashia, 43.5 points
Mark Felix, 38 points
Matjaz Belsak, 36.5 points
Luke Stoltman, 30 points
Laurence Shahlaei, 20.5 points
Raffael Gordzielik, 19.5 points
Daubus Zageris, 13 points
Adam Bishop, 6 points