2018 Reebok CrossFit Games
Defending Champs Take Charge At 2018 CrossFit Games
Defending Champs Take Charge At 2018 CrossFit Games
The 2018 CrossFit Games are off to a roaring start.
Aug 4, 2018
by Lincoln Shryack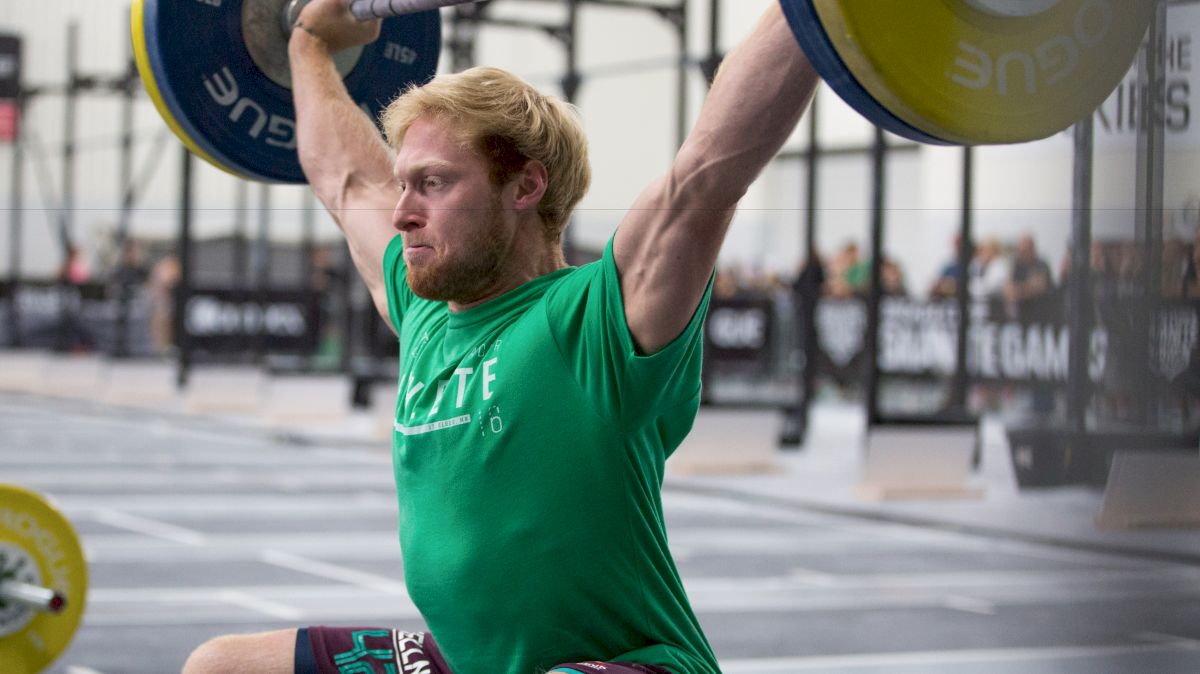 The 2018 CrossFit Games got off to a running, er, rolling, start on Wednesday in Madison, Wisconsin, as the 40 men and 40 women kicked off the individual competition with a 12,000m (7.5 mile-ish) criterium bike race. A bike race through city streets was a first in CrossFit Games history, a seemingly appropriate way to begin perhaps the most grueling Day One ever.
There have been six other events completed since the wheels rolled off the line on Wednesday at 8:20 am, and we're here to provide the action-packed recap of what you may have missed in the individual competition so far. Two more brutal days await before we crown our Fittest Man and Woman on Earth, but the highlights have already been aplenty.
Before we get into things, here what the men's and women's leaderboards (top 10) look after the first two days of individual competition.
MEN
Mathew Fraser - 564
Lukas Hogberg - 516
Patrick Vellner - 474
Brent Fikowski - 462
Cole Sager - 418
Bjorgvin Karl Gudmundsson - 408
Adrian Mundwiler - 384
Noah Ohlsen - 372
Willy Georges - 364
Lukas Esslinger - 362
WOMEN
Tia-Clair Toomey - 580
Laura Horvath - 522
Annie Thorisdottir - 516
Katrin Davidsdottir - 482
Kara Saunders - 474
Sara Sigmundsdottir - 406
Kristin Holte - 402
Brooke Wells - 400
Cassidy Lance-Mcwherter - 394
Kari Pearce - 386
Ok. Now here's the chronological recap of how we got to that point after two days:
MEN: Crit (IE1) - Switzerland's Adrian Mundwiler over James Newbury; Fraser impresses in 4th
This one was pretty straightforward— 10 laps of a 1,200m loop. And when the dust had settled on the men's race, it was no surprise who crossed the line first: experienced cyclist Adrian Mundwiler of Switzerland in 18:32.24. Australia's James Newbury took runner-up honors in finishing less than three seconds back, awfully impressive for a former rugby player.
Surprise. Surprise. He hails from Switzerland, rides eight hours a week and now owns the win in the men's Crit. Adrian Mundwiler takes the top spot with a time of 18:32. #CrossFitGames pic.twitter.com/j8glV41Iy9

— The CrossFit Games (@CrossFitGames) August 1, 2018
Two-time defending champion Mat Fraser hung around admirably and took fourth in 18:36.55. That pre-Games triathlon work has clearly paid off!
WOMEN: Crit (IE1) Kristin Holte narrowly beats out Laura Horvath in women's Crit
The rookie Laura Horvath has had an incredible start to her first-ever CrossFit Games— she led after Day One and won The Battleground event to start Day Two— and she very nearly won the Crit right off the bat. Alas, five-time Games veteran Kristin Holte just barely beat her to the punch by 0.87 seconds.
The ten-lap Crit race was about strategy and keeping Your pace. @KristinHolte ?? held her line and took the lead in the final lap to win the opening event of the 2018 Reebok CrossFit Games (20:00.2). #CrossFitGames pic.twitter.com/thubEn5mTu

— The CrossFit Games (@CrossFitGames) August 1, 2018
WOMEN: 30 Muscle-Ups (IE2) - Kristi Eramo wins, Tia-Clair Toomey shows her strength
You just knew reigning Fittest Woman on Earth Tia-Clair Toomey would flash her incredible upper body strength eventually in Madison, and that she did in event two to finish runner-up in the 30 muscle-ups. But even more impressive was the performance of former collegiate swimmer and triathlete Kristi Eramo. Although the 29-year-old disappointed in the Crit (20th place), she made up for it big time by completing the muscle ups in 2:32.55, a full second ahead of Toomey.
The victory was the American's first career event win at the CrossFit Games.
MEN: 30 Muscle-Ups (IE2) - Logan Collins dominates, Fraser notches another top-five finish
As the United States' Kristi Eramo was muscling her way to her first event win, fellow American Logan Collins was crushing all the male competitors en route to his second-ever event victory. The 27-year-old completed the 30 muscle-ups in an astonishing 1:46.00, more than six seconds clear of second place Zeke Grove. No one ended up going unbroken.
And also sticking around, there was Mr. Fraser in third. What a shocker.
MEN: CrossFit Total (IE3) - Fraser takes over the lead (for good?), Royce Dunne shows strongman skills
With the bike ride and muscle-ups in the rearview mirror, and a marathon row awaiting them, it could've been easy for the tired athletes to look past the CrossFit total workout. After all, how hard could a 1-rep-max of a back squat, shoulder press, and deadlift be? (I kid).
Well, for 27-year-old Australian Royce Dunne, apparently not as hard as it was for everyone else.
Dunne got the overall win, with Patrick Vellner— and his 595-pound deadlift— settling for second.
Mat Fraser's eighth-place finish in CrossFit total (1215-lb) pushed him into the lead after three events.
WOMEN: CrossFit Total (IE3) - Tia-Clair Toomey shows why she is an Olympic weightlifter
Did you really think anyone else besides the Olympian would win this event?
Her max total between the three events was 875 pounds. That put Toomey in the lead, but not for long…
WOMEN: Marathon Row, The Battleground, & Clean and Jerk Speed Ladder (IE4 - IE6) - Rookie Laura Horvath extends her lead, then Toomey grabs it from her
Pretty much no one was looking forward to 26.2 miles on the Concept 2, but that's exactly how an exhausting first day in Madison wrapped up. The Marathon Row was an evil concoction that only the mind of Dave Castro could conjure— three hours on the damn row machine!
On the women's side, it was Margaux Alvarez taking the event win with (relative) ease, completing the 42,195 meters in 3:00:42. But the real story was who took fourth. 21-year-old Hungarian Laura Horvath moved into the overall lead after the final event of the first day with her 3:03:37 finish, and then really stepped on the gas on Friday by dominating event five-- The Battleground-- to kick off the second day of competition.
In an obstacle course event in which competitors had to wear weighted vests, only one woman finished in under 10 minutes. That, of course, was the precocious Horvath, who blitzed the field in 9:29.76.
Horvath's brilliance in the Marathon Row and Battleground, and Toomey's so-so performances in each-- put the newcomer in front by 36 points heading into Event Six, the Clean and Jerk Speed Ladder...
...but Toomey's big performance in the C&J Speed Ladder combined with Horvath's struggles there put the defending champ back in front. The Aussie Toomey took second in the second day's penultimate event, while Horvath struggled and didn't advance out of the quarterfinal round of the event.
The result was a 20-point lead for Toomey over Horvath (496-476). Toomey was beat out in the Clean & Jerk Speed Ladder final by American Amanda Barnhart.
WOMEN: Fibonacci (IE7) - Toomey ends Friday night with a bang, Davidsdottir moves up with win
Already holding a 20-point lead over Laura Horvath, Tia-Clair Toomey didn't need a masterful performance in Friday's final event-- the Fibonacci-- to keep her lead. But masterful is exactly what the Fittest Woman on Earth produced in the series of 5-8-13 reps of handstand push-ups, kettlebell deadlifts, and kettlebell lunges. Toomey took fourth in the event (3:50.69) to grab control of the competition by 58 points heading into the final two days. Victory in Friday's finale went to 2015 and 2016 Fittest Woman on Earth Katrin Davidsdottir, who completed the series in 3:31.73. The win shot Davidsdottir up the rankings to fourth at day's end, a climb she has steadily been making after a stunning 36th place finish in the CrossFit total event on Wednesday left her well back in the standings.
MEN: Marathon Row, The Battleground, Clean and Jerk Speed Ladder, & Fibonacci (IE4 - IE7) - Fraser gonna Fraser
The Champ continues to put on one hell of a show in Madison.
After a lackluster (for him) performance in the Marathon Row to cap off Wednesday's action, where Fraser finished 11th and led by just two points overall over Lukas Hogberg, the 28-year-old legend decided to ramp things up a notch on Friday.
Fraser took second in The Battleground and seventh in the Clean and Jerk Speed Ladder (in a somewhat disappointing miss of the finals), but he was saving his best work for last in the Fibonacci. By completing the 5-8-13 series in 4:54.84, Fraser absolutely demolished the field, beating out second place Noah Ohlsen by over 27 seconds.
Mat Fraser is super human! @CrossFitGames #fibonnaci #crossfit pic.twitter.com/Dp2zbNl4bK

— Teresa Feniello (@TeresaFeniello) August 4, 2018
The Fibonacci proved to be a killer on the men's field. Only four men finished under the six-minute time cap: Fraser, Ohlsen, Logan Collins, and Patrick Vellner. Saturday starts bright and early at 9:30 am!