2018 Kill Cliff Granite Games
Colleen Fotsch Interview, Pt. II: CrossFit, Family, & The Right Coach
Colleen Fotsch Interview, Pt. II: CrossFit, Family, & The Right Coach
Check out part two of our interview with Colleen Fotsch, the pro individual women's champion at the 2018 Kill Cliff Granite Games.
Sep 19, 2018
by Roger Lockridge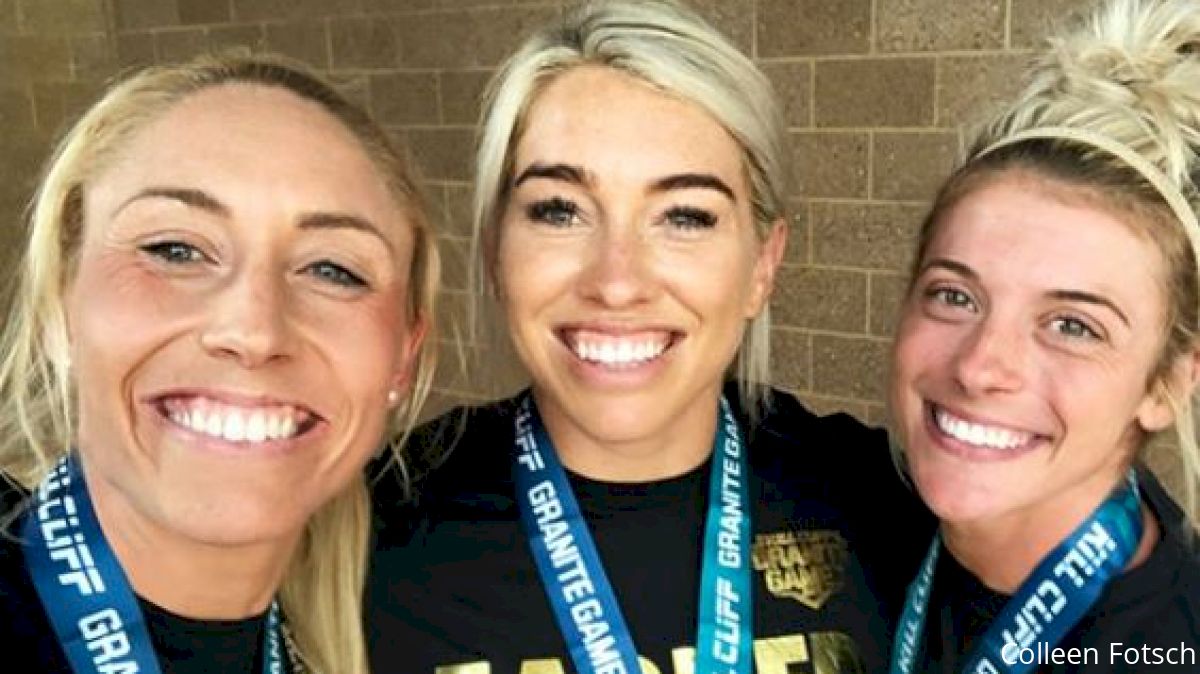 Colleen Fotsch, fresh off winning the 2018 Kill Cliff Granite Games in St. Cloud, Minnesota, spoke to FloElite about her preparation for the Granite Games, her move to Arizona, her growth with her new coach, and much more. Here's the second installation of this two-part interview.
Athlete Info
Age: 28
Height: 5-foot-7
Weight: 167
City: Scottsdale, AZ
Occupation: Crossfit Athlete, master's student at Michigan State University (remote kinesiology program)
Other Best Finishes At Events
7th South Regionals 2018
4th 2017 Crossfit Games Team
FloElite: What is it like for an athlete of your caliber to train the way you do while also having to live life and have a career?
Colleen Fotsch: Especially since going back to school I've had to be really good about time management. Staying ahead of my work while making sure I'm also giving 100 percent to my training and recovery. I think it is also extremely important to be surrounded by people who are supportive and positive, and sometimes all that means if someone to go to coffee with or watch a movie. I have been fortunate enough to have found an amazing group of people here in Arizona who have helped me balance being a full time athlete, a student, and a person.
Who do you feel played the biggest supporting roles for you leading up to and during the Games?
My coach Mike Lee, my family (mom, dad, and all five siblings), and my friends all players huge supporting roles leading up to and during the Granite Games. Mike really helped with my workout strategies, my warmups, cool-downs, and recovery advice. He was also extremely helpful keeping me in a good mindset throughout the weekend. Especially when things didn't quite go the way I have intended he helped me see that this is something I can learn from and to move on to the next thing.
My family have always been my biggest cheerleaders and this past weekend was no different. The calls, texts, and videos I received from them over the course of the competition made my heart so happy. Some of my best friends were so amazing with all the love and support they showed me. Some of my friends who have competed in CrossFit themselves were so helpful because they could really relate with what I was going through during the competition.
What are your thoughts about the 2019 Granite Games now being a qualifier for the CrossFit Games?
The Granite Games is one of the most fun and challenging events I've gotten to be a part of, and I'm really excited that it is now one of the sanctioned events to qualify for the Crossfit Games. John, along with the amazing judges and volunteers, did such an incredible job and I'm looking forward to coming back to this event in 2019.
How do you feel about all the changes that are in the works for the future of the CrossFit Games? Do you think all of this will be for the better?
With more information on how this year will look still to come my goals have not changed. While this year may look very different I'm more excited than ever to continue training hard and get more opportunities to compete at a high level against amazing athletes.
What's next for you now that this win is in the books?
It's back to training! I will be leaving for London in a few weeks to compete for USA functional fitness. But before all that I will most likely be making lots of cookies and taking a lot of naps.
Some folks reading this might consider making the leap into competing in the future. Any advice or wisdom you can share with them?
My biggest advice would first to find a great coach — one that understands your goals, understands how to develop a well-thought-out program, and one that can help guide you in good lifestyle choices outside of the gym. If you can I would also look to find other like-minded people. Having friends and training partners can not only make training more fun but it allows you to compete every now and again.
For full Granite Games coverage, click here.
---
Roger Lockridge is from Lewisburg, WV. His work has been featured on numerous platforms and magazines in the fitness industry over the last 10 years. You can find him on Twitter and Instagram @rocklockridge.