2019 Wodapalooza
Wodapalooza 2019: Prizes, Workouts, & Everything Else You Need To Know
Wodapalooza 2019: Prizes, Workouts, & Everything Else You Need To Know
Wodapalooza 2019 is right around the corner, coming at you from Miami in January. Here's what you need to know.
Nov 20, 2018
by Stephanie Lodge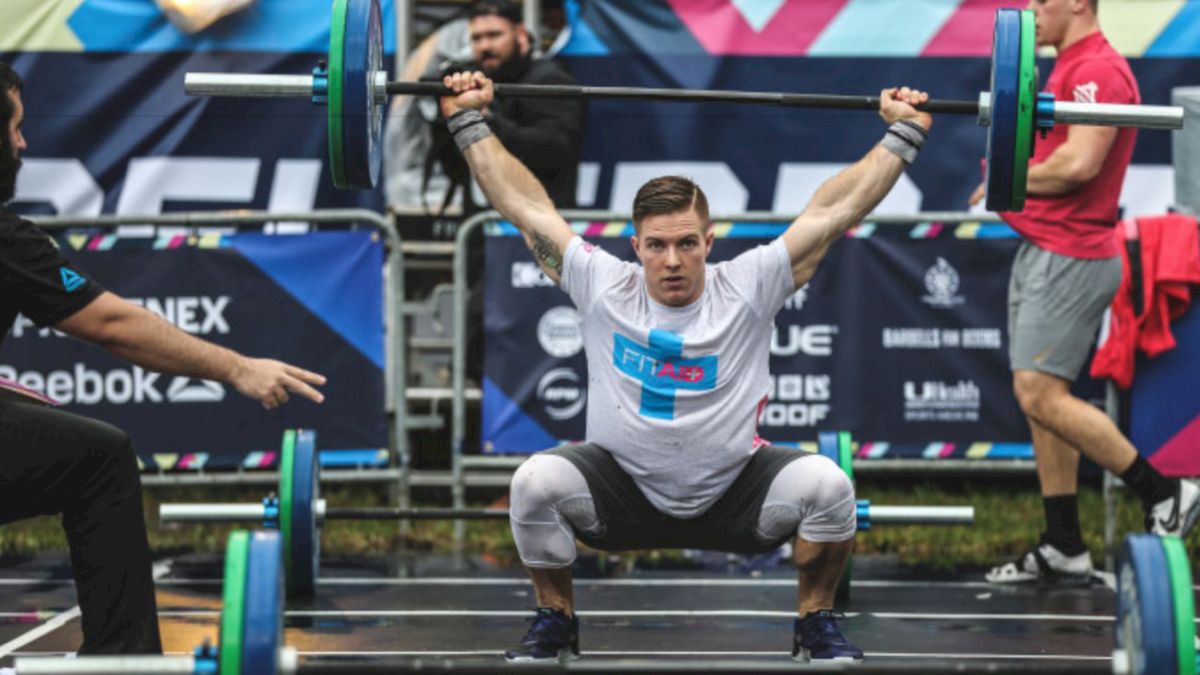 The upcoming 2019 Wodapalooza takes place January 17-20 in Miami. While the Wodapalooza has been an inclusive global fitness festival for years, it has officially joined the roster as the seventh sanctioned CrossFit event leading up to this year's CrossFit Games.
This year, the top male and female competitors along with the top four-person team will qualify to compete at the CrossFit Games in Madison, Wisconsin. Drawing one of the biggest crowds in the CrossFit community down to Miami, this event has partnered with some of the top brands in the industry today including Rogue, Whoop, Barbells for Boobs, RomWod, RPM, Victory Grips, and Born Primitive.
All of the online challenges were released between November 2-3 and scores were due November 12. What were the qualifying workouts individuals and teams needed to complete?
The Team Workout Qualifiers included 10 workouts total.
These workouts included:
Workout 1-3:
(Workout 1) Athlete A: 3 rounds of 10 back squats (225lb/155lb) and 20 TTB
(Workout 2) Athlete B: 3 rounds of 10 back squats (185lb/125lb) and 15 deficit handstand push-ups (6/4in)
(Workout 3) Athlete C: 3 rounds of 20 back squats (135/95lb) and 10 ring muscle ups
Workout 4 (for total load):
Within a 3-minute window, all athletes must establish 5 heaviest snatches (the weight cannot change)
Workout 5 (10-minute time cap)
Athlete A: Jackie for time (1000m row, 50 thrusters, 30 pull-ups)
Athlete B: Karen for time (150 wall balls)
Athlete C: Fran for time (21-15-9 Thrusters and pull-ups)
Workout 6-7 (in a 10-minute window, each athlete individually completes):
Row time trial (2000/1750m) (workout 6)
Max devil press (50/35lb) (workout 7)
Workout 8 (for total cumulative time):
60 deadlifts (135/95lb)
45 overhead squats (135/95lb)
30 shoulder to overhead (135/95lb)
Workout 9 (4 minutes/4 rounds) 3 minutes of work, 1 minute of rest:
Buy in: 60 double unders
16 DB step-overs (24/20in) (50/35lb)
Remaining time: max bar facing burpees
Workout 10 (total cumulative time/7 minute time cap on each)
Athlete A: 40 bar muscle ups
Athlete B: 30 bar muscle ups
Athlete C: 20 bar muscle ups
The Individual Workout Qualifiers include:
Workout 1 (12-minute time cap):
150 double unders
60 wall balls (20/14lb at 10ft)
30 CTB pull-ups
150 double unders
Workout 2 and 3 (clock):
From 0:00 to 3:00 minutes: max rep clean and jerk (165/115lb)
Transition period 3:00 to 5:00 min.
Workout 3 (5:00 to 8:00 min.): 1 rep max clean and jerk
Workout 4 (16-minute AMRAP):
Devil press (50/35lb)
Alternating DB step ups (24/20in)
2/2, 4/4, 6/6, 8/8, 10/10, etc.
Similar to the style of past CrossFit Opens, the actual workouts of the events are kept secret until the release. However, there are other ways you can grab a spot on the competition floor in Miami. The different divisions that are eligible for open registration include teenage (16-18), Masters (45-49), Masters (50-54), Masters (55+), Intermediate, and Scaled Divisions.
No need to think of the Wodapalooza as strictly for the elite, as individuals of all ages and athletic ability have the opportunity to put in work under the bright lights.
What Do They Win?
When it comes to prizes, we already know the top male, female and team will be sent to the Games in Madison. However, that's not all. For the elite individuals, the prizes include:
First place: $25,000
Second place: $15,000 and a Cape Town spot
Third place: $10,000 and a Cape Town spot
Fourth place: $7,000
Fifth place: $5,000
Sixth place: $4,000
Seventh place: $3,000
Eighth place: $2,000
Ninth place: $1,500
Tenth place: $1,000
This year, Wodapalooza is giving second- and third-place Elite Individual competitors a second chance to qualify for the CrossFit Games by giving them a "wildcard" spot to compete at the CrossFit Fittest in Cape Town competition.
The Elite Team competitors have prizes as well, including:
First place: $25,000
Second place: $20,000
Third place: $16,000
Fourth place: $12,000
Fifth place: $8,000
Sixth place: $5,000
Seventh place: $4,000
Eighth place: $3,000
Ninth place: $2,000
Tenth place: $1,000
Other divisions receiving cash prizes include:
Elite Team of 3:
First place: $15,000
Second place: $5,00
Third place: $3,000
Masters:
$1,000
Adaptive athletes:
$500
Last year Katrin Davidsdottir and Streat Hoerner took home to top female and male spots at the 2018 Wodapalooza, but with an invite to Madison on the line, the competition will presumably be much more intense than the previous years.
---
Steph is a writer, content/recipe developer and weightlifter with a passion for health and wellness. She is the founder of The Athlete's Kitchen, a website dedicated to providing its audience with articles, recipes, and the latest nutritional information on their favorite foods. Find her on Instagram @steph.lodge and @theathleteskitchencom or at http://www.theathleteskitchen.com.