Cédric Lapointe is an up-and-coming athlete who has been on the biggest stage of the CrossFit world. He made it to the Games in 2018 as a part of a team. Very few people walking the planet knows what that is like.
Unfortunately for Lapointe, his chance to qualify as an individual this year was taken away from him at the Lowlands Throwdown. He needed one rep on the clean and jerk to clinch his spot, but he missed that last rep and ultimately missed his chance to go to Madison.
However, the young Canadian athlete has a chance at redemption at the upcoming French Throwdown and he has no intention of repeating history. He wants to make it.
Lapointe spoke with FloElite about the beginnings of his career, that moment at Lowlands, and why he thinks he is ready to move forward.
---
Athlete Bio: Cédric Lapointe
Height: 5'9"
Weight: 190 pounds
Age: 22
City: Gatineau, QC.
Instagram: @clapointe97
---
FloElite: How did you get into training and CrossFit specifically?
Cedric Lapointe: I started training at a young age. Luckily enough, my parents put me in a lot of competitive sports, such as hockey, track and field, and soccer. At 17, I started CrossFit at a local affiliate to improve my performance in soccer; however, it didn't take long—six months maybe—before I decided to retire from soccer and pursue CrossFit, as my passion for it had taken over. I think one of the reasons I got addicted to it so quickly is because of the community. I felt like I was part of something bigger, and I had fun doing it.
Which athletes did you look up to, or who was influential to you early on when you started?
One of my first "CrossFit friends" and mentor Simon Buteau is who I looked up to. He was, back then, the best CrossFitter in our region (formally known as Canada East) and was the head coach of the only box in town. He taught me a lot, especially in my early years and believed in me.
Fun fact: the second time I walked in the box, he was watching Rich Froning doing the CrossFit Games 2014 swim event with friends and I told them that I'm going to be there one day. Everybody started laughing given that I was there for my fundamental class. Yet, Simon told me that if I worked really hard I can make it by 2019. Let's see if he was right!
Nowadays, Patrick Vellner or Travis Mayer are people I look up to, especially for how humble and down to earth they are. I had the chance to train with them a couple times and they are really nice with everyone around them. They are also pretty fit.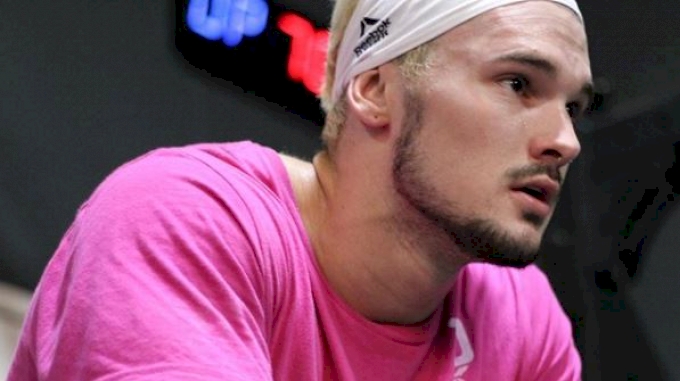 When did you realize that you could be competitive at an elite level in the sport?
I've been physically gifted my whole life. I have always known that I would be competitive in the sport, but in all honesty wasn't sure about being elite. In my first month of CrossFit at 17 years old, with practically no lifting experience, I did a 335-pound back squat and then shortly after, two to three months later, I was able to string 20-plus ring muscle-ups.
I realized that I could actually be good at CrossFit when I placed third at Atlas Games behind Patrick Vellner and Alexandre Caron (two CrossFit Games veterans). That was a stepping stone in my career. I started believing in myself.
CrossFit is an individual sport, but many athletes talk about their team behind them. Who do you feel is a part of your support system?
I'm glad you asked that question. After missing the CrossFit Games by one spot in 2017 and finally making it to the big stage last year with team Pro1 Montreal, I made the hard decision to leave the team and start my individual career.
Being alone on the floor doesn't mean you're doing it by yourself. Finding a good support system is essential to have a long and healthy career. I'm grateful to have my girlfriend and gym partner Kim Chartrand, my coach Kyle Ruth, my physiotherapists Geoff Outerbridge and Amy Fahlman, the best parents in the world, and an awesome community at CrossFit 819 and CrossFit Pro1.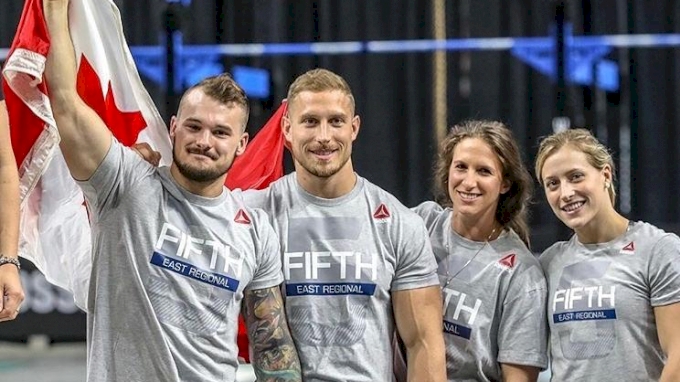 Unfortunately I do need to ask about Lowlands. What happened on that final rep?
I have no idea, but it happened. Some people might think that I wasn't strong enough, but I was able to finish the workout in 1:40 in practice. I could easily play the injury card because of a teres major tear [shoulder injury] that prevented me from lifting for the last two months, but in fact, I didn't even feel my shoulder during the event, courtesy of a cortisone injection 10 days prior.
It's most likely due to the fatigue of the weekend and especially those 150 GHDSU and pistols that same morning. I wasn't sad after because I knew that you always learn from those moments and that everything happens for a reason.
So now we're getting closer to the French Throwdown, the last Sanctional before the Games. How has your training been going for this event and are you feeling confident about your chances?
Training has been going well. I like the French Throwdown programming from last year, it's a great test of fitness and it isn't biased. I feel like my work capacity, strength, and gymnastics are good enough to punch my ticket.
To be honest, I feel extremely confident about my chances, but it always depends on the events but I'm looking forward to be in the race no matter what is thrown at me. It was disappointing to not qualify via the Open because of 19.1 and then a second place at Lowland Throwdown, but all those experiences are telling me that I'm ready for it.
Roger Lockridge is from Lewisburg, West Virginia. His work has been featured on numerous platforms and magazines in the fitness industry over the last 10 years. You can find him on Twitter and Instagram @rocklockridge.