2020 Wodapalooza
Sigmundsdottir, Williams & Mayhem Freedom Grab Leads Day 2 At Wodapalooza
Sigmundsdottir, Williams & Mayhem Freedom Grab Leads Day 2 At Wodapalooza
Here's the complete breakdown of everything that happened on the first two days of 2020 Wodapalooza.
Feb 22, 2020
by FloElite Staff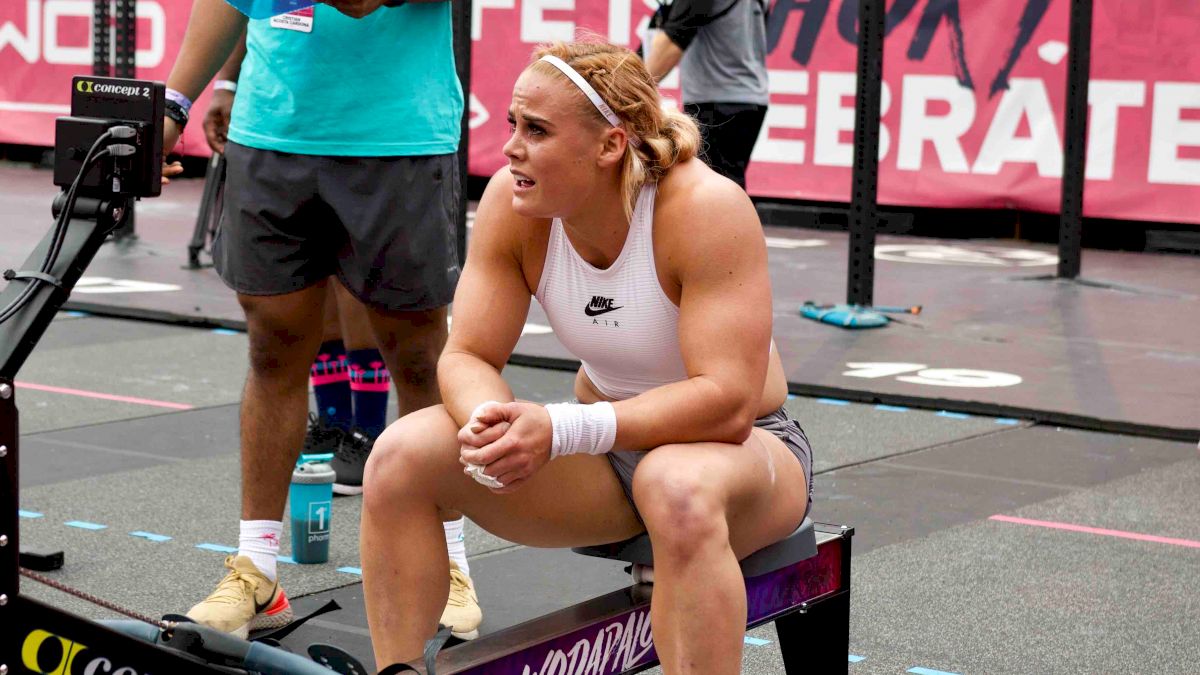 We are four events and two days deep into Wodapalooza 2020 and the action has been nothing less than incredible. Just four points separate first place from second place in both the men and women's divisions, and a margin of just two points separates first from second in the team division. While there are 34 divisions, four stages, and a million other things going on at Wodapalooza, we're going to take a minute and focus on the Elite Individuals and Teams.
Let's kick things off with the men. Travis Williams currently sits on top of the leaderboard narrowly ahead of last year's champion Patrick Vellner. Vellner started the weekend off strong with a first-place finish in event one 'Luce' on Thursday but faced a set back with a ninth-place finish in event 2, 'Miami Heat.' Vellner was on track to potentially win the final heat and the event overall but dropped his barbell during the front rack walking lunges and fell back to ninth. Travis Williams, on the other hand, sneaked in a second-place finish for event two and then carried that momentum into event three 'Pace Race' where he also claimed a second-place finish. Currently Travis Williams sits in first place overall with 328 total points with Cole Sager just four points behind him in second place. Patrick Vellner sits in third place with 312 points after four events.
Jumping over to the women's division. Heading into the weekend the big story was the match-up of reigning Fittest Woman on Earth Tia-Clair Toomey and perennial Game's superstar Sara Sigmundsdottir and so far, that matchup is playing out beautifully. At the end of day 1, Toomey and Sigmundsdottir sat at the top of the leaderboard tied for first place. Toomey absolutely dominated the field in event one 'Luce' and then finished up in third on event two while Sigmundsdottir took third in event one and then destroyed the assault bike and overhead walking lunges in event two. While neither Toomey nor Sigmundsdottir won any events on day 2, they did do enough to remain at the top of the leaderboard overall. Currently Sigmundsdottir leads with 344 total points with Toomey right behind with 340 points.
If you haven't been tuning into the Elite Team division here at Wodaplaooza you're really missing out. Currently, Mayhem Freedom with 365 total points holds the top spot on the team leaderboard, but it's not by much. Mayhem Freedom is only 2 points ahead of super-team GoWod, composed of Streat Hoerner, Luke Schafer, Tylor Williamson, and Andrea Nisler. Just behind GoWod in third place with 357 total points is Team WIT, featuring Samantha Briggs, Harriet Roberts, Joshua Al-Chamaa, and Michael Smith.
Event Three | Pace Race
Event three challenged athletes to a unique 'Pace Race' on the C2 rower, where they essentially had 12 minutes to row for max meters except that they had to stay ahead of a programmed 'pace boat' that would increase in pace every 30 seconds. Once the 'pace boat' caught you, your event was over, and your score was the meters you accumulated before being caught. Reggie Fasa claimed the top score for the men in this event, pulling 3,628 meters. Williams finished just behind Fasa with 3,600 meters, and just behind him in third was Albert-Dominic Larouche with 3,593 meters.
In event three, 'Pace Race,' Sigmundsdottir finished up in sixth place, pulling 3,243 meters, just a little more than 40 meters behind Katelin Van Zyl on took first in the event. Zyl pulled 3,285 meters in just 12 minutes. In third place with 3,279 meters was Haley Adams with an awesome performance.
For the teams 'Pace Race' was essentially the same but counted as two scored events with the teams split up into male/male pairs and female/female pairs. Both GoWod and WIT threw down on this event. GoWod's women took first place while their men claimed second, and Team WIT did the opposite with their men taking first and their women finishing up in second. Mayhem Freedom's women kept them in the game on 'Pace Race' finishing strong in third place.
Event Four | Pump Sesh Triplet
Athletes took to the Bayfront stage for the final event of the day, 'Pump Sesh Triplet,' a pump-tastic combo of legless rope climbs, bench press, and dumbbell thrusters. Logan Collins smashed this event claiming the top time with 6:17, making the rope climbs look effortless the entire time. Spencer Panchik claimed third in event four, helping him make his way into the top five to close out the day. Spencer is still looking for his invite to the CrossFit Games and sits just behind his brother Saxon on the leaderboard who is also still on the hunt for an invite. Keep an eye on the Panchik brothers as we head into moving day as they will be making their push for the Games invite.
Kari Pearce absolutely knocked 'Pump Sesh Triplet' out of the park finishing in 4:44, nearly a full minute faster than Tia-Clair Toomey in second place. Amanda Barnhart was able to secure a third-place finish with a time of 5:55. That finish along with a strong fourth-place finish in event three for Barnhart was enough to move her into fourth place overall to close out day two. All of the athletes in the top five for the women have already secured their invites for the CrossFit Games, but with 50K up for grabs look for these athletes to send it big time on moving day.
'Pump Sesh Triplet' for the teams included the same three movements but required the teams to work in male/male pairs and female/female pairs once again and move through the workout in relay fashion. The men had to complete their work first before the women were able to start their reps. Team Mayhem Freedom dominated this workout and were, in fact, the only team to finish under the time cap. The next closes team in second place was 275 reps away from finishing.
There are still two more days of competition left here at Wodapalooza 2020 and plenty of points still up for grabs. Be sure to tune in tomorrow as athletes looking for their Games invite or a chance to take home some serious cash make their push for the podium.