2020 Wodapalooza
Day 3 Wodapalooza Recap: Sager, Toomey & Mayhem Freedom Lead The Way
Day 3 Wodapalooza Recap: Sager, Toomey & Mayhem Freedom Lead The Way
Here's everything that happened with the elites on Day 3 at 2020 Wodapalooza.
Feb 23, 2020
by FloElite Staff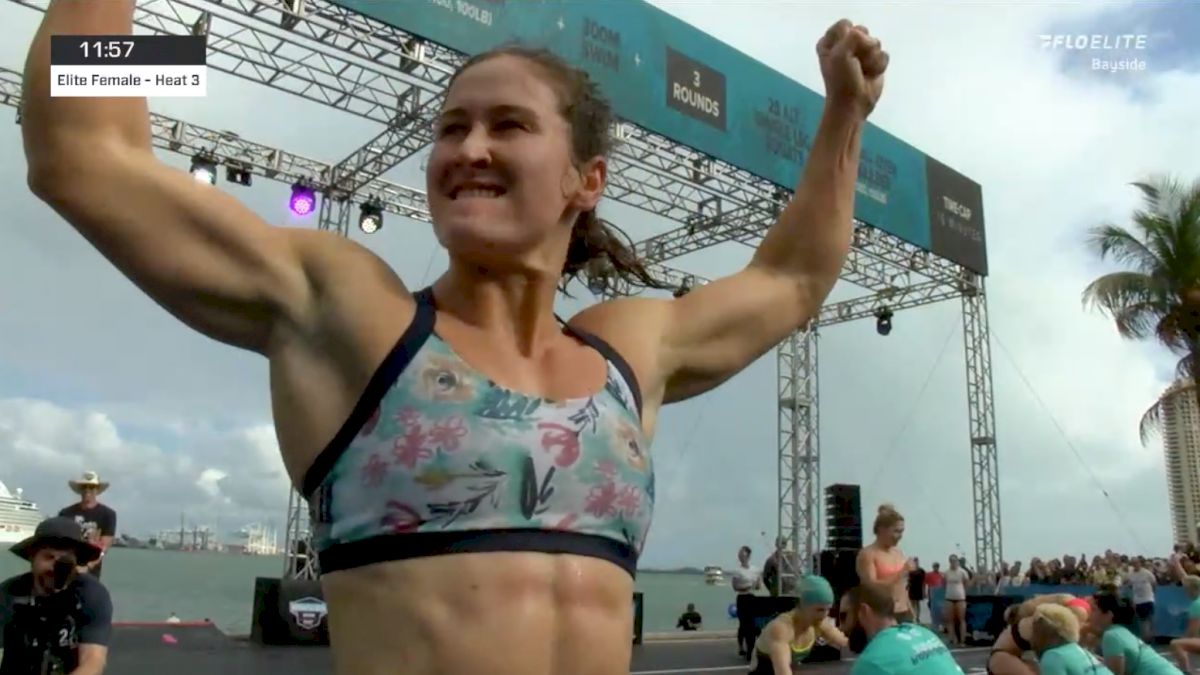 It's hard to believe but we are already through three days of competition at Wodapalooza 2020. Just one day and two events remain before we find out who our 2020 Wodapalooza champions are and who will be earning their ticket to the 2020 CrossFit Games. While the elites only competed in two events today, a lot has happened during those three events that we need to recap heading into the final day.
On the men's side we started the day with Travis Williams in the top spot just four points ahead of Cole Sager. Williams had a phenomenal start to his weekend, but Sager has remained consistent and really turned up the heat over the last three events. Sager started the day with a third-place finish in 'Shark Bait' and followed that up with second-place finish in 'Nine Lives Part A' and a seventh-place finish in 'Nine Lives Part B.' Sager's finishes today were strong enough to not only push him to first place overall but also give him a cushion of points heading into the fourth and final day of competition. Sager currently sits at the top with 578 points, 64 points ahead of Patrick Vellner who's holding down second place overall.
The women's side of the competition isn't as clear cut as the men's. Tia-Clair Toomey and Sara Sigmundsdottir have been battling it out all weekend. The pair has really made it difficult for anyone else in the field to pick up any serious points with both of them finishing in the top spots on every event. Toomey started the day just behind Sigmundsdottir on the leaderboard, but quickly changed that with an event win on the Bayside Stage in the 'Shark Bait' event. Sigmundsdottir placed 10th in that event. The reigning Fittest Woman on Earth went on to take two fourth-place finishes in 'Nine Lives Part A and B.' Sigmundsdottir, however, rallied and put on two back-to-back incredible performances in 'Nine Lives Part A and B.' Sigmundsdottir finished second on both parts of that event. Toomey sits just 16 points ahead of Sigmundsdottir heading into the final two events.
Over in the team competition it's been nothing but Mayhem Freedom, Team GoWod, and Team WIT. These three teams have been consistent all weekend and exciting to watch as well. Mayhem Freedom started the day with an event win in the team version of 'Shark Bait,' looking like a well-oiled machine in the process. Team GoWod finished just on their heels and Team WIT wasn't too far behind, finishing the event in fourth place. Mayhem Freedom followed up their event win with a second-place finish in 'Nine Lives.' Ahead of them was Team GoWod, with a stunning display of communication and strategy Team GoWod was able to finish 50 seconds ahead of Mayhem Freedom in an event that involved the four-person worm. Heading into the final day of competition Mayhem Freedom is at the top of the leaderboard with 559 total points. Team GoWod is right on their tails in second place with 557 total points, and Team WIT is in third with 521 points.
Event 5 | Shark Bait
Event 5 brought the elite athletes back down to the Bayfront stage for some pistols, d-ball cleans, and swimming in the bay. This event was all about your capacity for high-volume pistols and how quickly you can clean a slippery d-ball. Noah Ohlsen needed a big performance to keep his fight for a podium spot alive and he came through in stunning fashion. Ohlsen looked in control and confident the entire event on his way to a first-place finish. Saxon Panchik finished up just behind Ohlsen earning some much-needed points to help in his hunt for a Games invite. Cole Sager pushed the pace on the swim and d-ball to lock up a third-place finish.
Tia-Clair Toomey is no stranger to dominating water-based events and 'Shark Bait' was no different the Aussie finished the event a full minute ahead of second-place Kendall Vincelette. Vincellete, who won the online WZA qualifier, had a very strong showing today and is currently in seventh place overall. Colleen Fotsch clinched a third-place finish. Fotsch is still looking to secure her ticket to the Games.
As we mentioned earlier, Mayhem Freedom took first in this event for the team division with Team GoWod just behind them. Mayhem Freedom finished the event in 15:20 and GoWod finished in 15:32 just 12 seconds behind. Team JST Compete was just one second behind GoWod in third place.
Event 6 | Nine Lives
For the individuals Nine Lives was broken into two scored events, Part A and Part B. In Part A athletes had to complete 36 reps of clean and jerks as fast as possible but every minute, including 0:00, they had to stop and complete nine chest to bar pull-ups. Part A concluded at the six-minute mark; athletes then rested for two minutes and then started Part B at the eight-minute mark. In Part B athletes needed to complete 36 snatches as fast as possible but very minute, including 0:00, they had to stop and complete nine toe-to-bar. Athletes had six minutes to complete the 36 repetitions.
On the men's side Spencer Panchik won Part A putting him closer in contention for a Games Invite. Cole Sager finished in second and Travis Williams secured a third-place finish. In Part B Milosz Staworzynski took the top time for the men with some insanely quick power/muscle snatches. Behind him in second place was Games athlete Christian Lucero and in third place was Nate Long.
For the women Amanda Barnhart blasted through the clean and jerks for a first-place finish in Part A. As mentioned earlier Sigmundsdottir had a stellar performance in both parts taken second place in both. In Part B Alanna Fisk Colon finished in first with a time just under three minutes.
The elite teams took on a completely different version of 'Nine Lives.' The team version required three team members to hold up the four-person worm while one athlete worked to complete a set amount of chest to bars, toe-to-bars, clean and jerks, and snatches. Team members rotated between holding and working until all the reps were completed and then finished with 25 worm thrusters. Team GoWod took the number one time with Mayhem Freedom close behind and Mayhem Independence not much further behind them in third.
Even though just one day remains of Wodapalooza 2020 there's still a lot of exciting action left. There are two scored events remaining. Keep an eye on Sigmundsdottir and Toomey with such a narrow point spread between the two it will most likely come down to the final event to see who will be the 2020 Women's Wodapalooza champion. On the men's side Cole Sager will be hard to catch, but the battle for who will get the Games invite between the Panchik brothers is sure to make for an exciting final two events.