CrossFit Games Athletes Are Supporting the Community During Coronavirus
CrossFit Games Athletes Are Supporting the Community During Coronavirus
CrossFit stars like Tia-Clair Toomey are doing their best to serve their communities during the coronavirus outbreak.
Mar 27, 2020
by Roger Lockridge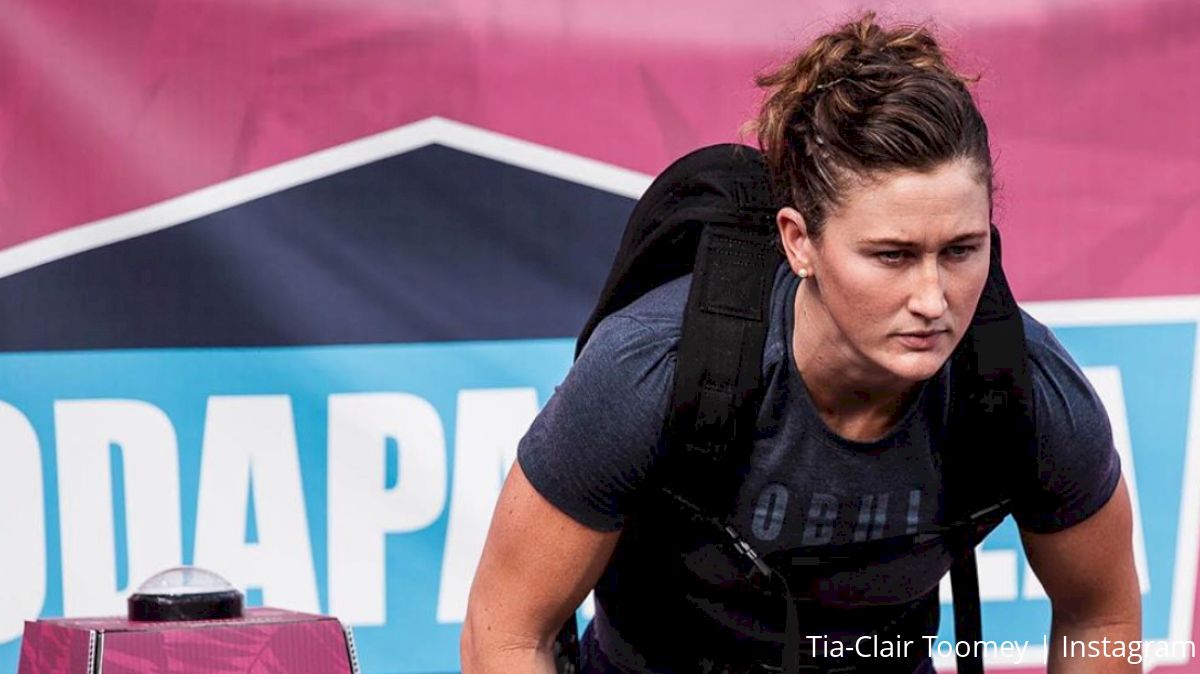 There has been no bigger situation that has affected the entire world in recent years like the COVID-19 pandemic has. The lives of many people throughout the world has been affected because of either social distancing or complete shutdowns, depending on where they live.
Obviously people who focus on fitness have been included with this thanks to gyms being closed. The combination of not being able to train the way they prefer, not being surrounded by like-minded people, and that lack of energy of pushing yourself is taking its toll mentally on some in the fitness community.
Fortunately, several of the top athletes who compete at the CrossFit Games have done their part in helping their fans make the best of the situations and moving forward. They're proving that you don't have to be face-to-face to feel like you're still a part of the community. Here are a few examples of how the athletes are supporting the fans that have supported them for so long.
Home Workout Options
The three-time defending Fittest Woman on Earth understands that training isn't the only component of being healthy. Mental health and entertainment matters, too. One way that she found to help connect with others during this time is online challenges including workouts and otherwise. She has posted challenges to increase engagement like the TikTok dance challenge she did with fellow Fittest Woman on Earth Katrin Davidsdottir and Brooke Wells.
She's also been sharing home workouts for her fans to do like this one. The entire workout could take less than 10 minutes but would still be intense enough to qualify as a serious training session.
Tia-Clair Toomey's Home Workout
2 minute cycle. Repeat for four sets.
Plank Hold – 20 seconds
Knee to Elbow Plank – 20 seconds
Plank Hold – 20 seconds
Climber Taps – 20 seconds
Rest – 40 seconds
Another athlete who has been sharing workouts is Noah Ohlsen, but he's found his own way to connect with the community. He has been doing live workouts on his Instagram. He'll post the announcement with the time that he plans to start along with the workout that he intends to do. While the workout itself is great, the fact that he does it live so his fans can join him online offers a deeper connection and more motivation. He even has gone as far as to offer substitute movements and scales the workouts for those who may not be able to do what he has on his agenda. Here is one workout that he shared recently if you want to try it for yourself.
Noah Ohlsen Instagram Live Workout
3 Minute AMRAP
11 Situps
14 Mountain Climbers
28 Double-Unders
Rest for one minute. Perform four sets.
Four-time CrossFit Games champion Rich Froning has opted for YouTube as his way of helping those in quarantined situations. He has started doing what he dubbed "Mayhem Quarantine Bonus Workouts." They are scheduled to occur on his YouTube channel. Workouts have included home workout options, sessions for those that have weights to work with, and even yoga. One workout that he posted is here. It's over an hour long so Froning shows everything in its entirety from start to finish.
Outdoor Training
Sam Briggs has also been offering ideas for training but many of her contributions have advocated for going outside which can be beneficial not only physically but mentally as well. She has done workouts involving climbing, running on fields, and even using rings on a tree branch and dumbbells like she did with this plan.
Sam Briggs' Outside Workout
6 Rounds
5 Muscle Ups
5 Heavy Devils Press
Home workout
5x10 Strict Press
*This can be a barbell, DB's or KB's or if no equipment use a weighted object or your own body weight Hand Stand Pushups or pike HSPU off box.
4x10 Strict Pull
*this can be bent over row with barbell/DBs/KBs or utilize a weighted bag or strict pull-up if you have access to a rig
Death by Devils Press
1st Minute - Perform 1 devils press
2nd Minute - Perform 2 devils presses
... and so on until you can't complete the reps within the minute. For the devils press perform a burpee followed by a ground to overhead with an object - these are usually done with dumbbells but anything weighted you can take from the ground and get overhead will achieve the same stimulus.
Nutrition
One issue that a lot of people may struggle with is eating while staying at home. Brooke Wells understood this and recently shared a recipe that could help some of her followers make their next meal a healthier one. If you try any of the above workouts, you could use this as a recovery meal.
Brooke Wells' Protein Waffles
Ingredients: ½ banana, ½ cup old-fashioned oats, 1 egg, 1 egg white, ½ scoop protein powder, a "dash" each of vanilla, salt, cinnamon, baking powder, and baking soda.
Directions: Mix all ingredients in a blender but not completely. Mix until it's slightly chunky and thick. Use this mixture to make pancakes or waffles.
Someone else who has offered kitchen coaching is Katrin Davidsdottir. The 2015 and 2016 CrossFit Games Champion shared a banana bread recipe that could make for a breakfast offering. She credits this to Clean Eating Mag
Katrin Davidsdottir's High Protein Banana Bread
Ingredients: 1/3 cup melted coconut oil, 2 cups flour (she used gluten-free all-purpose), 1 cup protein powder, ½ teaspoon pink salt, 2 teaspoons baking powder, 1 teaspoon ground cinnamon, ½ teaspoon baking soda, ¼ teaspoon ground nutmeg, 6 mashed bananas, ½ cup coconut sugar, 3 large eggs at room temperature, ½ cup yogurt, 1 teaspoon pure vanilla extract.
Directions: Preheat oven to 375 degrees. Grease a pan with oil and dust with flour. Mix together all dry ingredients in one bowl. In a separate bowl mix the mashed bananas, oil, coconut sugar, eggs, yogurt, and vanilla until it's smooth. Pour banana mixture into the flour mixture. Bake for 50 minutes or until you can put a toothpick in the middle of the loaf and it comes out clean.
Online Fitness Challenge
Camille LeBlanc-Bazinet took the training and nutrition ideas and combined them into a complete month-long challenge. Her plan includes at-home workouts and nutrition plans along with mindset tips and a points system via an app that she is working with. If you're interested in more information about this challenge you can find out more at www.ferocefitness.com.
Have you found other ways to contribute to the community until life as we know it returns to normal? Share what you've got going on and tag @floelite on social media so we can see how you're doing your part in making a positive difference in fitness.
---
Roger Lockridge is from Lewisburg, WV. His work has been featured on numerous platforms and magazines in the fitness industry over the last 10 years. You can find him on Twitter and Instagram @rocklockridge.