Gear Geek: Reebok Speed TR Review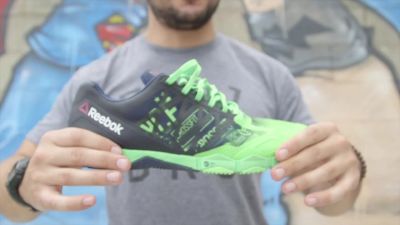 Create a free account to unlock this video!
Get Started
Already a subscriber? Log In
Looks and Features

True to the Reebok CrossFit design template, the Speed TRs are bright and clearly CrossFit branded. I know some people don't like walking around with aggressively branded shoes on their feet, but that doesn't really bother me.

While it doesn't have a customization option, it does have several colorways to pick from on both the men's and women's sides.

Like the Nanos, the Speed TR are rope climb friendly but also feature something new to the Reebok CrossFit shoe line: the KippingKlip. This is a smooth, thin addition to the back heel which reduces drag for handstand push ups, and it works as advertised.


Fit and Feel

The Speed TRs are designed to be a hybrid running and CrossFit shoe and to achieve that, Reebok made the sole a bit more cushioned and flexible in the mid and forefoot. Also, unlike the Nano 5s, these shoes have no kevlar to be seen, instead using more traditional feeling materials for the upper.

Compared to the Nano 5, the toebox is narrower and more fitted and the insole is more contoured. This actually ends up feeling pretty comfortable, especially if you weren't a fan of the width of the Nano 5. The tongue is also more like a traditional running shoe's in that it's got some padding in it.

The build quality is definitely there, as I've been lugging them around the world, using them in various weather conditions, and in a lot of different workouts and they've stood up to a lot of abuse.


Performance

If you were to imagine a Nano that feels better for running workouts, you can picture exactly what the Speed TR excels at. The sole feels completely connected from toe to heel and works very well for running and non-running workouts alike.

For example, I wore these during Murph in the middle of a rainstorm and was happy with not only how they were able to find grip even on wet cement and wet blacktop, but also how quickly they dried out after getting dunked in some puddles.

For barbell workouts, the Speed TRs will function just fine as long as you're not going near your max. For barbell or mixed modal workouts that include a run, the Speed TRs are pretty much the perfect shoe, especially if there's a lot of running (you know, like anything more than a few 400s).

I've used a lot of different shoes in my training and the Speed TRs are the most uniquely suited to mixed modal workouts with running. While i wouldn't suggest them for someone who solely runs, that's not what they're built for. They fit well, provide good support and stability for all types of movements, and are the most comfortable functional fitness shoe I've ever run in.

Related videos:

Nike Metcon 2 Review