Martin Forsmark Clears The Atlas Stones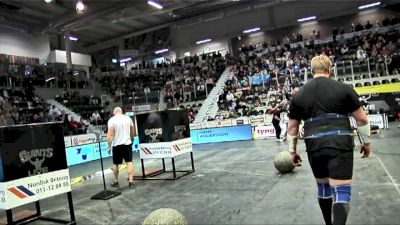 Create a free account to unlock this video!
Get Started
Already a subscriber? Log In
Sweden's Martin Forsmark had one last shot to win The Battle of the Norse Giants in the atlas stone event. With five stones ranging from 120kg/264lb to 200kg/440lb, each to be loaded onto platforms of descending height, the atlas stones are a classic Strongman event which not only looks cool but also tests the strength, skill, and will of the competitors.

At Battle of the Norse Giants, Forsmark was trailing behind overall leader Johannes Arsjo and needed to put up an untouchable score on the stones to make a push for the gold medal spot. Not only did Forsmark set an epic score, he was the only athlete to clear the full ladder and load the 200kg/440lb stone at the very end. While he didn't overcome Arsjo's lead, Forsmark was able to solidify a second place finish and a spot to the 2017 World's Strongest Man.