Metcon DSX Flyknit Review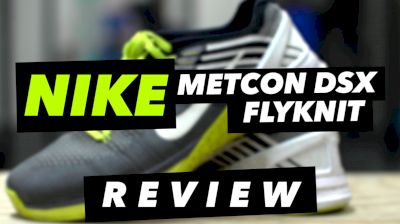 Create a free account to unlock this video!
Get Started
Already a subscriber? Log In
Look and features

The Nike Metcon DSX Flyknit is a new variation on the Nike Metcon designed to be lighter, more flexible, and better suited for running.

These shoes look awesome. They're obviously very closely related to the Metcon 3s but with some variations in textures and materials that add more depth to the design characteristics of the shoes compared to the Metcon 3.


Fit and feel

While these shoes are similar in look to the Metcon 3, the differences between the 3 and the DSX Flyknit are significant.

First off, they're just over 4% lighter per shoe (334g vs 349g). The upper is made mostly of Flyknit, which feels like a sock on your foot, and the shoes have a 6mm drop which is a bit higher of a heel compared to the Metcon 3s.

The Metcon DSX Flyknit are incredibly comfortable. I can easily wear them around all day and train in them in the evening without any issues.

As far as fit goes, the combo of the Flyknit and Flywire hugs and holds the foot in a comfortable and supportive package.

And if you've owned a pair of Metcons, you know the infamous squeak. The DSX Flyknit definitely still squeak but that's a relatively easy problem to solve with some baby powder.


Performance

I've taken these kicks out for running intervals, conditioning workouts, and some lifting sessions and they perform really well in all conditions. What I wouldn't do in them is exclusively train heavy or do a ton of rope climbs, but for the odd heavy or climbing-centric workout here and there these will be fine.

Where they shine is in workouts that include any sort of running or jumping. I found the increased flexibility and cushion in the sole to be hugely useful in those circumstances where I was up on my toes during burpees, or jumping rope, or with light repetitive barbell cycling.

The Metcon DSX Flyknit are by far the most comfortable training shoe I've owned and while I wouldn't put them into a meatgrinder with incredibly heavy or destructive workouts, they are more than capable in most training sessions.