Inov-8 F-Lite 235 V2 Review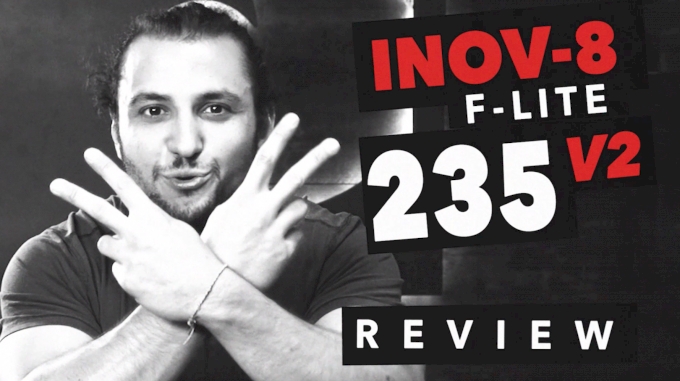 Looks and features

The Inov-8 F-Lite 235 V2 is a fantastic shoe which sets itself apart from the crowd through a few simple but meaningful differences, namely the flat drop and the weight.

At first, I was a bit lukewarm on the looks of the shoes. The green and red color scheme was different and the design is reminiscent of train shoes, which makes sense considering Inov-8's origin was as a trail running shoe company.

Over time I grew to like the design and color scheme. It's different enough that it stands out from the usual Reeboks and Nanos you see in the gym every day and while the color scheme goes with nothing, it also kind of goes with everything.

Fit and feel

I mentioned up there that the shoes are very light and flat and I mean it. They're much lighter than their peers from Nike and Reebok and they're also flat with a 0mm drop compared with common 3 and 4mm drops.

The shoes fit comfortably and are true to size, with good arch support and lateral support. The upper is very light and breathable and the shoes feel durable, even through large numbers of rope climbs.

The flat soles took me a day or so to get used to, but I found it to be really comfortable after that time, and I liked the ground feel of the combination between the flat sole and flexible upper.

Performance

These shoes perform really well across pretty much everything you can put them through. From lifting to jumping to running to climbing ropes, the F-Lite 235 V2s were more than up to the task for it all.

Conclusion

Inov8 has been around the fitness shoe space for a long time, with a good history of setting the tone on what it means to be a "functional fitness shoe." From the low drop, to the rope climb ruggedness, to the lightness, the flexibility, etc. Inov8 was the first to put it all together and the F-Lite 235 V2 continues that tradition with a strong offering for a unique looking and feeling shoe in the space.