Create a free account to unlock this article!
Get Started
Already a subscriber? Log In
Day 1 of the 2016 Reebok CrossFit Games California Regionals are over with and we've got a mix of new and old faces at the top of the leaderboard.
Teams Results and Storylines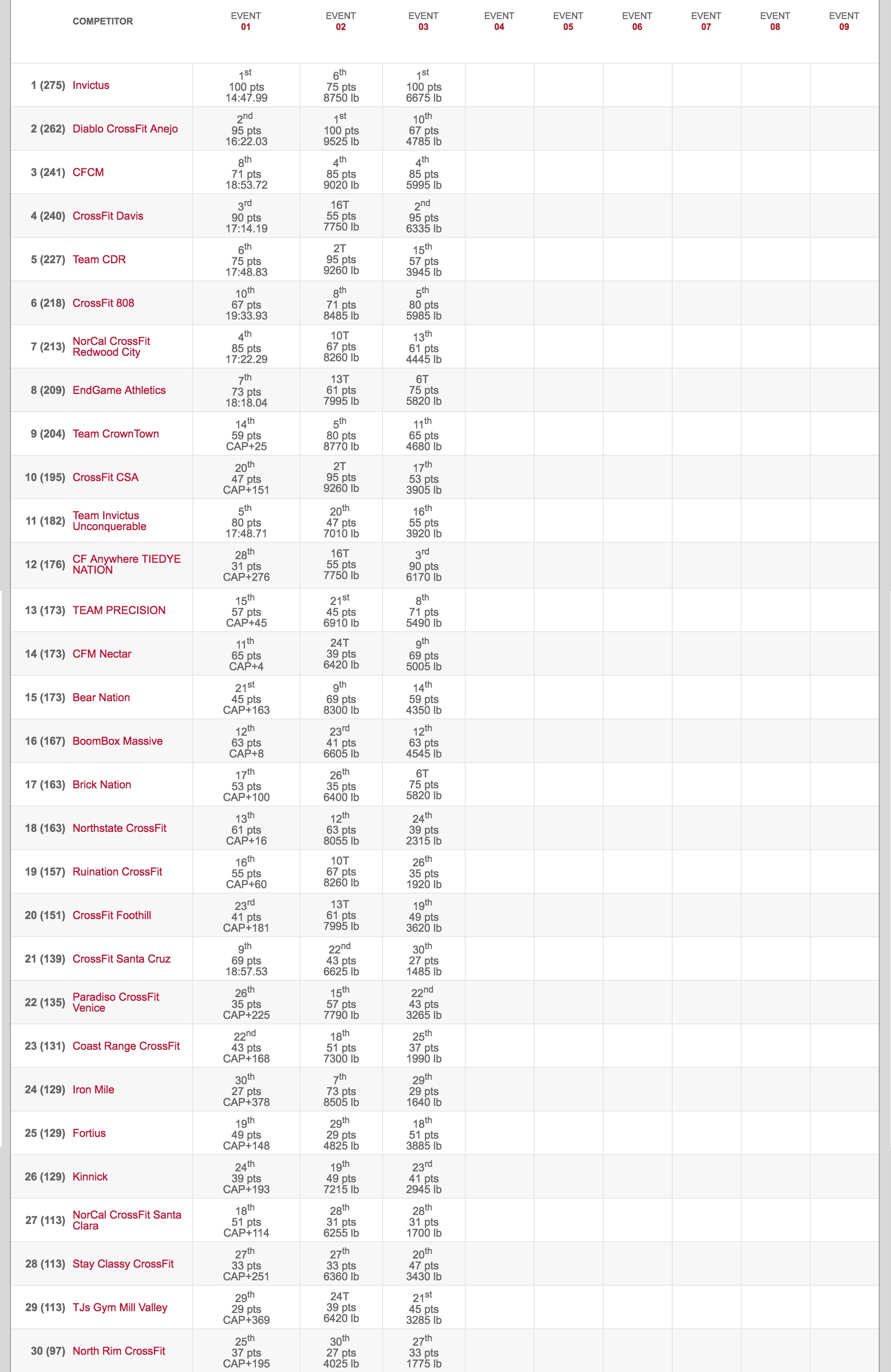 Invictus leads after 3 events, with dominant performances out of their female members lead by Maddy Myers. They finished Event 1 almost 90 seconds faster than second place, Diablo CrossFit Anejo. Not to be outdone, the men of Diablo CrossFit Anejo put on a clinic during Event 2 and are the only team so far who has complete cleared the men's snatch ladder in Event 2.
Not to be outdone, the ladies of Invictus came back and became the only team to clear the women's snatch ladder in Event 3.
As HQ likes to refer to it, Day 2 is Moving Day. There are a lot of points up for grabs and anything can happen. With only 37 points between 3rd and 9th, the team competition in California is far from over.
Watch for big moves out of CrossFit 808, currently in 6th, as they work to claim another trip to the Games under the leadership of Elyse Umeda.
Women's Results and Storylines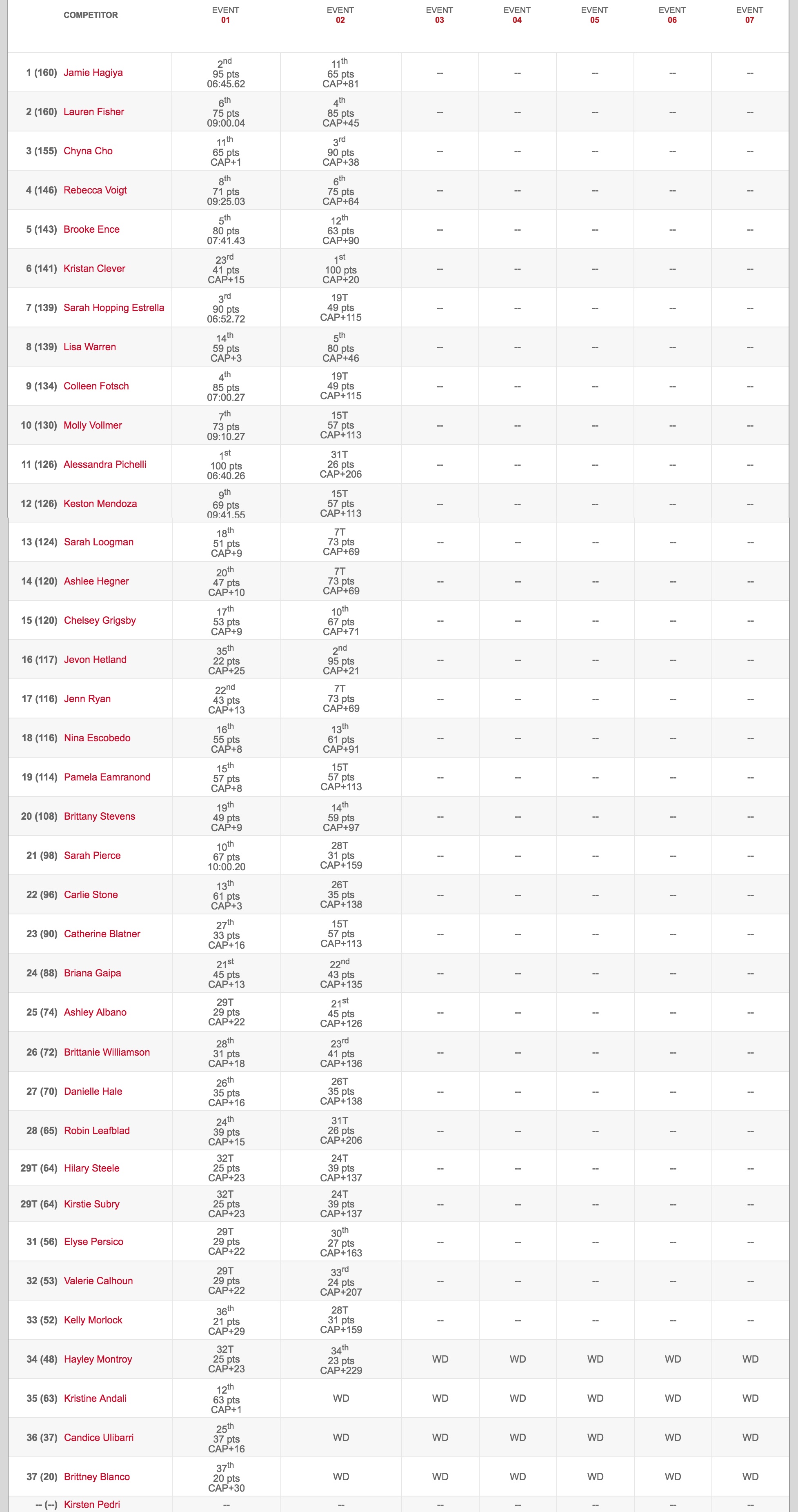 After 1 day of competition, only 30 points separate 1st place from 10th place in the women's leaderboard and only 18 points separate 11th from 20th. To call this a close race would be an understatement. In first place is Jamie Hagiya who finished 2nd in Event 1 and 11th in Event 2. In her own words, "Event 2 is damage control." If that's her version of damage control, we're excited to see the Regionals veteran make a claim for her first trip to Carson.
Tied with Hagiya is Lauren Fisher with 6th and 4th place finishes and rounding out the top three is Chyna Cho with 11th and 3rd place finishes.
Going into Day 2, expect to see Becca Voigt, currently in 4th, continue to put in consistently high performances to seal her 9th trip to the CrossFit Games. Also, look for fierce competition between Brooke Ence, 4th, and Kristan Clever, 5th. With only 2 points separating them, tomorrow's three scored events will play a big role in determining which of them stays in the top 5 and which drops.
Kristine Andali had to withdraw from competition due to a shoulder injury she suffered in Event 1.
Men's Results and Storylines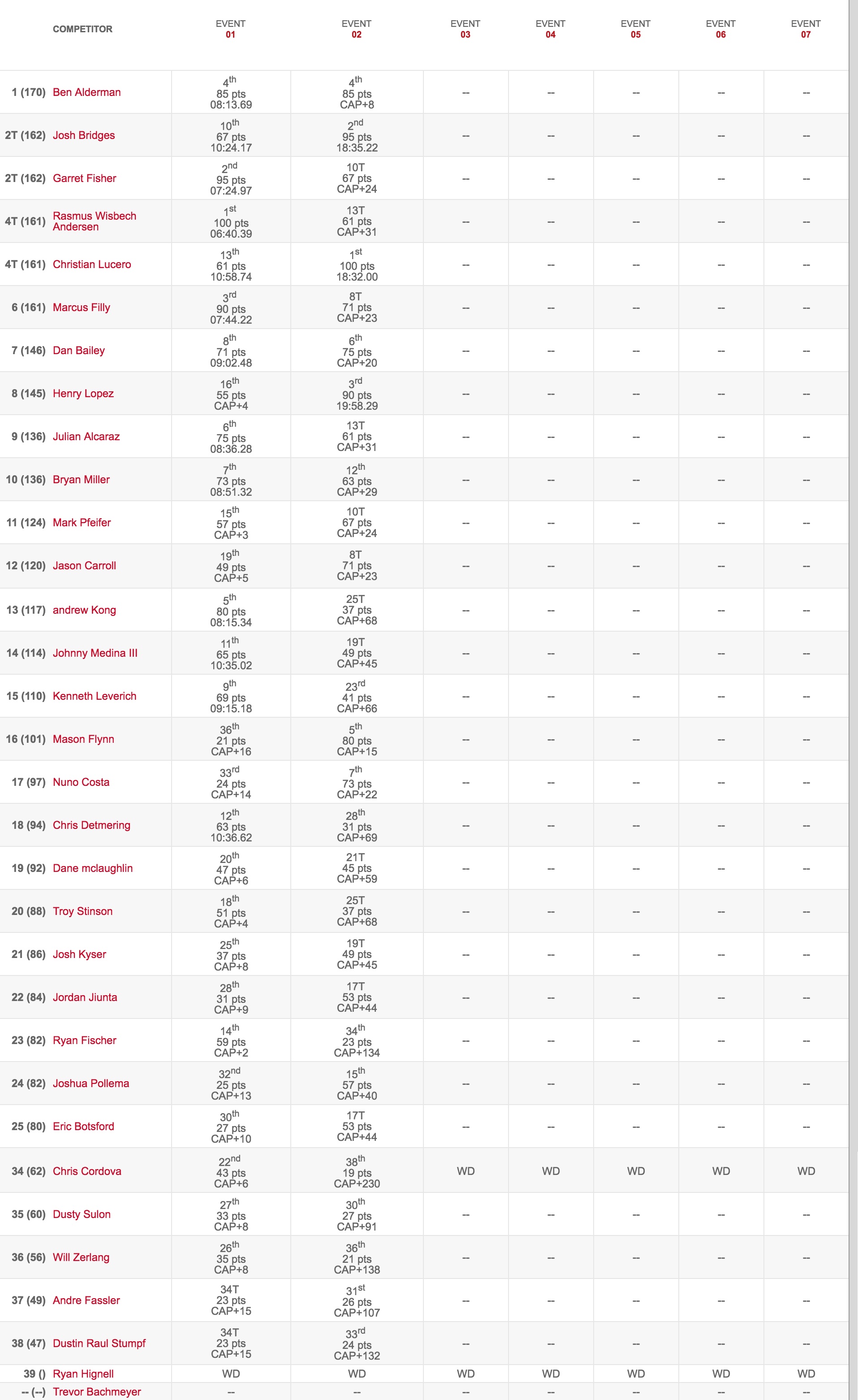 Rasmus Wisbech Andersen owned Event 1, setting a new Event Record with a 6:40 finish. Incredibly, Josh Bridges was able to complete the snatch ladder and score a 10th place finish in an event which doesn't really play to his strengths. Even more impressive, Bridges had to PR his snatch twice in order to finish that event!
We saw three men finish Event 2 today: Christian Lucero, Josh Bridges, and Henry Lopez and the leaderboard is very close going into Day 2. Only 1 point separates 2nd from 6th, and only 25 points separates 6th from 10th. Ben Alderman is currently in the lead after finishing 4th in both of Day 1's events, followed by Josh Bridges and Garret Fisher tied for 2nd. Rasmus Wisbech Andersen, Christian Lucero, and Marcus Filly all have the same number of points and round out the top 6.
Day 2 will be a backbreaker for the men's leaderboard. Overall it's a much more conditioning based day, and we'll likely see some shake up in the top 10. Expect to see Games veterans Dan Bailey, Julian Alvarez, and Bryan Miller to make moves tomorrow.
Garret Fisher is making a strong claim on a spot at the Games after one day of events and Day 2 will be the day he really proves whether he's got what it takes to make it back. Also seeking redemption, Josh Bridges will be faced with another hefty challenge in the form of 405lb deadlifts during Event 5.