Team Qualifiers
Diablo CrossFit Anejo
CrossFit 808
Invictus
Team CDR
CrossFit Davis
Once Diablo CrossFit Anejo took the lead, they didn't let go. They finished the weekend with four 1st place finishes, two 2nd place finishes, and a 3rd place finish. Taking a lesson from Diablo's dominant Saturday, CrossFit 808 showed up on Sunday and put in some work, finishing 2nd, 2nd, and 1st in the final three events and ending up in the 2nd overall spot.
Invictus didn't finish their weekend the way they wanted to as a few issues added up to keep them from crushing the final three events. That said, they'll be going to Carson and the big show after finishing comfortably in third after leading early in the weekend.
Rounding out the top five are Team CDR and CrossFit Davis who will be joining the CA podium's heavy hitters at the CrossFit Games.
Women's Qualifiers
Lauren Fisher
Becca Voigt
Alessandra Pichelli
Chyna Cho
Jamie Hagiya
The only way to describe the women's race is "incredible". With only one event left, the women of CA were incredibly tight. Only 4 points separated 4th from 7th and event 7 was going to decide who makes it to Carson and who doesn't.
As the dust settled after the final event, we were left with 4 Games veterans and a rookie. Lauren Fisher makes her way back to the individual competition after going team in 2015 and placing 9th overall in 2014.
Becca Voigt is making her record 9th appearance at the CrossFit Games, an incredible feat considering how much competitive CrossFit has changed in the past 9 years.
Alessandra Pichelli was able to come back from a 31st and 22nd place finish to not only qualify for the Games but also finish 3rd overall in one of the most competitive female regions.
Chyna Cho had to perform on the final event and perform she did. She set a suicide pace from the get go and did exactly what she needed to do in order to lock in a trip to the Games just a year after being the highest placing female from America.
The only person able to keep up with Cho's breakneck pace on Event 7 was Jamie Hagiya who was finally able to qualify for the Game on her fourth trip to Regionals.
Absent the qualifiers list is Brooke Ence who finished in 6th overall.
Men's Qualifiers
Josh Bridges
Rasmus Wisbech Andersen
Marcus Filly
Christian Lucero
Garret Fisher
Much like the women's competition, the men entered the final event closely grouped. Only 9 points separated 3rd (Marcus Filly) from 6th (Dan Bailey). At the end of the day, two 9th place finishes by Bailey wasn't enough to take him back to Carson this year. Josh Bridges was a dominant force throughout the weekend though, and finished as such. He had a 6th place finish in Event 6 and 8th place finish in Event 7, bringing his total to 598 points for the weekend. It also goes without saying, Fisher is looking forward to returning to Carson after failing to qualifying the last two years. He finished the final day with a 1st place finish in Event 6 and a 4th place finish in Event 7. Rasmus Anderson and Christian Lucero will be making their first individual appearances at the Games this summer.
Photo Credit: CrossFit Inc.
Leaderboard
Men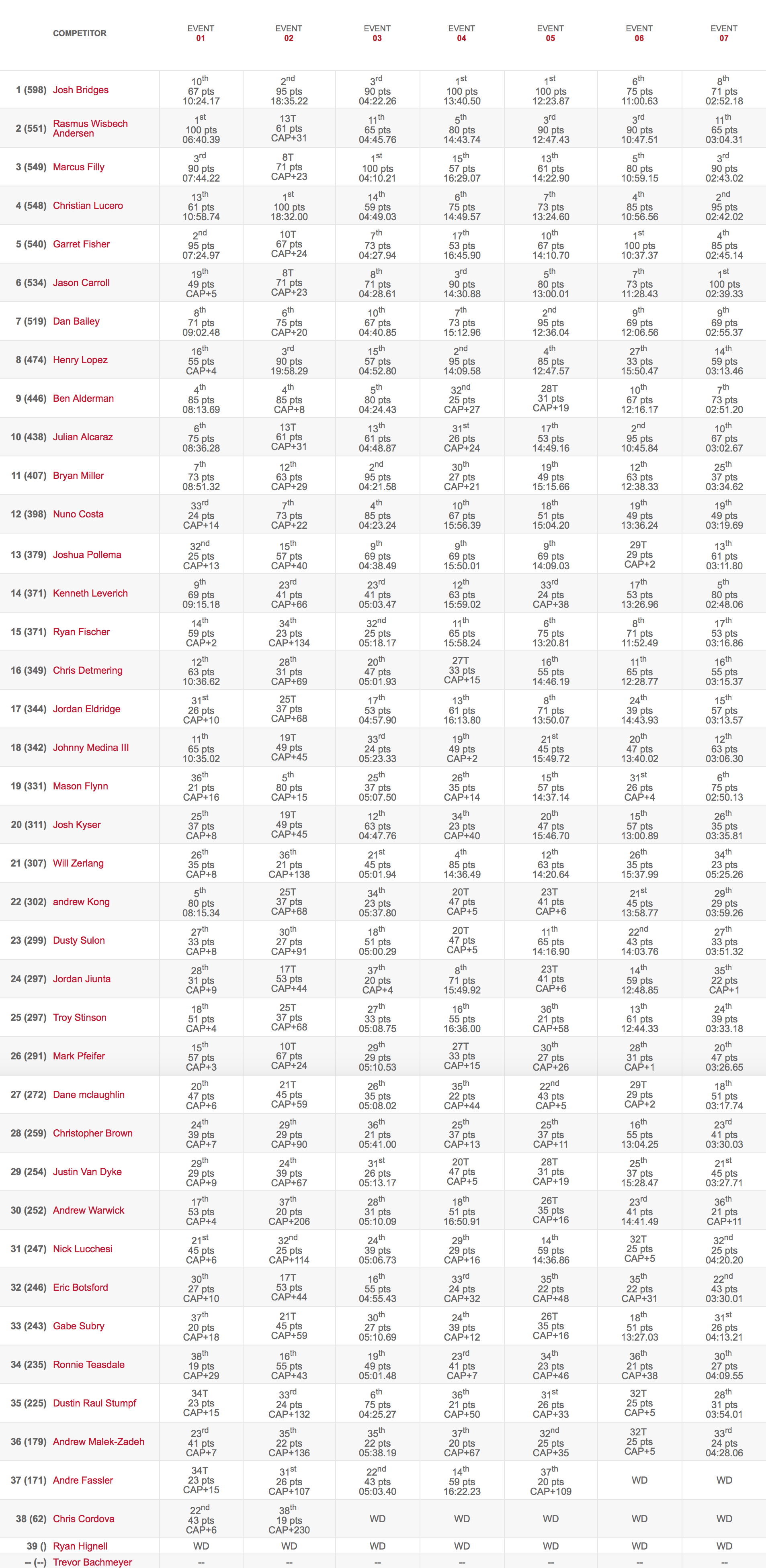 Women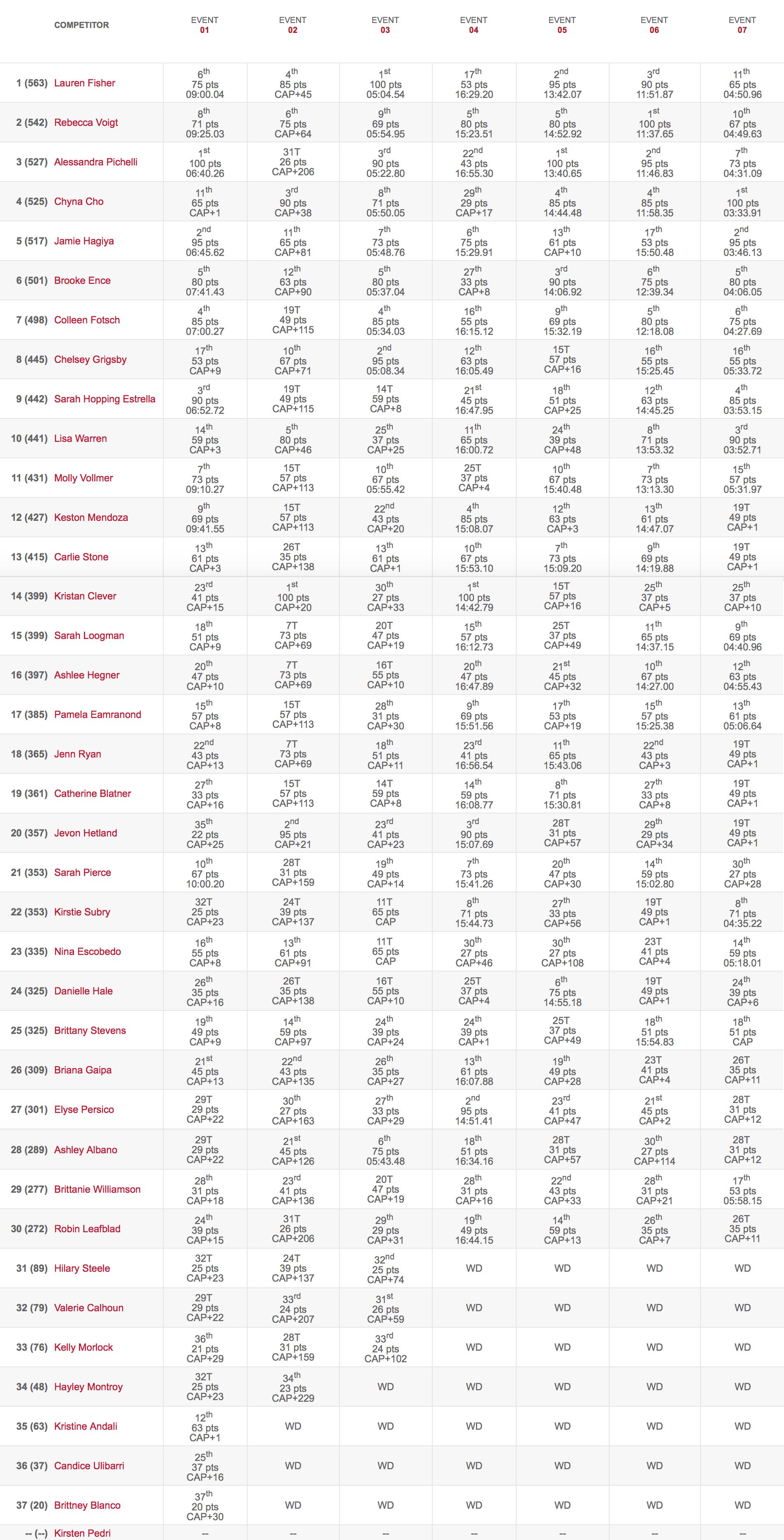 Team