2018 Kill Cliff Granite Games
Granite Games 2018: Elvis Kranski Hasn't Met His Team But He's Ready Anyway
Granite Games 2018: Elvis Kranski Hasn't Met His Team But He's Ready Anyway
Elvis Kranski hasn't met his two teammates ahead of the 2018 Kill Cliff Granite Games, but that doesn't mean this athlete is unprepared.
Aug 27, 2018
by Roger Lockridge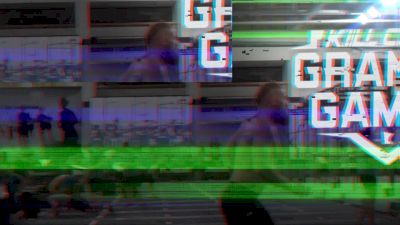 The rise of Elvis: Elvis Kranski plans to electrify the Granite Games
Before Elvis Kranski joined the ranks of CrossFit, he was training with a focus on powerlifting. One trip with his sister to a CrossFit gym changed his perspective, and the rest is history. With a new objective and newfound community that he enjoys being a part of, the Wisconsin native has been working his way up the ranks.
Watch the 2018 Kill Cliff Granite Games LIVE on FloElite!
He takes his next step in Minnesota when he joins his teammates of "Unyte" in the Pro Team of three at the 2018 Kill Cliff Granite Games. But as you read, you'll know Kranski trains for more than an upcoming event — he trains for overall life improvement.
Name: Elvis Kranski
Age: 28
Height: 5-foot-9
Weight: 202lbs
City: Lacrosse, WI
Occupation: Electronic Recycling Technician
Facebook: Elvis Kranski
Instagram: elkranski
Best Competitive Results
2018 Heartland Games, first place coed team
2018 North Central Open, 27th
How did you get into fitness and specifically, CrossFit?
I originally was a powerlifter and my older sister asked me to come watch her compete at this CrossFit competition held at CrossFit Madtown in 2011. I instantly was hooked, because the environment was amazing and like nothing I've ever seen before. I thought it was so cool that athletes were cheering on their own competitors. The comradery in CrossFit is hard to be found in other sports. I have been doing CrossFit for over seven years now.
What would you consider your biggest accomplishment in the gym or at an event?
My biggest lifetime lift would have to be 360lb clean and jerk. I think my best performance ever would be the open 17.3 workout of the snatch ladder with chest to bar pull-ups.
Do you prepare differently for the Granite Games than you do other events?
I actually don't do much different to prepare for competitions outside of my normal programming. The exception to that would be unless there's a new object being introduced or timing on synchro teamwork events.
Do you feel there is a difference between competing for your own benefit and for a competition?
I think the main objective is always to perform at your highest level possible. Competitions tend to result in many personal bests just because of the atmosphere and usually there is tougher competition.
Tell me about the team you're a part of and what it's like to compete with them.
For the most part I actually train by myself at my gym, CrossFit Acceleration. I try to jump in class workouts as my schedule permits. However over the last 16 months I've been on the Misfits conditioning program. This has been crucial for me dialing in on my conditioning so I can see how I stack up against the other Misfits athletes. As for the Granite Games, this year I will be competing in the pro team of three division. My teammates are Henry Connart and Tim Kavanagh, both out of Crossfit Miramar Beach. It's kind of funny I will be meeting them for the first time at the Granite Games but they do train together.
Do you have a routine or set protocol to get yourself ready for a workout or event or do you pay attention to any details before the training begins?
I don't really have a particularly routine before events. I just focus on whatever is tight that particular day.
How has training and competing played a role in your overall life?
I have made many positive life changes because I want to be healthy and be able to perform at my highest level possible. I quit drinking alcohol, started eating healthy, and now care about my sleep and recovery.
Outside of your teammates on Unyte, tell me about the people who support you and what their help means to you.
My sponsor Paragon Fitness and Nutrition has been an absolutely amazing support system not only in supplying myself with supplements to recover, but they have also been an outlet educating myself on healthy longevity. I have amazing support at my box, CrossFit Acceleration. Lastly my family and friends are very important to my success.
You know someone will read this and get inspired to begin working for a competition. Any advice you feel you can share with them?
Don't allow anyone to put limits on you. If you work hard enough, you can achieve whatever your goal is. Don't be afraid of failure, but use it as motivation to push through obstacles.
What's next for you after the Granite Games? Any future events or offseason?
I may compete in the Wodapalooza competition held in Miami. However the main focus will be preparing for the upcoming Open.
---
Roger Lockridge is from Lewisburg, WV. His work has been featured on numerous platforms and magazines in the fitness industry over the last 10 years. You can find him on Twitter and Instagram @rocklockridge.