Create a free account to unlock this article!
Get Started
Already a subscriber? Log In
Teamwork makes Andrea Nisler work
Although fitness for many is an individual sport, Andrea Nisler is the embodiment of a fitness team player. She has competed as part of a team throughout her entire CrossFit career and has seen great success, including finishing on the podium at this year's CrossFit Games.
Watch the 2018 Kill Cliff Granite Games LIVE on FloElite!
Although that accomplishment would be hard to top, the 29-year-old marketing manager is looking for more. So she's moving forward and preparing for next month's 2018 Kill Cliff Granite Games in St. Cloud, Minnesota. Nisler understands that she personally can benefit from being pushed by others, whether it's her teammates or sometimes her opponents.
Name: Andrea Nisler
Age: 29
Height: 5-foot-6
Weight: 151 pounds
City: Saint Paul, MN
Occupation: Marketing Manager, Origin Meals
Instagram: aenisler
Best Competitive Finishes
2018 CrossFit Games - 3rd place team
2017 CrossFit Games - 8th place team
2014 CrossFit Games - 4th place team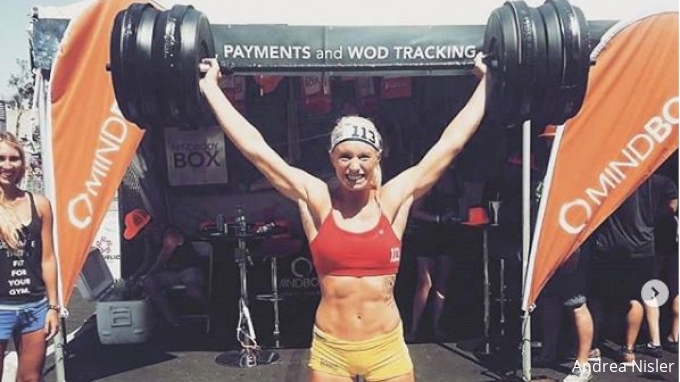 Nisler doens't take training easy
How long have you been training, and have you done anything outside of CrossFit style training?
I started in 2012 after college, just casually going to the workouts maybe two to three times a week. It was not until I went to watch the 2013 CrossFit Games that I realized I wanted to try and compete. The next year I found myself competing with Timberwolf CrossFit at the Games!
How different is it to train competitively than for your own benefits, or do you feel there is any?
I honestly do not know the difference. I have an all-or-nothing mentality when it comes to training, which isn't always good because I find myself injured and over-trained sometimes.
Are there days that mentally it's harder to focus and, if so, how do you get yourself locked in to go?
Yes. Obviously not every day is going to be an amazing training day. On those days I envision someone from the competition doing the workout next to me and it helps me to push harder.
You've done the CrossFit Games and are now preparing for the Granite Games. Any differences in how you prepare?
The CrossFit games was an all-out focus. No excuses to miss training days and every training day needed to be utilized 100 percent. The Granite Games to me is a time to compete but also have fun with everyone there. It's a fun way to compete at the end of the 2018 season.
What does a week of training look like for you?
Every week is different. Typically I train after work and throw in two or three days where I also go in before work as well. For Games training we do much more outdoor work which I love.
Tell me about your teammates and why you think "The Meat Market" works so well together.
We all love competition and have the ability to not only know what we need to bring to the table for each workout, but we can recognize when we need to help out a teammate during a workout too. A lot comes down to efficient communication.
What do you feel you are strongest at when it comes to training?
Peak week. Nothing like ramping up for a big competition and feeling so ready for it.
What do you feel you need to work on the most to be the best prepared to compete?
Right now I'm rehabbing a knee surgery I had in February, so I need to work on gaining back my confidence in that knee and overall body awareness.
Outside of your teammates on "The Meat Market," how important is it to have people close to you supporting you when training for events of this magnitude?
So important. Those people are the glue that holds everyone together. Mentally it would be impossible to push through training and competitions without a support group.
---
Roger Lockridge is from Lewisburg, WV. His work has been featured on numerous platforms and magazines in the fitness industry over the last 10 years. You can find him on Twitter and Instagram @rocklockridge.