Top-10 CrossFit Games Athlete Kari Pearce Helps You Master 'Grace'
Top-10 CrossFit Games Athlete Kari Pearce Helps You Master 'Grace'
The arrival of October, Breast Cancer Awareness Month, also means the arrival of the popular WOD "Grace." Kari Pearce gives tips on the workout.
Oct 11, 2018
by Roger Lockridge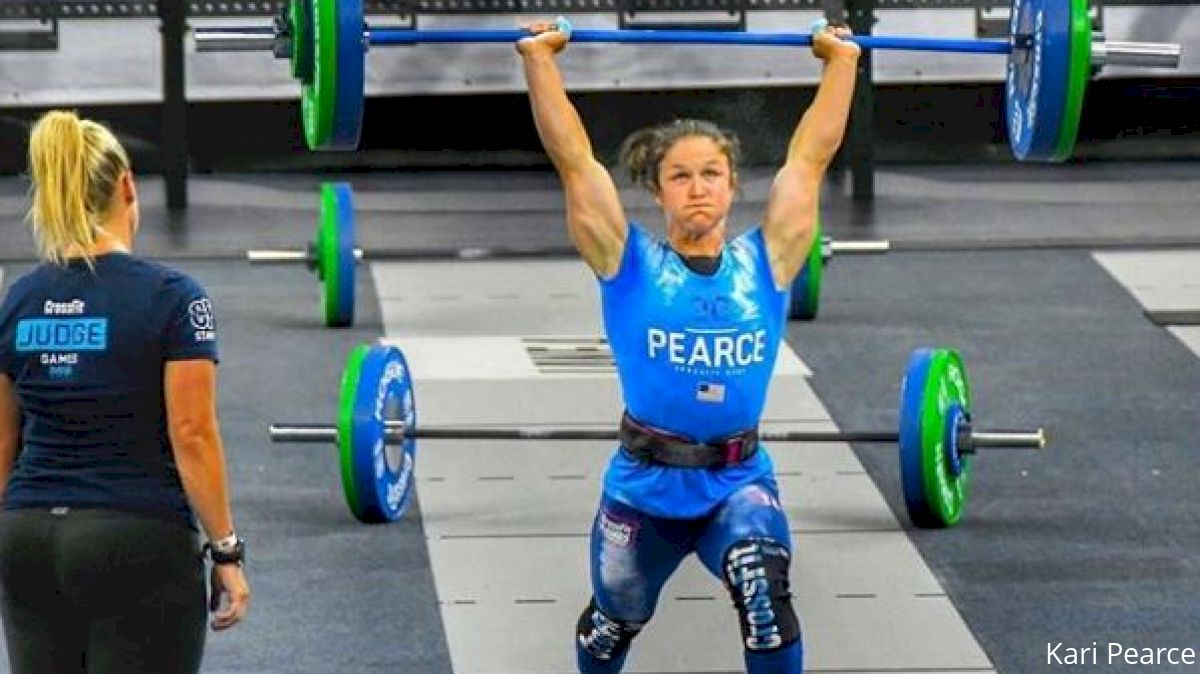 Kari Pearce shares tips for the popular Breast Cancer Awareness WOD.
The fitness community does more than train together. There is a feeling of pride in being involved in something bigger than yourself and showing support for important causes. One example of this is performing Murph on Memorial Day in recognition of America's fallen soldiers who sacrificed for freedom.
Another cause comes around every October, which is recognized as Breast Cancer Awareness Month. Many athletes gather in boxes all over the country — and in other parts of the world — to push themselves and raise money to help those affected directly or indirectly by breast cancer.
The most popular WOD associated with October is "Grace." For those of you that aren't aware, this WOD calls for the athlete to perform 30 clean and jerks for time. The recommended numbers are 135 pounds for men and 95 pounds for women, with the goal to finish within five minutes. Some athletes can perform this with no problem, while others might struggle. As a matter of fact, the Grace WOD in October serves as an introduction to CrossFit for many fitness rookies. So those numbers could be considered lofty but those who join in still hope to achieve "Rx" status as an initial milestone of sorts.
If you're one of those non-elite athletes, keep reading — because help is here for you. Kari Pearce was deemed the Fittest American Woman this year and finished sixth at the 2018 CrossFit Games. She's aware of the significance that comes with performing Grace every October and has some tips to help you perform at your best if you accept the annual challenge.
1. Be Aware of Your Back
Most people associate Grace with the shoulders because you clean the bar up and perform the overhead press. While that might be true, Pearce suggests you need to think about the entire body — including your back so you can maximize the movement of each rep.
"I would say make sure you focus on keeping your back tight the entire time," Pearce says. "This will allow you to be in a beneficial position to move the barbell efficiently and properly."
2. How You Start Matters
One mistake athletes make is muscling the bar up to shoulder height by performing a lift similar to an upright row instead of paying attention to actually performing the clean. The risk is you can have trouble getting underneath the bar to catch it at shoulder height. Properly cleaning the bar is only half of the rep but is still very important.
"When you clean the weight, make sure you get the bar on top of your shoulders with a good front rack each rep so that you get a solid jerk."
3. Form Over Weight
As is typical with most strength athletes, the closer you get to failure, the more tempting it is to cheat on the execution. And the results could be a serious injury as well as failure to complete the WOD.
"When you get tired, keep enforcing proper form and don't get lazy" Pearce says.
That also means while training. If you need to use less weight to get all 30 reps properly, do so.
4. Rest-Pause When Needed
Thirty reps is a lot, and five minutes isn't a lot of time. If you're concerned about failing before the time expires, Pearce suggests using a method known as rest-pausing which is popular in other training disciplines.
"If you have to break it up it's better to do smaller sets with short rest instead of hitting significant fatigue and having to rest a long time," she says.
In other words, instead of doing 30 straight reps, try to perform five sets of six with 20-30 seconds of rest. As you get closer to the end, break it down into triples if you must.
5. Final Pointer
Although this is a challenge and all the athletes want to do their best, the goal is to still enjoy the time you're with fellow members of the fitness community and doing your part in supporting others. So Pearce has one final piece of advice for you before you start your day with Grace: "Have fun."
---
Roger Lockridge is from Lewisburg, WV. His work has been featured on numerous platforms and magazines in the fitness industry over the last 10 years. You can find him on Twitter and Instagram @rocklockridge.