Ben Smith Shares Keys To Recovering From Injuries
Ben Smith Shares Keys To Recovering From Injuries
FloElite caught up with CrossFit star Ben Smith to talk about recovering from injuries.
Nov 20, 2019
by Roger Lockridge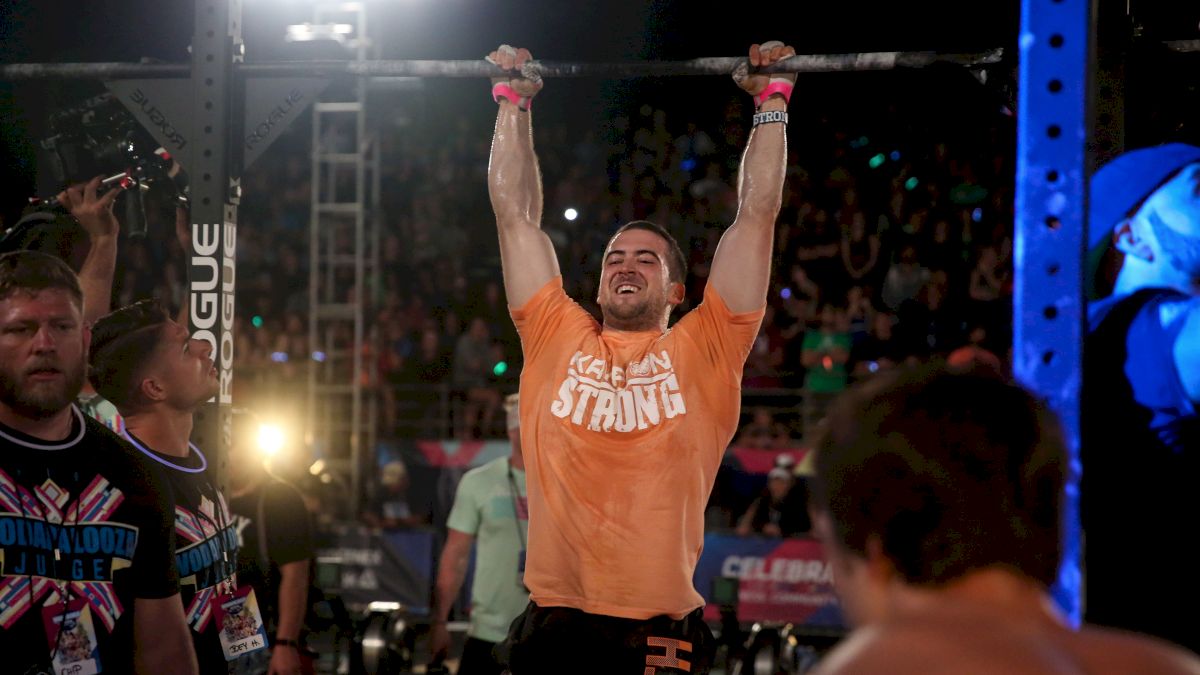 Outside of the results of the CrossFit Open, the headlines within the fitness community seem to be dominated by recent injuries of athletes both while training and away from the gym. James Newbury is recovering from a broken back and punctured lung. Sam Briggs suffered a leg injury while attempting Workout 20.4. Thuri Helgadottir also recently announced that she had been training with a type 2 SLAP lesion, which is damage of the labrum near the biceps.
Those athletes and others will have a road to recovery ahead of them that may all have their own twists and turns. Fortunately they can look to a former Fittest Man on Earth for both inspiration and tips to help them move forward so they can return to the competitive stage successfully.
Ben Smith started out 2019 with surgery on his left knee to take care of a variety of issues that he had been facing. It was almost four months before he returned to competition in May at the Rogue Invitational. The journey was climaxed by receiving a wild card invite to compete at the 2019 Games just seven months after initially going under the knife.
While each injury and athlete have their own road to recovery, there are some common aspects that can help them improve and get back to where they want to be. Smith spoke to FloElite about what he did to make his way back, the keys to his recovery, and how he thinks he will be able to perform going forward.
Your Mental State Will Be Affected
Smith has always had a passion for training, even when he isn't competing. So he wasn't one to take a long offseason after the Games. After his surgery, he didn't have a choice because he was unable to train the way he was accustomed to. Obviously this affected him in more ways than physically alone.
"Having to sit and rest and not get that training in is definitely mentally taxing," Smith said. "You also get that feeling of falling behind because the sport evolves more and more each year. I don't think you can take years off and keep up. So it's wanting to evolve with the other athletes and stay with the sport. It can be mentally challenging for sure. I think that's the hardest part. I think the mental side of it is way tougher."
Embrace the Challenge
Like most athletes who are faced with a similar situation, Smith found a way to turn the negative into a positive and feed that competitive side of himself. He saw this as a challenge to face and he accepted it knowing the reward would be a return to the competitive platform.
"I enjoyed the challenge. I enjoyed, you know, people thinking I was done. I used that as motivation. A lot of people thought I was done competing. They don't know why I like doing this and why I like doing what I do. It's not always about being on that top spot. Sure, I like that too but I do enjoy competing. I do enjoy CrossFit. Seeing what I'm capable of doing, that's motivating."
Take Time to Improve Elsewhere
Just because someone rehabbing from an injury can't train or perform, that doesn't mean they still can't improve in other ways. This could be a time to find another aspect of life to focus on and make better. For Smith, it was seeking balance.
"They say in order to find balance you have to be out of balance, right?" he said. "For me it was finding balance with training, competing, coaching, running a business, being a new dad, being a husband, that kind of stuff."
That sense of balance can also lead to a greater appreciation of everything in your life which can serve as more motivation when needed.
"I figured out 'why' and what my motivation really is."
Appreciate the Small Steps and Progress
As with anything in sports, the smaller steps and parts are what eventually lead to an ultimate goal being achieved. Smith recognized that and kept that in mind throughout his process.
"I do enjoy seeing the potential and what I'm capable of," Smith said. "I feel like getting in the groove of training and getting in the groove of seeing progress. When you're training, whether you're an elite athlete or anyone else in a gym, if you're seeing progress, I think that's motivating and for me that was a big part of me. Set yourself up for success in some sort of way that you can see progress over time. Seeing that progress is one sure-fire way to stay motivated and moving forward."
Remain Hopeful
Smith's surgery was in January, and he said he first felt like himself again in the first workout of two of the CrossFit Games which were in early August. That is over six months before he felt any sense of normalcy when it comes to his performance. He credited positivity and hope for getting him to that point.
"It's a good sign when you're remaining positive, hopeful, and you're looking forward to the next two to three months of training, or whatever it is," Smith said. "When you're staying hopeful like that, the progress will come and that will keep you motivated. That's another big side of it. Have a 'the best is yet to come' attitude."
Surround Yourself with Support
The benefits of being surrounded by positive people can't be stated enough, and Smith expressed appreciation for those that were with him throughout his process.
"It starts with my wife. She always reminded me to stay positive and all that good stuff. A couple friends and my parents. All of the people that were close to me that I could filter my thoughts with. They were all helpful and I find that it's even more helpful as I get older to be able to communicate how I'm feeling and be able to work through it with someone else. It's definitely way more helpful than trying to do it myself."
Smith's Current Standing
The second Open of this year had just concluded and, as of this writing, Smith is sitting in 25th overall. So after national champions are declared and the scores become official, he may already be qualified for the Games next year. It's been less than one year since he initially went in for surgery and he is already considered among the best in the sport again.
"I didn't know what to expect being out for a while," Smith said. "I was 175th after the first workout. I always set myself back after that first workout or two then I work my way back. All of my scores are the first time doing it. I think it has to do with my focus doing them the first time. Hopefully I did what I needed to do to qualify for the Games which would be incredible."
That said, he is also aware that there is more to do and he is focusing on that as much as he has on how far he has come.
"I still feel like the workouts take more out of me than they used to. That's just down to me getting a little stronger and working more. The leg felt a little on the weaker side but that's something I'll work on for this year to come. But fortunately, other than that, my endurance is there, conditioning is good, I just want to continue to build up my strength and work on things like rowing, running, and cycling."
---
Roger Lockridge is from Lewisburg, WV. His work has been featured on numerous platforms and magazines in the fitness industry over the last 10 years. You can find him on Twitter and Instagram @rocklockridge.