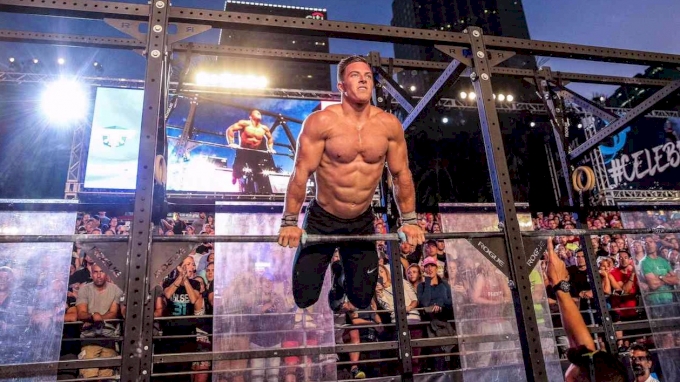 The world's premier fitness festival brings together an incredible community and elite athletes to compete, have fun, and enjoy the Miami scenery. With over 25,000 spectators and nearly 1,500 athletes representing over 30 countries, Wodapalooza is the place to be — in person or on FloElite.com — January 17-20. If they're the best in the sport, they're here. WZA is about culture, celebration of life, and — of course — fitness!
Thursday, Jan. 17: FloElite is streaming the Weightlifting Faceoff on the Bayside Stage.
Friday, Jan. 18 - Sunday, Jan. 20: FloElite is streaming all events on the Bayside, Flagler, and The Deck stages.
FULL FRIDAY SCHEDULE
FLAGLER

WOD 2

Rx Team

9:30 to 11:04

Rx Indy

11:10 to 11:54

Elite Teams of 3

12:00 to 13:02

Elite Co-Ed Teams of 4

13:12 to 13:26

Elite Indy

13:36 to 14:36

WOD 3

Masters

14:53 to 16:37

Adaptive

16:45 to 17:25

Scaled Indy

17:33 to 18:05

Scaled Teams

18:11 to 19:45

BAYSIDE
WOD 3



Intermediate Indy

10:00 to 10:48

Intermediate Teams

10:56 to 13:04

Rx Teams

13:12 to 15:20

Rx Indy

15:24 to 16:12

Youth

16:20 to 17:16

Elite Teams of 3

17:24 to 18:30

Elite Indy

18:42 to 20:02

Elite Co-Ed Teams of 4

20:14 to 20:30










THE DECK
WOD 2



Youth

9:00 to 10:01

Scaled Indy

10:05 to 11:06

Scaled Teams

11:10 to 13:15

Intermediate Indy

13:20 to 14:21

Intermediate Teams

14:26 to 16:31

Masters

16:36 to 18:58

Adaptive

19:10 to 20:22















FULL SATURDAY SCHEDULE
BAYSIDE WOD 4
8:00
Scaled Indy
8:36
Scaled Teams
10:00
Masters
11:30
Youth
12:06
Intermediate Indy
12:42
Elite Indy
13:54
Elite Teams
14:48
Elite COED
15:18
Intermediate Teams
16:42
RX Indy
17:18
RX Teams
| | |
| --- | --- |
| FLAGLER WOD 5 | |
| 8:30 | Intermediate Teams |
| 10:58 | RX Indy |
| 11:54 | RX Team |
| 14:22 | Masters |
| 17:18 | Elite Indy |
| 18:38 | Elite Teams |
| | |
| --- | --- |
| THE DECK WOD 5 | |
| 9:00 | Adapative |
| 10:32 | Scaled Indy |
| 11:48 | Scaled Teams |
| 15:04 | Youth |
| 16:24 | Intermediate Indy |
FULL SUNDAY SCHEDULE:
FLAGLER

BAYSIDE
BAYSIDE

WOD 7
Masters
9:00

Rx Indy
11:30

Adaptive
12:30

Youth
13:50


Scaled Indy
15:00

Intermediate Indy
15:50
Elite Teams of 3
16:45


Elite Co-Ed Teams of 4
18:25


Elite Indy

18:55

Awards Ceremony

Following Final Heat




WOD 7
Rx Team
8:15


Intermediate Teams
11:00


Scaled Teams
13:45

WOD 6
Adaptive

16:40

EOD - 5:29PM

WOD 6
Scaled Teams
8:00
Scaled Indy
9:35
Youth
10:15

Intermediate Indy
11:00

Elite Teams of 3
11:40


Elite Co-Ed Teams of 4
12:30

Elite Indy
12:45

Masters

13:50

Rx Indy
15:20

Rx Team
16:00

Intermediate Teams
17:35