Europe's Strongest Man + World Deadlift Championships
Europe's Strongest Man Recap
Europe's Strongest Man Recap
By: Kalle BeckThe strongest men in the world were in Leeds, England, on Saturday to throw down for the title of Europe's Strongest Man. By now, we all know
Jul 12, 2016
by Paige Bayer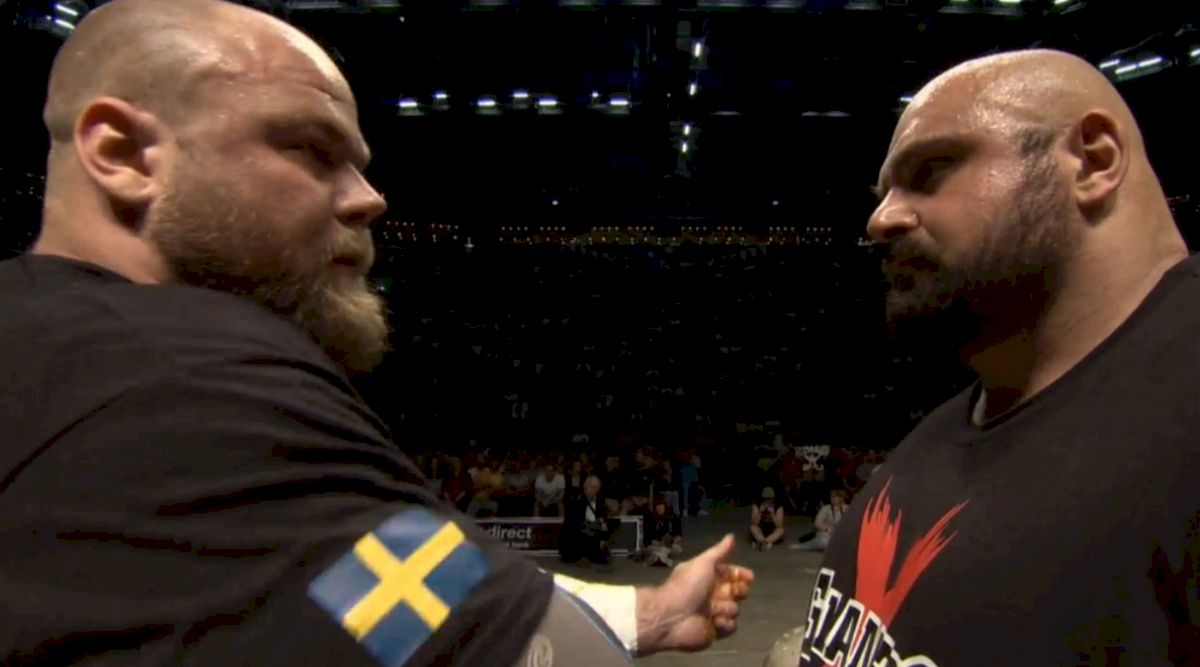 By: Kalle Beck
The strongest men in the world were in Leeds, England, on Saturday to throw down for the title of
Europe's Strongest Man
. By now, we all know Laurence Shahlaei of England has been crowned with the title, but how did the event play out? Let us walk you through it.
Frame Carry
After the heaviest deadlifts of all time
, the strongmen were tasked with picking up and carrying a heavy frame. Arsjo set the early time to beat, 11.04 seconds, before Shahlaei blistered through 20 meters in 10.10 seconds to take the lead. His event lead showed he was back in top form after a few injury-plagued years. Hollands and Bjornsson had a close race, but both of their times ended up falling mid-pack overall.
The day after the event, Iceland's Stefan Solvi announced he tore his achilles tendon in the last steps of the frame carry.
[instagram url="https://www.instagram.com/p/BHr-gFwBeht/?taken-by=stefansolvi" hide_caption="0"]
Log Lift
The young Polish competitor Kieliszkowski put on an impressive performance with eight reps for the event win in the 160kg log press. Bjornsson followed with five reps for second. The final heat was a rep-for-rep battle between Shahlaei and Arsjo. A couple of close attempts resulting in no-lifts by Arsjo intensified the race. At the buzzer, Arsjo made a fourth rep to edge out Shahlaei's by one. After the log lift, Bjornsson moved back into first place and looked on pace for his third consecutive Europe's Strongest Man title.
Car Walk
The car walk proved to be the key turning point in the contest. Shahlaei was the current world record-holder in the event going in, and did not disappoint. He obliterated the 20-meter course in a faster time than his previous world record, despite the car being even heavier. Bjornsson looked fatigued, and while he finished, he lumbered down the course in a time that just wasn't enough for the day, which cost him huge points. He sat in third, 4.5 points out of first place, with Arsjo in second and Shahlaei in a comfortable first place. Overcoming that deficit among eight competitors was a tall order for Bjornsson heading into the final event.
[instagram url="https://www.instagram.com/p/BHsE4Y6BH4-/?taken-by=biglozwsm" hide_caption="0"]
Atlas Stones
The "King of Stones" lived up to his title in this iconic event. Bjornsson easily loaded all five stones in a fast time for the event win, and then he had to wait to see if it would be enough. Shahlaei would have to make a substantial mistake for Bjornsson or Arsjo to drop in the standings. Arsjo and Shahlaei were the final heat, and it was easy to see Shahlaei was playing it safe—he knew he only needed a smooth run to secure one of the biggest titles in the sport, so he didn't push too hard on the gas pedal. Arsjo finished the series first in a great time, and Shahlaei followed shortly after. His time was enough to secure the title of Europe's Strongest Man. Arsjo and Bjornsson tied for second place, but Arsjo edged out The Mountain via countback (by having more first- and second-place finishes).
This was an amazing moment for Shahlaei, who has been contemplating retirement as a result of numerous injuries. "Loz" placed fourth at World's Strongest Man in 2011, and third at Europe's Strongest Man in 2012. Since then, numerous injuries and setbacks have kept him from the top level of the sport. Four years is a long time in an athlete's career in the sport of Strongman. He doesn't possess the flashy qualities a lot of other stars in the sport have. You could say Loz is somewhat unassuming until you see the fire and drive in his eyes before an event. Both Hall and Shahlaei's performances proved self-belief and hard work can make the impossible possible.
[instagram url="https://www.instagram.com/p/BHr4QNUBka6/?taken-by=biglozwsm" hide_caption="0"]

*Archived footage unavailable in UK, Norway, Iceland, Finland, Denmark, Ireland, and Poland.