IWF's 2008/2012 Doping Reanalysis Process Explained
IWF's 2008/2012 Doping Reanalysis Process Explained
The International Olympic Committee's doping sample retest process is long and convoluted. This graph can explain the whole process.
Nov 11, 2016
by Armen Hammer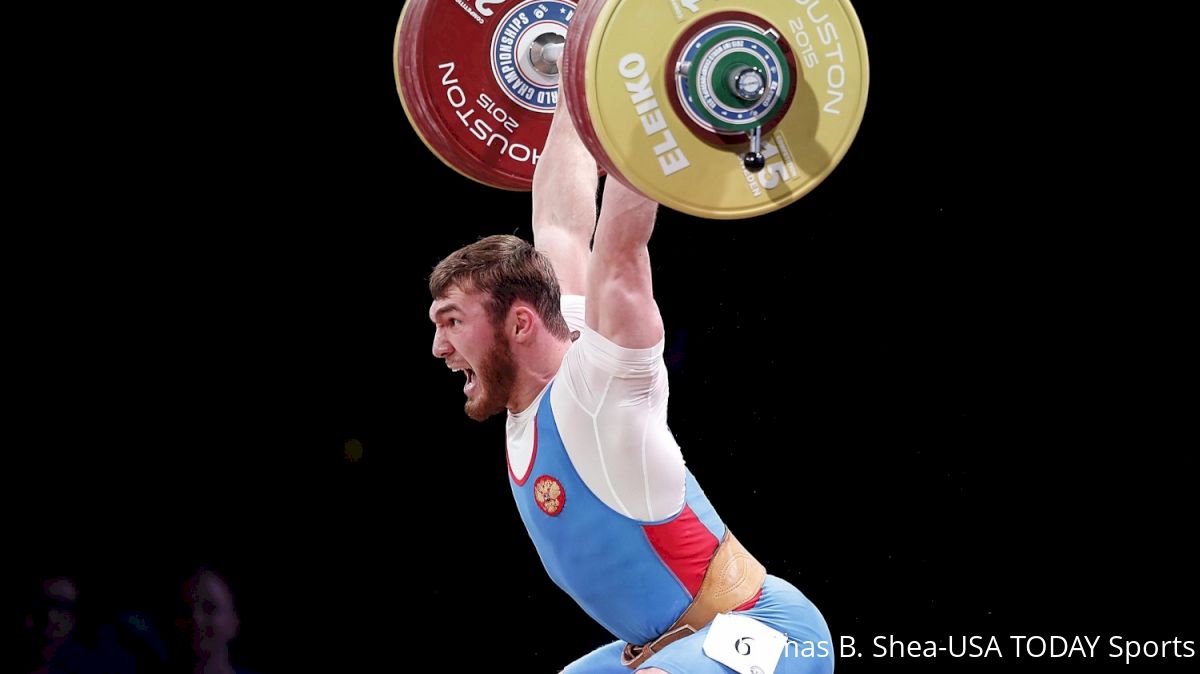 The International Olympic Committee's retesting of samples from 2008 and 2012 has revealed 50 positive doping results from those two Olympics including over a dozen medalists and world record holders.
Processing these positive doping samples is a
huge undertaking
involving splitting and testing old samples, communicating findings with both the athletes and the International Weightlifting Federation, and following through with athlete hearings until the decision is final and sanctions are handed out.
Here's a breakdown of the process: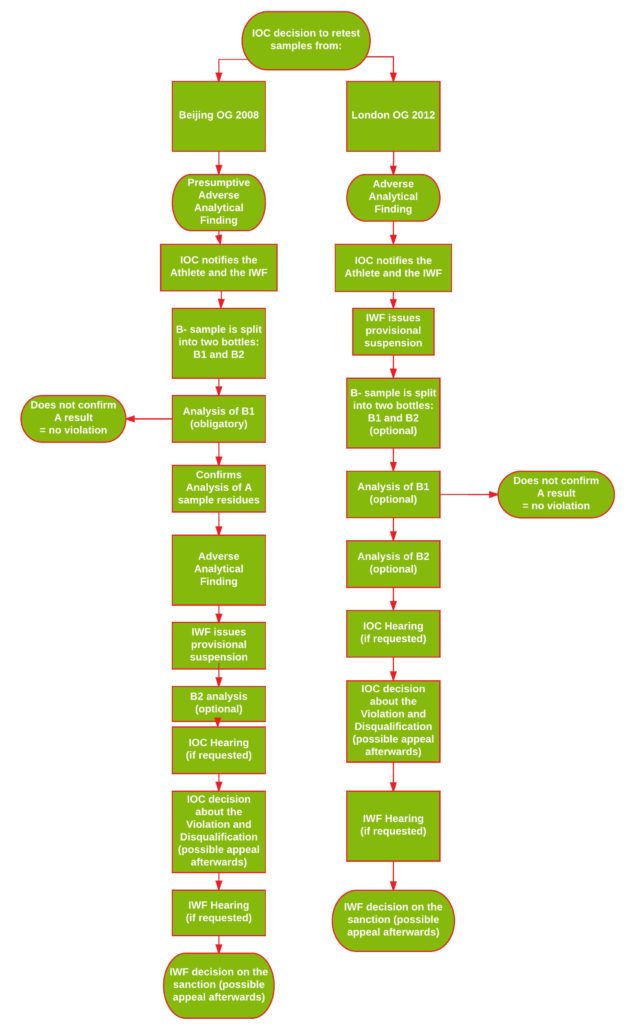 There are currently 50 athletes with positive samples going through this process:
London 2012

M85
​AUKHADOV, Apti (RUS) ongoing IOC

TSIREKIDZE, Rauli (GEO) ongoing IOC

M94
​CIRICU, Anatoli (MDA) ongoing IOC

ILYIN, Ilya (KAZ) ongoing IOC

ZAIROV, Intigam (AZE) ongoing IOC

UTESHOV, Almas (KAZ) ongoing IOC

IVANOV, Alexandr (RUS) ongoing IOC

DEMANOV, Andrey (RUS) ongoing IOC

VARDANYAN, Norik (ARM) ongoing IOC

M+105
​ZHARNASEK, Yauheni (BLR) ongoing IOC

W53
​CHINSHANLO, Zulfiya (KAZ) ongoing IOC

IOVU, Cristina (MDA) ongoing IOC

W58
​KOSTOVA, Boyanka (AZE) ongoing IOC

KALINA, Yuliya (UKR) closed IOC -- closed IWF

W63
​MANEZA, Maiya (KAZ) ongoing IOC

TZARUKAEVA, Svetlana (RUS) ongoing IOC

SIMSEK, Sibel (TUR) ongoing IOC

W69
​SAZANAVETS, Dzina (BLR) ongoing IOC

SHKERMANKOVA, Maryna (BLR) ongoing IOC

W75
​PODOBEDOVA, Svetlana (KAZ) ongoing IOC

ZABOLOTNAYA, Nataliya (RUS) ongoing IOC

KULESHA, Iryna (BLR) ongoing IOC

W+75
​KHURSHUDYAN, Hripsime (ARM) ongoing IOC

Beijing 2008
M62
​HASANOV, Sardar (AZE) ongoing IOC

M69
​DUDOGLO, Alexandru (MDA) closed IOC -- ongoing IWF

MARTIROSYAN, Tigran (ARM) closed IOC -- ongoing IWF

M85
​ZAIROV, Intigam (AZE) closed IOC -- ongoing IWF

RYBAKOU, Andrei (BLR) ongoing IOC

SEDOV, Vladimir (KAZ) ongoing IOC

M94
​ILYIN, Ilya (KAZ) ongoing IOC

PASHAYEV, Nizami (AZE) ongoing IOC

AKKAEV, Khadzhimurat (RUS) ongoing IOC

M105
​LAPIKOV, Dmitry (RUS) ongoing IOC

W48
​CHEN, Xiexia (CHN) ongoing IOC

OZKAN, Sibel (TUR) ongoing IOC

TAYLAN, Nurcan (TUR) closed IOC -- ongoing IWF

W53
​NOVIKAVA, Nastassia (BLR) ongoing IOC

W58
​SHAINOVA, Marina (RUS) closed IOC -- ongoing IWF

W63
​MANEZA, Maya (KAZ) ongoing IOC

NEKRASSOVA, Irina (KAZ) ongoing IOC

W69
​DAVYDOVA, Natalya (UKR) ongoing IOC

LIU, Chun Hong (CHN) ongoing IOC

W75
​CAO, Lei (CHN) ongoing IOC

EVSTYUKHINA, Nadezda (RUS) closed IOC -- ongoing IWF

KHURSHUDYAN, Hripsime (ARM) closed IOC -- ongoing IWF

KULESHA, Iryna (BLR) ongoing IOC

W+75
​GRABOVETSKAYA, Mariya (KAZ) ongoing IOC

KOROBKA, Olha (UKR) ongoing IOC

Here's what each of those descriptions mean:
​ongoing IOC = the decision of the IOC is not yet made or the decision of the IOC is under appeal at CAS

closed IOC- ongoing IWF = the IOC decision is made and it is final -- the IWF procedure is ongoing or the decision of the IWF is under appeal at CAS

closed IOC- closed IWF = both the IOC and the IWF decisions are final