Giants Live: The British Open 2017
What Went Down At Britain's Strongest Man
What Went Down At Britain's Strongest Man
Eddie Hall put on a flawless display to take another title at Britain's Strongest Man on Saturday and got his 2017 campaign off to a perfect start.
Jan 30, 2017
by Chris Bland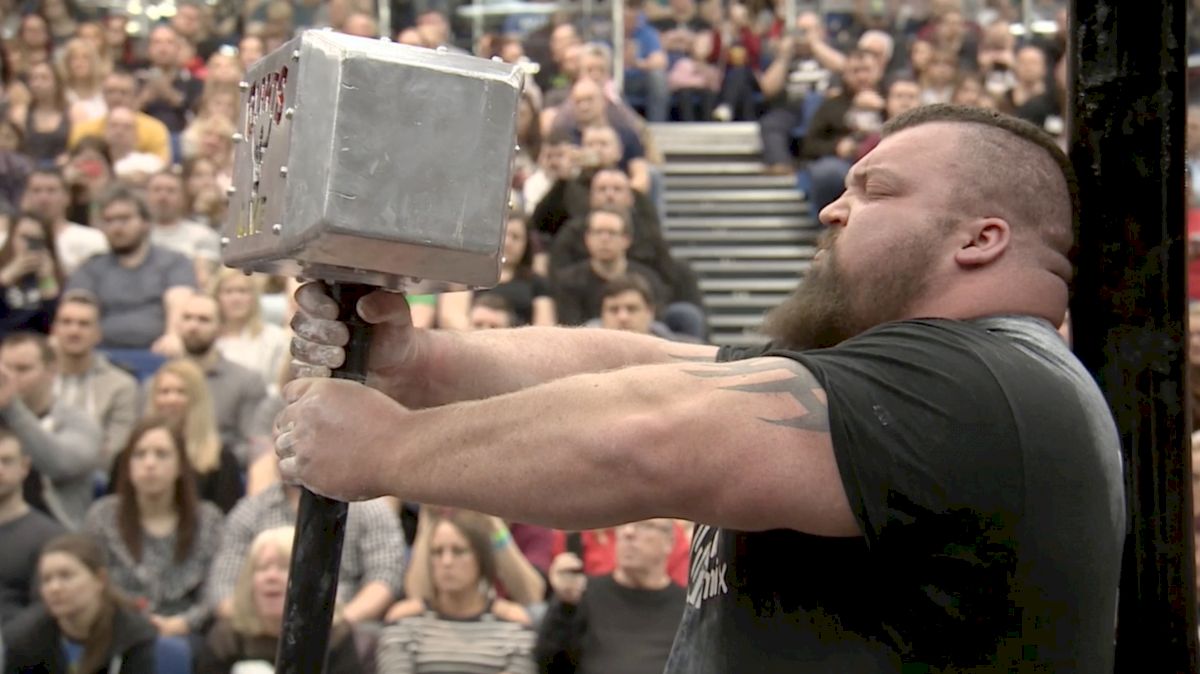 Eddie Hall put on a flawless display to take another title at Britain's Strongest Man on Saturday and got his 2017 campaign off to a perfect start. The four-time reigning champion notched victories in three events to
win by 14.5 points
. While it appeared first place was Hall's from the moment he stepped inside the Doncaster Dome, that certainly didn't mean the competition for the other places wasn't absolutely spellbinding.
SHIELD CARRY
With the sold-out crowd all in their seats and riled up from the introductions, the show kicked off with the notoriously tough shield carry. After 22-year-old wunderkind Paul Smith grabbed an early lead with his 35.42m, Mark Steele stunned the crowd by picking up the 200kg block and sprinting with it. Steele maintained that blistering pace over the 60 meters that he covered, taking him firmly into the lead. Famed for his athleticism on events like these, Adam Bishop's attempt to overtake Steele was cut short when he tripped early on, leaving him with a disappointing score of 14.97m. Steele's run proved too much even for Hall, who was happy to settle for second place and 52.82m on his weakest event of the day.
Eddie Hall vs. Loz Shahlaei in the shield carry:
YOKE RUN
The next event up was the yoke run, which featured athletes carrying a roughly 450kg frame that contained two motorbikes down a 20m course. Following his previous slip-up, Bishop quickly redeemed himself by flying down the course in 13.12 and setting an early lead. Mark Felix showed just how strong of an athlete he is by picking up the yoke off-center and resetting it with no time to spare. He sprinted down the course in a leading time of 12.12, putting him right back into the contention for the podium. But even a time as fast as Felix's can't be expected to stand with Laurence Shahlaei in attendance. Known as the fastest man in the world on the yoke, Shahlaei tore down the course in a time of 10.10, which would not be beaten. Despite it being another one of Hall's weaker events, he again finished in second place with a time of 10.48.
Hall vs. Shahlaei in the yoke run:
DEADLIFT
The deadlift featured a new wrinkle this year with platforms that faced each other as the competitors went head to head, adding a whole new element to an already exciting event. Even for the best in Britain, 350kgs proved to be exceedingly heavy, and three of the competitors managed only a single rep. One of the great early battles occurred between Luke Stoltman and his younger brother, Tom, who matched rep for rep with each other for three tough reps.
The real show-stealer though was Felix against Bishop. With both lifters being so phenomenally strong, the matchup came down to fitness and the veteran's eight reps just edged out Bishop's seven. The final pairing of Hall and Shahlaei also didn't disappoint. Both got off to a fast start and were practically neck and neck for the first five reps. But then Hall just kept on going for four more reps, and Loz opted out, content with his five reps.
Hall vs. Shahlaei in the deadlift:
SAFE PRESS
The safe press was an event that many of the competitors had been nervous about going into the contest. A notoriously tricky implement to press due to the weird weight distribution at 160kgs, it was too heavy for many to just outmuscle. Luke Fullbrook, who had been struggling so far in the competition, seemed to find his groove on the event, strict pressing five reps to the cheers of the crowd. Steele followed by putting in an almost perfect pressing display and doubled Fullbrook's total to set an early lead.
That lead would only last so long with Graham Hicks approaching the platform. Known for his almost unrivaled shoulder strength, Hicks made 11 reps at 160kgs look relatively easy. The final pairing of Hall and Felix was a complete mismatch with Hall cruising to the event win with 12 reps and Felix finishing without a rep.
Hall vs. Felix in the safe press:
HAMMER HOLD
The hammer hold called for the athletes to hold a 30kg hammer out in front of them at arm's length for as long as possible -- a tough enough feat on fresh shoulders, but after the safe press this was promising to be hell. The young Paul Smith, seemingly unfazed by competing against the best in Britain, put in a performance that at any other contest would've won him the event. But with the standard so high at Britain's Strongest Man this year his huge time of 50.95 seconds would only last a few minutes.
Once again the final pairing was Hall and Shahlaei, and both looked strong as the hammers were placed in their hands. Forty seconds later, though, and both were visibly sweating and the shakes started to set in. Ten seconds later and Shahlaei was out. Hall stubbornly held on for another 10 seconds to become the only man to take it over 60 seconds.
Hall vs. Shahlaei in the hammer hold:
ATLAS STONES
Heading into the final event, Shahlaei needed a miracle to pry the title from Hall. But outside of the top spot, it was all to play for with only a few points separating eighth from fourth. And as we have seen time and time again, one slip on the stones and your podium place can disappear. Tom Stoltman was the first man to really dominate the stones and displayed just what a star of the future he could be, finishing all five in 22.94 seconds. His older brother, Luke, and Felix were the next pairing up and Luke awed the crowd, not only beating one of the best stone lifters in the world but also hitting a winning time of 21.93. Hall, meanwhile, finished in second with a time of 22.51 to clinch his fourth Britain's Strongest Man title. It wasn't his victory that was so impressive but instead the manner in which he achieved it. Relentlessly consistent, Hall finished every event in the top two and never seeming to falter.
FINAL STANDINGS
1. Eddie Hall, 69 points
2. Laurence Shahlaei, 54.5
3. Graham Hicks, 47.5
4. Luke Stoltman, 45.5
5. Mark Felix, 42
T-6. Tom Stoltman, 38
T-6. Mark Steele, 38
8. Paul Smith, 37
9. Adam Bishop, 35.5
10. Luke Fullbrook, 20
T-11. Phil Roberts, 19
T-11. Pa O'Dwyer, 19


Hall vs. Shahlaei in the Atlas stones: