2017 Reebok CrossFit Games
Is Bobby Dee the Best CrossFit Coach in the World?
Is Bobby Dee the Best CrossFit Coach in the World?
Is RAW Strength and Conditioning's Bobby Dee, coach of Brent Fikowksi and James Newbury, the best CrossFit coach in the world?
Aug 4, 2017
by Armen Hammer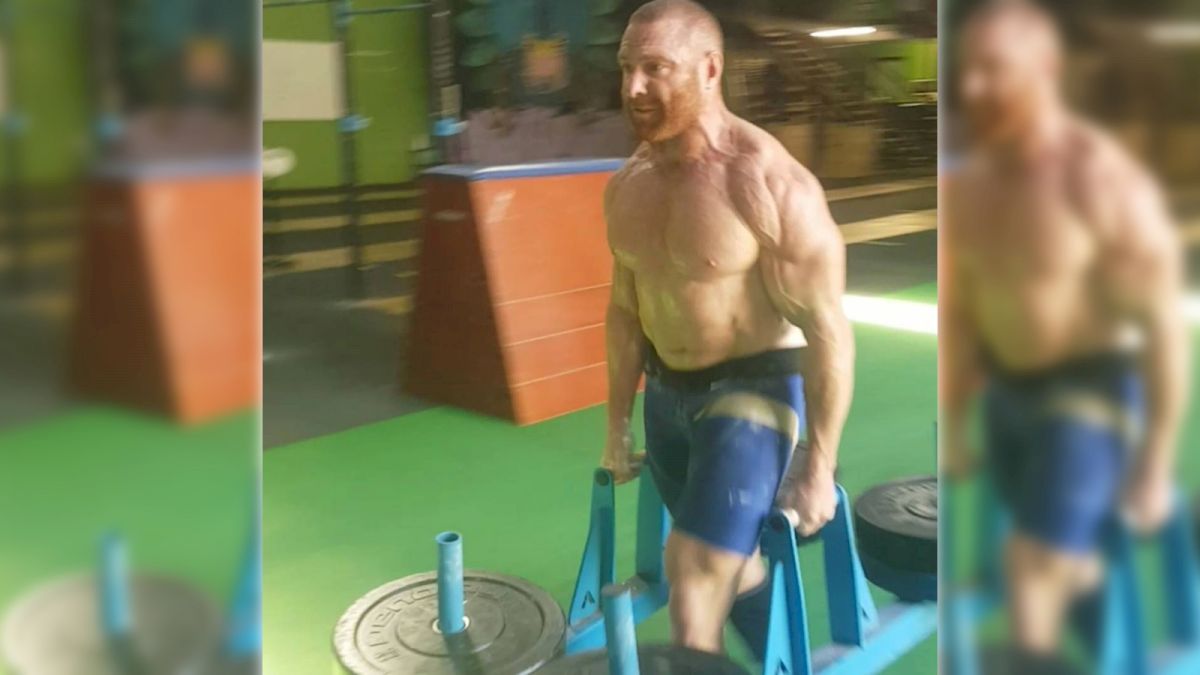 Unlock this article, live events, and more with a subscription!
Get Started
Already a subscriber? Log In
By Storms Reback
Brent Fikowski was on the ropes.
After finishing 28th in Murph and 39th in the Squat Clean Pyramid on day three at last year's CrossFit Games, he was facing yet another challenge to his lithe frame: Double DT, a killer combination of 12 deadlifts, 9 hang cleans, and 6 push jerks--times two.
In addition, the event organizers did him no favors by placing him in lane one while Ben Smith and Matthew Fraser got to enjoy working from lanes four and five, respectively.
Walking down the alley into the arena, Fikowski was at a disadvantage. That's when his saving grace came in the form of a self-described "block of a man" with bright-red hair and a booming voice.
"Do all your deadlifts in singles," his coach, Bobby Dee, shouted. "Don't even try to hold the bar."
The strategy was radical and unique--no one else used it.
It was also a game changer.
"He went singles the whole way through DT," Bobby Dee said. "When people were on round four, he was still on round two, but, slowly but surely, he mowed them down. Might have been a bit of a gamble, but I saw it work before, and it paid off in the end."
Brent's heat begins around the 2:33:00 mark
Fikowski finished 10th when a bottom-half finish was much more likely given his skill set. The momentum carried him to a fourth-place finish overall, which added to the legend of Bobby Dee.
Despite his growing reputation, the RAW Strength and Conditioning founder seems like he's perfectly happy flying below the radar. When he's not working with athletes at CrossFit Norwest in Castle Hill, a suburb of Sydney, Australia, he can usually be found at home on the small farm where he lives with his partner Jess Coughlan and an assortment of dogs, cats, and chickens.
"I try to keep to myself," Bobby Dee said. "I live in my own little world over here on the other side of the world."
And then there's the whole name thing: He's just as likely to go by "Redbull" as he is Bobby Dee, but neither of those names is his real one.
"I'm probably wider than I am tall," he explained. "Because of my appearance, my red hair, and my take-no-shit attitude, someone started calling me 'Redbull,' and it stuck. Bobby Dee is my name because when I was in the Army you couldn't have your proper name on social media."
As low-key as Bobby Dee is, word is getting out about his coaching prowess. Since last year's Games, interest in his programming and coaching services has taken off, with roughly 2,500 people inquiring about signing up. But most who did weren't prepared for Bobby Dee's all-or-nothing approach to the sport. He's currently training just 150 athletes, a pittance compared to organizations such as Invictus and CompTrain.
Bobby Dee readily admits his business model limits the size and success of his company. Most programs cost $30 to $40 a month, whereas his costs $22 a week. But the sort of personal attention his clients receive is invaluable.
"Rich [Froning Jr.] probably has a couple thousand athletes on his program just because of his name, but I bet he doesn't reply to each person's email personally," Bobby Dee said. "I'm not going to dish off my workload to other people to write programs and monitor athletes because then that's not me doing it. I guess part of me is a bit of a control freak. I don't want to relinquish too much freedom to other people when it's my name and reputation on the line."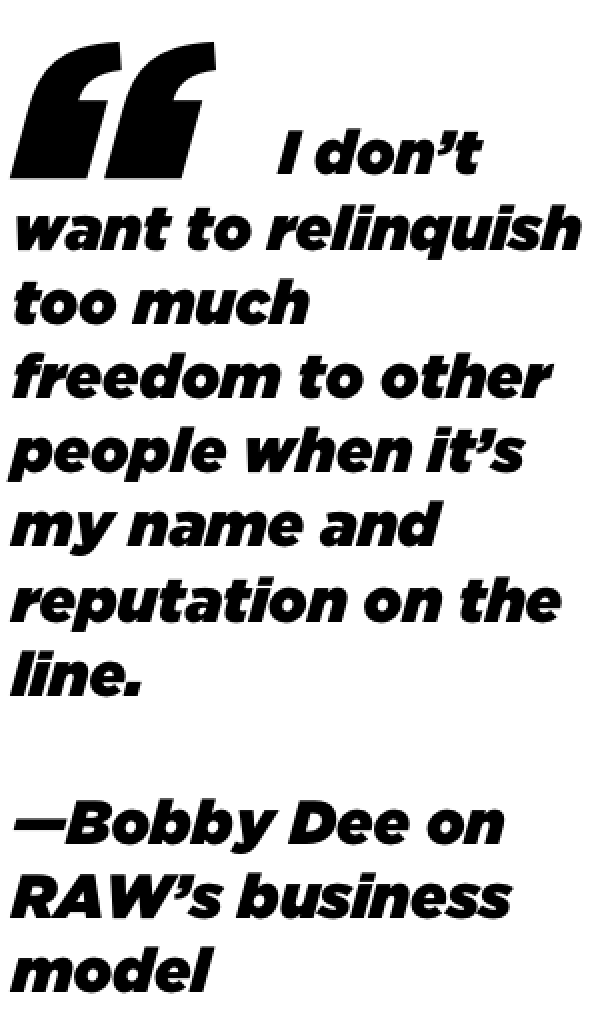 While Bobby Dee's approach scares off most weekend-warrior types, it's perfect for those competing at the highest level of the sport. Out of the 150 athletes he trains, 17 made it to Regionals this year, and three qualified for the Games.
Bobby Dee may not be the best businessman, but some say he might be the best CrossFit coach in the world.
'Programming is like an art and a science and a bit of philosophy'
An extraordinary athlete himself, Bobby Dee finished ninth at the 2011 CrossFit Games Open, took third at Australia's Strongest Man contest in 2012, and currently plays rugby at the third-highest level in Australia. But injuries to his shoulder and ankle and qualification challenges--"I'm not good at Regional-style CrossFit," he admitted--brought his CrossFit career to an end in 2012.
The setback turned out to be a boon to his coaching career, as he was able to finally give clients his full attention. He spends hours customizing programs for them and, other than giving CrossFit.com an occasional glance, prides himself on not deriving from anybody else's methods.
"Programming is like an art and a science and a bit of philosophy," he said. "What makes my business different from other businesses is the care and the extra effort I put into our athletes. That means being punctual, giving as close to real-time feedback as I can. I'm often on the computer eight hours a day, answering questions, responding to emails, and watching videos. I look after each athlete, rather than just letting them blindly follow text on a screen."
After graduating from college, Bobby Dee worked as a chiropractor, and the knowledge he gained from that experience often comes in handy when scaling workouts for his clients. That's what initially drew Fikowski into the fold.
"'I think I've got some potential in this sport,'" Bobby Dee recalled Fikowski saying to him. "'My knees are blown out, and my current coach isn't really listening to my injuries. Can you develop a personalized program for me to get better at CrossFit but with the main focus of overcoming the knee pain?'"
Bobby Dee helped Fikowski recover from his knee pain by putting him on an individual program and instructing him to change his rowing machine's set-up. He also adjusted his squat.
"We were still squatting," said Fikowski, "but the emphasis wasn't on the weight but the quality. We were doing box squats to 90 degrees and a lot of hamstring, ankle, and accessory work. A lot of that was developing hamstring and glute strength and keeping pressure off the knee. Not allowing the knee to crack over the shin required more flexibility but less calf flexibility because the shin stayed upright. As time went on, we slowly transitioned back into a more mature squat where the shin angle increased, while still maintaining the strength of the hamstrings and glutes."
"I think the first thing you should do as a coach is cause no harm," Bobby Dee said. "Even though [Brent] wasn't a great squatter and he's got bad knees, his previous coach got him to squat more because he had to bring up his squat. Well, he can't bring up his squat if his knees are always in pain! I actually listened to what he needed rather than thinking, 'Oh, he's just another athlete, I'm going to beat him down.'"
The two have been together ever since. Because Fikowski lives in Kelowna, British Columbia, he, like many of RAW's clients, corresponds with Bobby Dee mostly through email.
"I think having someone as smart as him around me more often would be great," Fikowski said. "But it's just a reality that he's not here. Luckily, I'm able to make it work."
James Newbury, another star pupil, lives in Australia and owns a gym in Adelaide, about 850 miles from Bobby Dee's home base in Sydney. They bridge the distance by talking on the phone every other day, and Newbury, who's trained with Bobby Dee since 2013, flies to Sydney several times a year to spend a week training with him and Coughlan.
"He is very straight to the point," Newbury said of his coach. "He's not going to beat around the bush and waste your time. He will tell you exactly how it is. It's the best way to go. There's nothing worse than wasting time."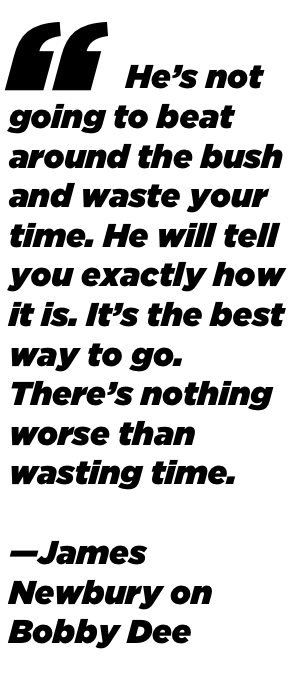 Given Bobby Dee's appearance, there's another essential aspect of his personality that might come as a surprise: Underneath all those muscles lies a bit of a geek, which he readily admits.
"He's very much a nerd in the sense that he likes to find new methods of training and give them a go," Newbury said. "The good thing about Rob is that he tries them all. If he's going to give you a program, he'll make sure he's done it first."
A Tale of Two Extremes
RAW offers four programs: Novice, Open, Regional, and Masters. The Open program is the most popular, but it involves far less volume than you might think.
"I don't want anyone to train over 75 to 90 minutes on the Open program," Bobby Dee said. "Geared toward the Open, you only have to be good for seven to 18 minutes. Once a week, you've got to go hard. From there, you have to build up the volume to get people onto the next stage of the competition."
For Regionals and beyond, Bobby Dee adjusts his clients' volume to match their needs and lifestyles.
"James Newbury and Brent Fikowski are probably my two best athletes and they're on opposite ends of the spectrum," he said. "Brent Fikowski does very little volume, and James Newbury does an extreme amount of volume."
Part of the reason for this disparity pertains to their occupations. A financial controller at Straw House Labs, Fikowski has a full-time job, leaving him with a limited number of hours to train. Newbury, on the other hand, is a full-time athlete, which gives him the freedom to train all day and properly recover.
Fikowski gets away with such low volume because, in Bobby Dee's words, "He's a freak."
"Brent is extremely fit and very talented in lots of different ways," Bobby Dee said. "He can move really well. He's such a great athlete that he's only got to practice things every now and again to maintain proficiency at them."
When Bobby Dee started training Newbury, he nearly doubled his volume.
"It was a massive shock to the system," Newbury admitted. "Initially, I was on the program for two weeks, and I couldn't get all the work done. I remember thinking, 'Holy crap, there's so much to do.' Over time, I got better at maintaining the volume, and I've increased my volume each year. I think if I did less, I would be less confident."
But because of the way Bobby Dee scaled the workouts, the increased volume didn't adversely affect Newbury's health.
"James likely does as much volume as a lot of other top CrossFit Games athletes, but I would trust that the type of volume Bobby gives to James will keep him healthier longer than what most are doing," Fikowski said. "The variety of movements, accessory work, and regular rest days Bobby programs is key to keeping a high-volume athlete like James progressing while staying healthy."
The Chess Master
If Bobby Dee concentrated on programming, he'd still be considered an excellent trainer, but it's the coaching he does during competitions that further separates him from his peers.
Unlike some coaches, you'll never see Bobby Dee bark out advice while his athletes are warming up or competing.
"These guys are professional athletes," he said. "They've warmed up thousands of times. I don't need to tell them how to warm up. I'm not going to teach them anything over those five or six days they don't know already."
But you will see Bobby Dee's strategic acumen on display between the events. He's a chessmaster who plays the long game.
"The way the points system is, it pays to pick and choose your battles," he said. "As in, 'This workout is really suited to me, so I'm going to try and chase it hard and get one of those podium spots and try and get the bonus points,' versus, 'If you're not a good runner, don't max out and bust a nut on the run when you're going to come bottom three or four anyway. You're only going to miss out on five points between 35th and 40th.'"
Following Bobby Dee's advice, Fikowski won four events at last year's Games--a record for a rookie, and a likely harbinger of future success. Bobby Dee was also instrumental in helping Fikowski nearly capture a podium finish. Heading into the final workout, he told Fikowski he could coast through the pegboard and still be guaranteed a top-six finish, but advised him to try to move up to third place instead--a move that helped Fikowski finish fourth overall.
Newbury recalled a similar incident from the chipper workout at last year's Regionals. Just before the start of the workout, Bobby Dee advised him to divide the 50 wall balls into even smaller sets than they'd originally discussed.
"He was like, 'Instead of doing one set of 25 and then breaking it from there, do like 15 and 10, 15 and 10, and try and hold that pace for each round,'" Newbury said. "I ended up winning that workout, and I wouldn't have been able to do it without Rob giving me that advice."
'The best CrossFit coach out there'
Bobby Dee credits his military background--six years in the Army--for giving him the confidence to make such adjustments.
"Sometimes the best-laid plans in some of our military operations just went to shit, and you had to adapt on the fly," he said. "You have to have the flexibility to change things up."
As someone who has directly benefited from Bobby Dee's nimble strategies, Fikowski said he respects his opinions as much or more than anyone else he knows.
"I think it's easier to take advice from someone who is as tough as he is," Fikowski said. "Anyone who's trained with him knows how fit he is. If he tells you, 'You're not going hard enough,' then you know he's right. You don't trust a bald barber."
Much of Bobby Dee's skill as a coach stems from the fact that he once trained for and competed in the Open and, somewhat paradoxically, that he no longer does.
In the last several years, Bobby Dee has evolved into a coach who is also an athlete rather than an athlete who also happens to coach--a subtle shift that has made him that much more valuable to and invested in his clients. Now, he said seeing them do well at the Games thrills him as much as if he'd done it himself.
"Jess [Coughlan] is kind of like Brent Fikowski. Brent finished one qualifying spot out of the Games three or four years in a row, and that's what Jess has done. She finished sixth in the Regionals three years in a row. When she finally made it, I couldn't have been happier. I almost felt like crying.
"And with Brent doing so well, I couldn't be prouder," Bobby Dee said. "Some coaches might think they're responsible for their athletes' success. I'm not going to take credit for him coming in fourth at the Games. He did that himself. I don't have kids, but it would be like when you have kids and you see your son or daughter achieve something and you had a part in it. I'm pretty close to my athletes. When they do really well, I'm really proud of them, and when they don't do well, I'm really upset with them. I get the same buzz out of it they do. That's why I do it, I guess."
Offering the final word on where Bobby Dee stands in the current pantheon of coaches, Fikowski provided a clue as to what makes him so successful.
"In my opinion, he's the best CrossFit coach out there, but he doesn't see it that way," Fikowski said. "He's always trying to get better, and he's always trying to learn. He's not resting on his laurels."