2018 Reebok CrossFit Games Regionals
Becca Voigt & Ben Smith Highlight The Drama From 2018 CrossFit Regionals
Becca Voigt & Ben Smith Highlight The Drama From 2018 CrossFit Regionals
Becca Voigt and Ben Smith accomplished something that no man or woman has ever done in the history of CrossFit.
Jun 6, 2018
by Hunter Sharpless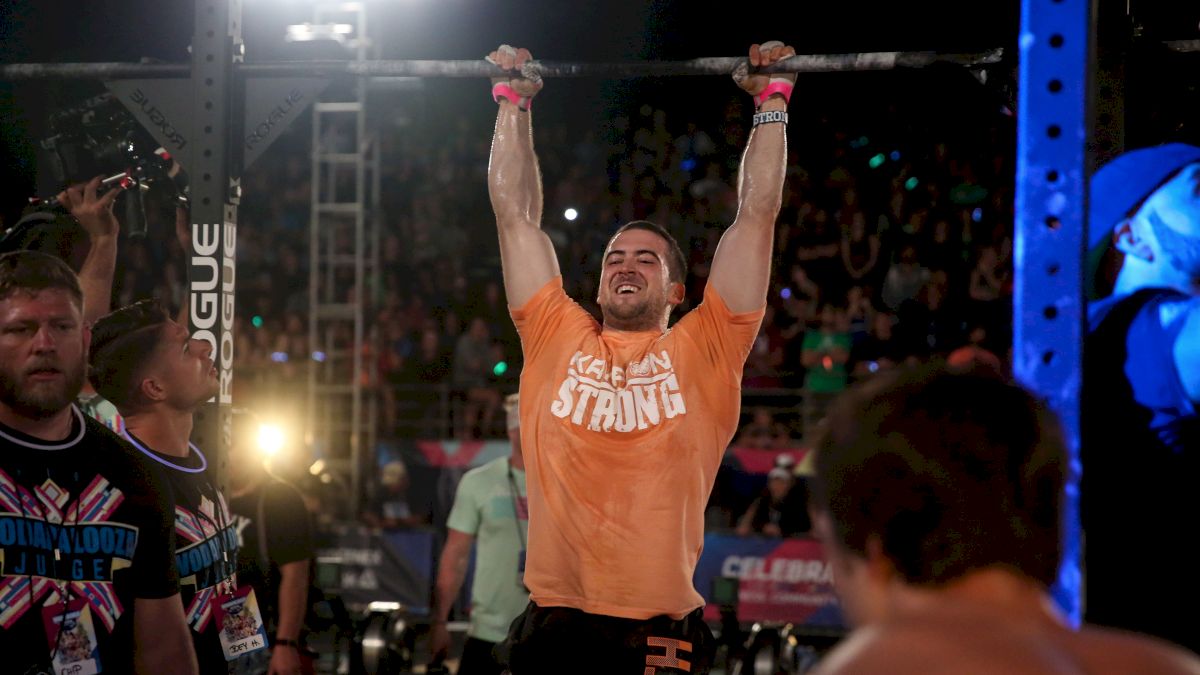 By Lincoln Shryack
---
After three straight weekends of qualifying mayhem at the 2018 CrossFit Regionals, the fields of 40 men and 40 women moving on to the 2018 CrossFit Games in Madison, Wisconsin, are set. There were breathtaking performances from past champions, many first-time qualifiers, and, of course, heartbreak for those who came up just short of the cutline across the globe in the nine dramatic qualifying events. Overall, each of the nine regionals lived up to the hype and more.
Here are top takeaways from the past three weekends of CrossFit action.
1. Rebecca Voigt (West) & Ben Smith (Atlantic) each qualify for their 10th CrossFit Games.
In a sport as rigorous, time-consuming, and flat-out brutal as elite fitness, consistency at the highest level is a trait to be admired. That's why the achievements of 37-year-old Rebecca Voigt and 28-year-old Ben Smith at regionals are so incredible — the fitness legends each qualified for their 10th CrossFit Games, becoming the first man and woman to accomplish the feat.
Voigt competed at her first Games back in 2008 and has only missed qualifying once since then. With her fifth-place finish in the West Regional on May 27, Voigt will head to Madison in August in a league of her own in the women's pantheon of fitness.
Not to be outdone on the men's side, however, was 2015 Fittest Man on Earth Ben Smith. The former champ was third last Sunday in the Atlantic Regional, making him the first athlete in the sport's history to qualify to 10 consecutive CrossFit Games. The veteran Smith has been a stalwart at the top level of fitness since he was 19 years old, when he first qualified for Games back in 2009. The Virginia native will be gunning for his sixth straight top-10 Games finish when he arrives in Madison this August.
2. Defending champs look strong, but challengers await Mathew Fraser and Tia-Clair Toomey.
The reigning Fittest Man and Woman on Earth each won their respective regionals in 2018 — Mathew Fraser in the Central and Tia-Clair Toomey in the Pacific — but with the two world champs sitting second in the overall regional standings, this year's path to the top certainly won't be easy for the pair.
Now, to be clear, Fraser and Toomey were still fantastic at their qualifiers. The 28-year-old Fraser won five of the six events in the Central, including a record-breaking Event 6 performance in a mind-boggling 3:17.67. And Toomey finally got over the hump by winning her first Pacific regional title while breaking an Event 6 record of her own in 3:56.61. Both athletes are clearly super fit right now, and will be favored accordingly come August in Madison.
But, yes, there's a but: Patrick Vellner and Katrin Davidsdottir's performances in the East regional suggest that these two could be the biggest competition for the King and Queen of CrossFit. The East champs have plenty of success on their resumes — Davidsdottir is a two-time Fittest Woman on Earth who beat Toomey in back-to-back years in 2015 and 2016, Vellner has been third the last two years — and, most importantly, they were the best-of-the-best at regionals. That's huge heading into the Games as they prepare to take on two monsters in Fraser and Toomey.
3. Comparing the 2017 CrossFit Games field to 2018.
As there is every year in a sport as demanding as fitness, there will be quite a bit of turnover in the men's and women's fields at the CrossFit Games compared to last year. For a variety of reasons — injury, poor performance, stud newcomers, retirement, etc. — just 42 of the 79 qualifiers from last year's Games have made their way back to the main event this year.
Fortunately, the majority of 2017's top-10 finishers will return. Only two men (Jonne Koski, Jason Smith) and one woman (Samantha Briggs, 2013 Fittest Woman on Earth) from the very top crop of fitness talent will be absent in Madison; Koski and Briggs each had injuries that prevented them from competing at regionals.
Here are some notable names that won't be competing in Madison, with their 2017 finish in parenthesis:
MEN
Jonne Koski (9th)
Jason Smith (10th)
Travis Mayer (12th)
Garret Fisher (13th)
Streat Hoerner (14th)
WOMEN
Samantha Briggs (9th)
Thuridur Erla Helgadottir (18th)
Alethea Boon (21st)
Anna Tobias (25th)
Stacie Tovar (27th)
4. These are the first-time CrossFit Games qualifiers.
The flip side of the large swell in athlete turnover is that many new names have qualified for their first-ever CrossFit Games in the elite category. Combined for both genders, a whopping 23 athletes will make their debuts in Madison. These are the men and women who punched their Games tickets for the first time, including the first Brazilian man to compete at the Games:
MEN
Willy Georges (4th, Meridian)
Dean Linder-Leighton (2nd, Pacific)
John Coltey (2nd, Atlantic)
Ethan Helbig (5th, Atlantic)
Pablo Chalfun (1st, Latin America)
Saxon Panchik (5th, Central)
Mitchel Stevenson (5th, West)
Alexandre Caron (4th, East)
Marquan Jones (5th, East)
Brandon Luckett (3rd, South)
Jared Enderton (5th, South)
Roman Khrennikov (1st, Europe)
Andrey Ganin (4th, Europe)
WOMEN
Stephanie Chung (4th, Meridian)
Paige Semenza (5th, Atlantic)
Brenda Castro (1st, Latin America)
Amanda Barnhart (3rd, Central)
Michelle Fumagalli (4th, Central)
Ehea Schuerch (3rd, West)
Chloe Gauvin-David (5th, East)
Brista Mayfield (3rd, South)
Laura Horvath (2nd, Europe)
Camilla Salomonsson Hellman (5th, Europe)