Create a free account to unlock this article!
Get Started
Already a subscriber? Log In
This Canadian competitor will fit right in at the Granite Games.
Canada's Lacey Truelove has two passions: fitness and competition. After a childhood that included competing in both gymnastics and competitive diving, Truelove found a new passion in CrossFit and has started excelling at that too. Once she got her feet wet she jumped into competition and has seen success there too — but up until this year she competed in individual events.
Watch the 2018 Kill Cliff Granite Games LIVE on FloElite!
Now the 29-year-old athlete, coach, and newlywed is in unfamiliar territory because this year she started competing with teammates as a member of "The Academy." Truelove doesn't turn down challenges and is looking forward to being a part of competing in a new format.
She'll be headed to St. Cloud, Minnesota, in just a few weeks to compete at the 2018 Kill Cliff Granite Games.
Name: Lacey Truelove
Age: 29
City: London, Ontario, Canada
Height: 5-foot-3
Weight: 140lbs
Instagram: @truelovetraining
Facebook: Lacey Truelove & Truelove Training
Best Competition Finishes
2018 Canadian Functional Fitness Nationals 1st overall Team
2018 Crossfit Open 43rd Canada East
2016/2015 Crossfit Open 82nd Canada East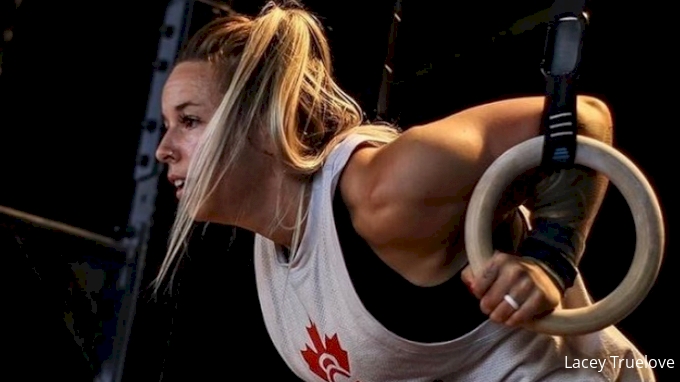 What is your background in fitness and what are your biggest accomplishments so far?
I started competitive gymnastics at the age of 6 at the Provincial Level including the Ontario Winter Games. I switched to competitive diving at age 15 — competed on the provincial, national, international, world, and collegiate levels. I earned provincial championships, national and international medals, and earned a full scholarship and competed for the University of Houston under the top diving coach in the world, Jane Figuriedo. I competed in multiple NCAA championships, Olympic Trials, and collegiate world championship events.
I retired from diving in 2013 and found CrossFit. After that I was selected in 2017 to the Functional Fitness World Championships where I represented Canada as an individual athlete in California. I'm heading to London to compete at the 2018 Functional Fitness World Championships for Team Canada alongside Granite Games teammates Charli Anobile and Jesse Sherriff. Elite athletics has been a huge part of my life since the age of 6. If I wasn't competing in CrossFit it would be another sport. I'm very fortunate to have had the athletic career that I've had and proud of my accomplishments in my multi-sport career. It wouldn't have been possible without my amazing mother, Leanne, and my coaches.
What does it mean to you to have been on a world championship-caliber level in two sports?
Representing my country at a world championship event in two different sports is something I hold close to my heart as I am a very proud Canadian.
What does it mean for you as an athlete to compete at an event of this magnitude?
I've competed on big stages before in diving and functional fitness as an individual, never as a team. This will be a totally new experience and something intimidating but also exciting for myself and my teammates.
You're a part of "The Academy" team. What's it like working with a team in competition as opposed to events where you would be on your own?
Competing as a team is so much fun! We all have our strengths that make us a strong part of the team. We are all different athletes that bring something different to the table so we each have the opportunity to showcase our skill set. We as a team are excited to have some fun throwing down and meeting some like-minded people along the way! I couldn't ask for a better team — having them beside me along the way will be the best part. I think there is something special about sharing the experience and the journey with a group of talented athletes who share the same passion as you.
For those of us that don't know, can you share a little insight into how a week of training looks for you?
I typically train five days a week, once a day. I have reduced my volume of training significantly lately. I have made training my life for the past 23 years. I decided it was time to enjoy all the other things in my life. Fitness is now a healthy part of my life, no longer the most important part. I typically train between the CrossFit classes I coach which is about an hour and a half to two hours. My coach is also my teammate and he is phenomenal at knowing me as a person and an athlete. His prescriptions for my training are always on point. My favorite things to train are always gymnastics elements because they take me back to the good ol' days!
How do you feel your work as a coach and trainer is impacting your prep for the Games?
Coaching is my passion and I have never felt like it was work. When I'm coaching I'm focused solely on my members and what I can do to make them better. When I'm training I'm focused on what I need to accomplish that session. The focus is always in the moment on what I'm doing. I love that I get to coach and train and build relationships all in the same setting. Being a leader for the members I coach is so special to me; I find it motivates me to be better not just for myself but for those I get to help along the way. To be honest, seeing my members happy and succeeding brings me more joy and happiness than my own successes in competition.
How different is training for the Granite Games as opposed to training for your own fitness?
I find it to be way easier to train for a goal within a timeframe than to train for general fitness. I've always had a desire and need to compete. I work well under pressure, so knowing I have a timeframe and job to do lights a fire under me that is much stronger than general training for fitness. I suppose it's my competitive mentality.
What do you feel you need to improve on the most to be best prepared to compete?
My diet (laughs)! I just got married and came back from my honeymoon in Mexico where breakfast was nachos and margaritas! My wedding was perfect and the honeymoon was, too — time to tighten up on the fuel and get ready to throw down.
How important is to have others outside of your teammates supporting and working with you as you prepare for the bigger events?
My husband and my mom are my biggest supporters. They are always so excited to see what I will do next. I have a great community of members at my gym who inspire me to succeed. They drive me to be better every day and I appreciate them all more than they know. Knowing you have people on your side who love you and appreciate you not just for the athlete you are but more importantly the person you are means the world.
---
Roger Lockridge is from Lewisburg, WV. His work has been featured on numerous platforms and magazines in the fitness industry over the last 10 years. You can find him on Twitter and Instagram @rocklockridge.