Rio 2016 Men's 77 Recap
Aug 11, 2016
The men's 77kg division was absolutely insane. During the snatch session, Lu Xiaojun (CHN) set a new World Record snatch with a 177kg lift. That's the same weight he missed at the 2015 Worlds:



Just behind him with a 174kg lift was Andranik Karapetyan (ARM) and they were both way ahead of the rest of the pack, most of whom were tied at 165kg.

Unfortunately, during the clean & jerk, Karapetyan dislocated his elbow on his second attempt and had to pull out of the competition. With a 12kg lead over the closest lifter, Lu and his team decided to be more conservative with his clean & jerks electing for a 202kg lift for a 379kg total. Strategically, that was the best move as it put Lu in an incredible lead and put the ball in his challenger's court.

The only way someone would earn gold over Lu would be to take a massive jump and set a new World Record clean & jerk...and that's exactly what Nijat Rahimov (KAZ) did. He took a 12kg jump from his opener and called for 214kg, a 4kg World Record clean & jerk and HE SMASHED IT. An absolutely incredible performance with Rahimov taking claim to Olympic Gold with verve and passion.



In third place was Mohamed Mahmoud, aka Mohamed Ehab, who earned the second Olympic medal for Egypt in weightlifting after his countrywoman Sara Ahmed earned a bronze medal in the women's 69kg division earlier today.


Men's 77kg Podium

1. Nijat Rahimov (KAZ) - 379
2. Lu Xiaojun (CHN) - 379
3. Mohamed Ehab (EGY) - 361


Full Men's 77kg Results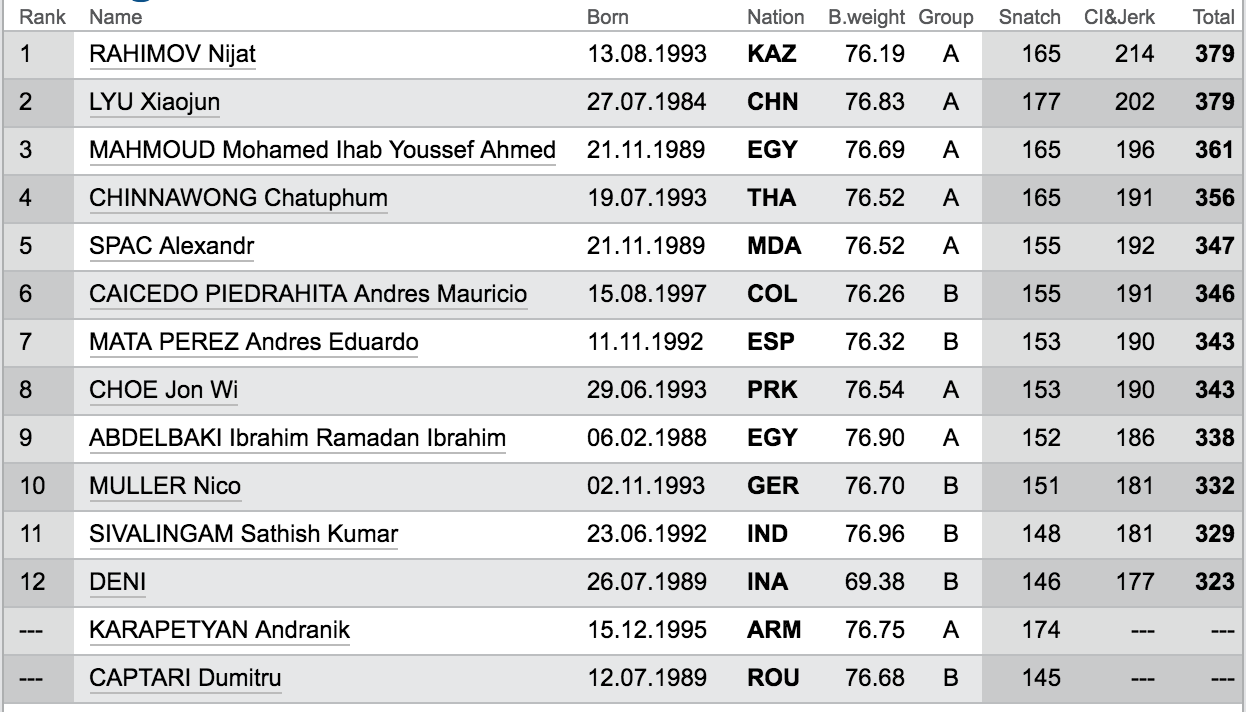 Full Rio Weightlifting Results
Total Medal Count