Power Monkey CrossFit/Gymnastics Camp.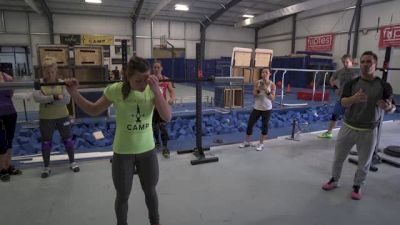 MIKE CERBUS | Snatch Balance
Jun 16, 2015
Mike Cerbus preaches the importance of paying attention to your hips, upper body, and elbows when working snatch balance. Your dip should be short and controlled, giving you tension to send the weight straight up. Your feet move outward quickly, landing flat. As your feet are repositioning, elbows will be punching upward. Mike wants these movements to feel natural in the lift, and provides segmented exercises that aid in training. For more information about camp registration and information, check out www.powermonkeycamp.com.